A show-stopping performance closed out the 2023 Pangos All-East Frosh/Soph Camp at West Chester University (West Chester, Pa.) and when the dust settled it was clear this camp belonged to the big men. Two seven-footers were named camp co-MOPs out of over 220 plus campers.

As the Pangos All-East Frosh/Soph Camp proves nearly every year, there is still plenty of room for the traditional big man. The pro game is wide open affair and the corner 3-pointer has become the shot of choice for many and the flavor of the month among die-hard, pro-analytics evaluators and scouts. Ironically, it was a corner 3-pointer at the buzzer of the Creme of the Crop Top 30 game by 6-foot-7 sophomore (2026) wing Dylan Perry of Archbishop Stepinac (White Plains, N.Y.) that closed out the camp in grand style. Perry's 3-pointer on the left wing off a pretty cross-court dish from 6-foot-3 2026 point guard Jermel Thomas of Cardinal Hayes (Bronx, N.Y.) gave the black-jersey wearing club a dramatic 92-89 victory over the white-jersey wearing club in the Top 30 all-star contest pitting the camp's best overall performers.
In a large camp with over 240 plus attendees from 14 states (plus the District of Columbia and Canada) it was about the only memorable deep range shot, as the story of the camp was the stand out big men in attendance. This camp was all about the brute force scoring, inside jostling, power finishes and elite rim protection provided by at least a half dozen campers. Leading the way was 14 feet of fine timber that matriculated to the East Region from different countries to learn the finer points of the game and put themselves on the radar of national high school scouts in America. That 14 feet was provided by two centers named camp co-Most Outstanding Players: South Sudan native Akol Nyok, a 7-foot-1 freshman (2027) from Glen Elg Country School (Glen Elg, Md.) and Columbia native Keiner Asprilla, a 7-foot-1 sophomore from Don Bosco Prep (Ramsey, N.J.).
Both Nyok and Asprilla played in the very first round of camp games on different courts and it was evident within the first few stanzas that it was going to be difficult to find better prospects in attendance than that sizable duo. Nyok is an elite shot blocker with impeccable timing, the ability to get to the attempt from all angles, soft defensive hands (doesn't chop at players or swat down), patience on offense and good interior passing. Add that all up and you will be hard pressed to find too many better prospects in the national 2027 class with better upside than Nyok.
Asprilla is a bundle of energy who challenges everything at the rim on both ends of the floor. Whereas Nyok was turning heads with his nimble ability and rim running, Asprilla could be heard from other courts. He loves to get downhill and finish with authority ala a young Darryl Dawkins or young Amar'e Stoudemire. Asprilla also can score around the rim with nice half hooks, basic drop steps and attacks the offensive glass with fervor. He can also step away from the rim with a solid face-up game and only needs to clean up a bit of the extra dribbling to be an absolute force in the high school game. That surely won't be a problem for Asprilla playing alongside All-American guard Dylan Harper and a host of other talented perimeter players at Don Bosco Prep.
After the first set of games was over, the stage was set for the two talented big men hailing from two different continents to match up in the top All-Star Game at the camp's conclusion. The matchup of tender timber didn't disappoint, even though Asprilla proved to be a bit stronger and able to dictate where he wanted to get to in the painted area easier this his seven-foot counterpart. Nyok definitely had his moments, but was a bit frustrated offensively when he felt Asprilla's chest-to-chest power.
Asprilla finished with 11 points, seven rebounds and three blocks shots for the white club. Nyok tallied two points, six rebounds, two blocks and a nifty assist for the winning black club. At the camp's conclusion, Asprilla shared Most Outstanding Player honors with his fellow big man, as Nyok graciously and humbly stepped forward to be honored. Nyok is a bit quiet but the fire burns inside him to improve. Nyok has all the tools to one day make a handsome penny with the roundball in his hands.
The Top 30 affair was an excellent game and a handful of players were worthy of Game MVP honors. Perry and Thomas were joined by teammate Collins Onyejiaka, a 6-foot-10 2026 no non-sense center from Newman School (Boston, Mass.), as MVPs along with the white club's Josiah Jervis, a 6-foot-5 wing from Archbishop Stepinac (White Plains, N.Y.).
Thomas was shooting and play-making at a high clip and was a worthy MVP selection after the title of camp's top guard was in full deliberation heading into the all-star games. Thomas ended the discussion with his performance, which included seven points and an unofficial Pangos Frosh/Soph Cream of the Crop individual record 13 assists, including the game-winner. Thomas' New Heights Lightning EYBL partner Perry finished with a game-high 16 points, including three 3-pointers. Also scoring 16 points for the victors was 6-foot-7 2027 forward Andrew Kretkowski of Rutgers Prep (Somerset, N.J.).
The Black club built a nine-point halftime lead, but after the White Club stormed back in the second half and actually took the lead, it was the inside-outside combination of Thomas and Onyejiaka that got things rolling and made the game quite entertaining. Thomas found the New England-bred big man on a host of pick-in-rolls and drop offs to the tune of 14 points. Onyejiaka only missed one shot from the field. Jervis led the way for the White club with 15 points.
While Thomas and Perry are travel ball buddies, Perry and Jervis are actually high school teammates and New York City Catholic High School Athletic Association (CHSAA) rivals of Thomas.
"I'm a pass first guard and it's just a natural part of my game to make others happy and get them the ball," Thomas said. "I was blessed to be named to The Top 30 game. As far as battling Stepinac, we lost alot so I know I am going to have to really rebound and get my teammates involved."
"I knew he was going to hit me in the corner," Perry said.
The difference in talent level was stark between the first all-star game and second Cream of the Crop Top 70 game reserved for the camp's next 40 best players. Event director Dinos Trigonis usually doesn't go so deep with his second game selections, but there easily could have been 20 additional players worthy of some kind of recognition for the second all-star game. There were that many talented players right below the first group. Trigons also felt the shot-blocking ability was perhaps the best he's ever seen at any of his regional frosh/soph camps over the past 10 years.
In addition to Perry and Jervis, one more Archbishop Stepinac player made the Top 30 game with two additional Crusaders selected for the Top 70 game. Darius Ratliff, a 6-foot-8 2026 forward and the son of former three-time NBA block block champ Theo Ratliff, scored five points for the White club. He had some terrific moments during camp games facing up and making shots and blocking some on the inside at a high level.
His twin brother Adonis Ratliff, a shade shorter at around 6-foot-7, had three points and a blocked shot for the Black club in the Cream of the Crop Top 70 game, while high school teammate Hassan Koureissi, a 6-foot-4 2026 guard, proved to be one of the better players in the Top 70 game. He scored 11 points for the Black club.
With five players rated amongst the Top 50 camp performers, Stepinac coach Patrick Massaroni has plenty of nice, young depth to build around star guard and recent Kentucky commit Boogie Fland. It's no wonder the Crusaders are expected to be one of the top East Region teams when the preseason 2023-24 FAB 50 National Team Rankings drop on October 29.
The White club rolled to an easy 104-77 victory in the Top 70 game. Selected MVP for the wining club was 6-foot-9 2026 forward Shane Pendergrass of Mt Zion Prep (Lanham, Md.) with 6-foot-1 2026 guard Jordan Dill nabbing honors representing the Black club. Pendergrass was easily the top performer in the Top 70 contest and the only player who legitimately had a claim for a Top 30 slot. He competed well and his motor didn't stop until he collected 22 points and nine rebounds.
The left-handed Dill finished with 15 points.
Ronnie Flores is the national Grassroots editor of Ballislife.com. He can be reached at [email protected]. Don't forget to follow him on Twitter: @RonMFlores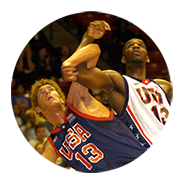 Want more on this article?
Ask a question or start a conversation in the BALLISLIFE Forum!
Click Here!