On Friday Morning, the New York liberty held their team exit interviews. Former Oregon Duck Sabrina Ionescu talks puking in a trash can, injuries, offseason plans, and her first WNBA Finals experience.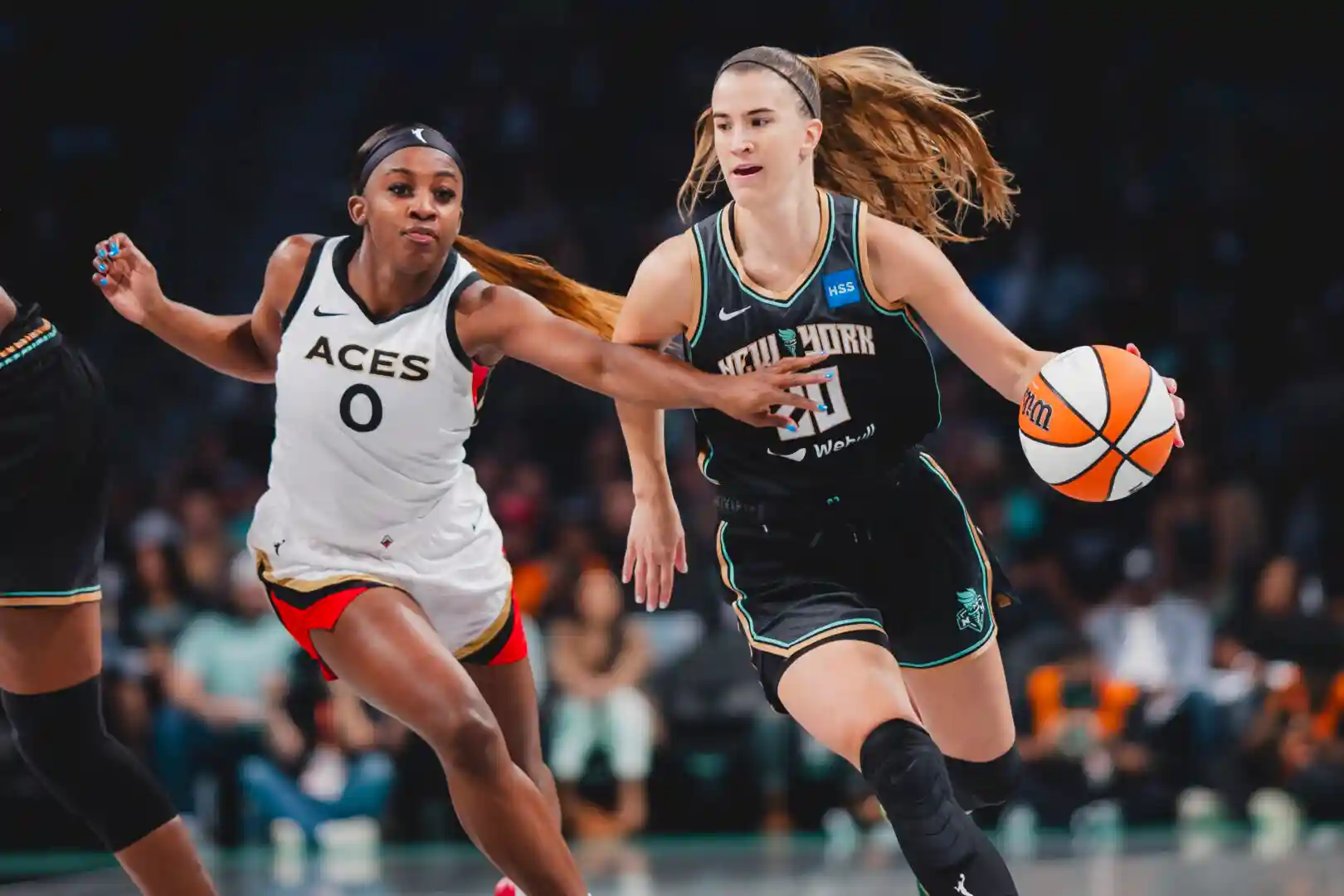 No. 20 is a superstar in the making
If you didn't know, New York Liberty guard Sabrina Ionescu scored a record 37 points to win the WNBA three-point contest this season. 37 is a record for both the NBA and WNBA, surpassing Steph Curry, Klay Thompson, Dirk Nowitzki, among several other basketball greats.
One of the most captivating players in women's basketball NCAA history, Sabrina Ionescu was an iconic name at the University of Oregon. The all-time NCAA leader in triple doubles (26), Ionescu has quite the versatile skill set. Yes, the Oregon Ducks lost to Baylor in the Final Four her junior season. Unfortunately, the world didn't get to see Ionescu on the biggest stage in 2020 due to the Covid-19 pandemic.
Ranked as one of the all-time greats in NCAA basketball, Ionescu totaled 4,693 minutes played, points scored, rebounds, and assists. That's second all-time in NCAA basketball history, just behind Cheryl Miller. To show how great she really was, Sabrina had rankings over Pete Maravich, Doug McDermott, Elena Delle Donne, Tim Duncan, Lisa Leslie, Rebecca Lobo, Steph Curry, Diana Taurasi, Candace Parker, and Shaquille O'Neal. That is sheer greatness, which has translated into her WNBA career.
Throughout her collegiate career and into the WNBA, Ionescu notably stated she thrives in big moments. Drafted No. 1 overall by the New York Liberty in 2020, the guards first season was cut short due to an ankle injury. New York finished 12-20 in 2021, and the Liberty conceded to the Chicago Sky in the first round in 2022.
Sabrina Ionescu experience her first WNBA Finals run
Sab always knows how to keep things light 😅#wnba #WNBAFinals #LightItUpNYL pic.twitter.com/PTt5k7b5zT

— Sara Jane Gamelli (@SaraJGamelli) October 21, 2023
Having been in the spotlight, Ionescu was truly tested in the 2023 Finals against the Las Vegas Aces. In four Finals games, Sabrina averaged an underwhelming 9.8 points, 3.8 rebounds, and 5.5 assists per game. With the Aces strong three guard lineup, Ionescu was held to 31.6 percent field goal shooting. In her first Finals, the Liberty collapsed in games one, two, and four. New York didn't have an answer, as the Las Vegas Aces won their second consecutive WNBA Championship.
In fact Sabrina Ionescu did admit she does get nervous before games, and was seen puking into a trash can in game four of the WNBA Finals. Down 2-1, the Liberty had a chance to tie the series in front of over 16,000 fans at the Barclays Center.
"I don't know, I was just feeling like I was about to throw up and was calling for a garbage can," said Ionescu. "Maybe the emotions of the game, everything going on, just wasn't feeling great. Good thing were was a garbage can right there and it didn't end up on the floor."
The Liberty now know what it takes to win
"There was this pressure in understanding that we didn't achieve our goals, and I don't believe in that, " Ionescu told the press. "There's beauty in the struggle, and you have to understand what it feels like to lose to come out on top. For us, having that silence in the locker room, knowing what it feels like to be so close and not get it, is going to fuel us going into this offseason, into this next year, understanding what it takes to win."
Not only was this the first Finals appearance for Sabrina, the Liberty haven't reached the WNBA Finals since 2002. With such acquisitions of players in the offseason, New York ended that 21 year drought.
2023 was a lot of "firsts" for Sabrina Ionescu
"It was a lot of firsts for me, it wasn't just the finals, it was the semi-finals. There was a lot of firsts for me this year. Understanding that I am 25 years old and still trying to figure it out. I think giving myself grace through that process, but also holding myself to a really high standard. Now having those experiences under my belt, I now understand what it takes-- what it takes to win at home, what it takes to win on the road."
Although Ionescu and the Liberty didn't reach their lofty championship goals, their season was historic. Finishing a franchise best 32-8, New York won their first Finals game since 1999, when Teresa Weatherspoon hit that half-court shot. For many fans, the Liberty brought hope back to New York, and did so with minimal time to develop as a team.
"I've never been on a team that's been more committed to one another than what it's been like this year," continued Ionescu. "We had players from all over come together in such a short amount of time and commit to one another. For a team as new as we were, with so many different role changes, to come in and be in a finals, is unheard of."
The Aces experienced a fair amount of early struggles
3 years ago today the Seattle Storm completed the sweep!

Breanna Stewart led with 26 points as the Storm won 92-59 over the Aces, claiming the series 3-0 and winning the 2020 WNBA championship.

Seattle became the 3rd franchise with 4 titles (Houston, Minnesota). pic.twitter.com/q7ggk0HUuO

— Across the Timeline (@WBBTimeline) October 6, 2023
As I like to always say when it comes to sports, "Rome wasn't built in a day." As for the Las Vegas Aces, they join the Los Angeles Sparks and the Houston Comets as the only teams to capture back-to-back Championships. Through their trek, it hasn't always been easy for Vegas. With the organization relocating from San Antonio before the 2018 season, the Aces held several top draft picks. Following their relocation, they conceded twice in the Semifinals, including a defeat in the 2020 Finals to the Seattle Storm.
"Us at the core understand the commitment that we had to each other to get to this point," said Ionescu. "I wouldn't have wanted to do it with anyone else, and I'm so excited that we had the team that we did. We bought into one another because it's really tough to get to this point. Vegas lost many before they were able to win. That's part of the struggle, that's part of figuring out how to get on top is having to lose."
She was dealing with a hip injury through the Finals
Sabrina Ionescu said she hurt her hip in Game 3 vs. Connecticut

"I had to get an injection before the game , just before those first two Vegas games, so, not ideal. It just kind of what happens. I wasn't really able to walk so timing wasn't great."#wnba

— Sara Jane Gamelli (@SaraJGamelli) October 20, 2023
Making no excuses, Sabrina Ionescu shockingly dealt with a hip injury. No. 20 originally suffered the ailment in Game 4 against the Connecticut Sun in the Semifinals, in which she was seen icing her hip. Ionescu, a guard who is extremely mobile off screens and getting to the rim, stated the injury very much affected her in the Finals. She made it very clear, it's still not an excuse for their defeat. Ionescu mentioned she put "everything out there" and did everything she possibly could to help her team.
"Hip injury," Ionescu stated. "I hurt it in the Connecticut game, game four. Yeah, I had to get an injection before the game just to be able to play in those first two Vegas games. Obviously not ideal. It's just kind of what happens, and there's no excuse, obviously. I wasn't really able to walk, so timing wasn't great. I believe it taught me something, and it's all part of the plan."
In an exhilarating three point defeat in game 4 against Connecticut, Sabrina had just 9 points, 7 assists, and 5 rebounds. In ten playoff games, including the finals, the Liberty guard averaged 13.7 points on 40 percent three-point shooting.
Sab looks to elevate her game this offseason
3 PT QU33N IN ACTION 🎯 pic.twitter.com/l2n7r6RJWZ

— New York Liberty (@nyliberty) October 19, 2023
Looking to elevate and improve her game this offseason, Ionescu stated she will spend the offseason on the west coast, and will not be playing professional basketball overseas. No. 20 said she'll be "busy" with USA Basketball and her camps back in Eugene, Oregon.
"I'm excited to continue to work on my game," said the guard. "I believe last year, having my first healthy offseason, being able to work on my game--I was able to come out and have the year that I wanted. This year, I'm excited to do that again, and take my game to the next level."
Expressing she'll get back in the gym in the next few days, Sabrina Ionescu shot 44.8 percent from long range this season. Improved by over 11 percent, Sabrina is always trying to better herself, and her game. Having led the league with 128 made threes, she broke Diana Taurasi's single season record.
"It's back to work, it's going to last a couple of days, now I'm looking forward to the next season." The Liberty guard feels the offseason will be crucial to improving her game, and will focus on using less ball screens.
"I've been able to see the improvement I had from the three point line, one season to the next. It's the best shooting percentage I've had from the three-point line. I want to take that to the next level as well."
Cited as a big "film watcher," Sabrina Ionescu and the New York Liberty will most likely keep their core players for another Championship run in 2024. Regardless of this year's outcome, Sabrina Ionescu is a star in the making.

Stay tuned for more WNBA related articles. Click here
Sara Jane Gamelli is a full-time Sportswriter at Ballislife, and Sports Content Creator on Twitch and TikTok. She has a focus on the NBA, WNBA, NCAA Basketball, and the NFL. Sara Jane currently resides in Connecticut/NYC area with her Cat and Dog. SJ has her undergraduate degree from the University of Connecticut in Economics, with a minor in business administration.