With the 2023 regular season complete, the WNBA playoffs will begin on Wednesday, September 13. Eight teams, four which represent the East and Western Conference, will compete for the WNBA Championship. The First-Round Playoff matchups will include the best of three games played. Followed by the first round are the semi-finals, and then the Finals. Here, you will find the WNBA betting odds, lines, matchups, and brackets for the WNBA First-Round playoffs between the Connecticut Sun and the Minnesota Lynx.
The official bracket for the 2023 #WNBAPlayoffs presented by @Google ⬇️

First Round begins Wednesday September 13th at 8pm/ET on ESPN2 #MoreThanGame pic.twitter.com/Jc90UfZUKt

— WNBA (@WNBA) September 10, 2023
WNBA Championship Title Odds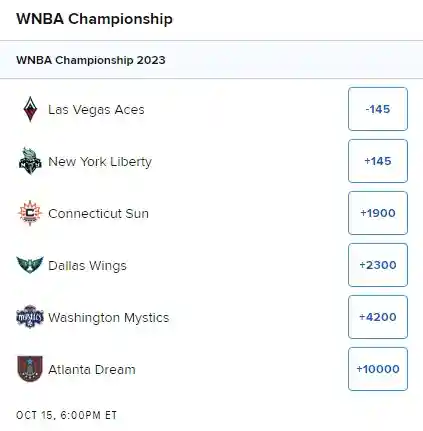 2023 WNBA Playoffs First-Round: Sun vs. Lynx
(3) Connecticut Sun (27-13) vs. (6) Minnesota Lynx (19-21)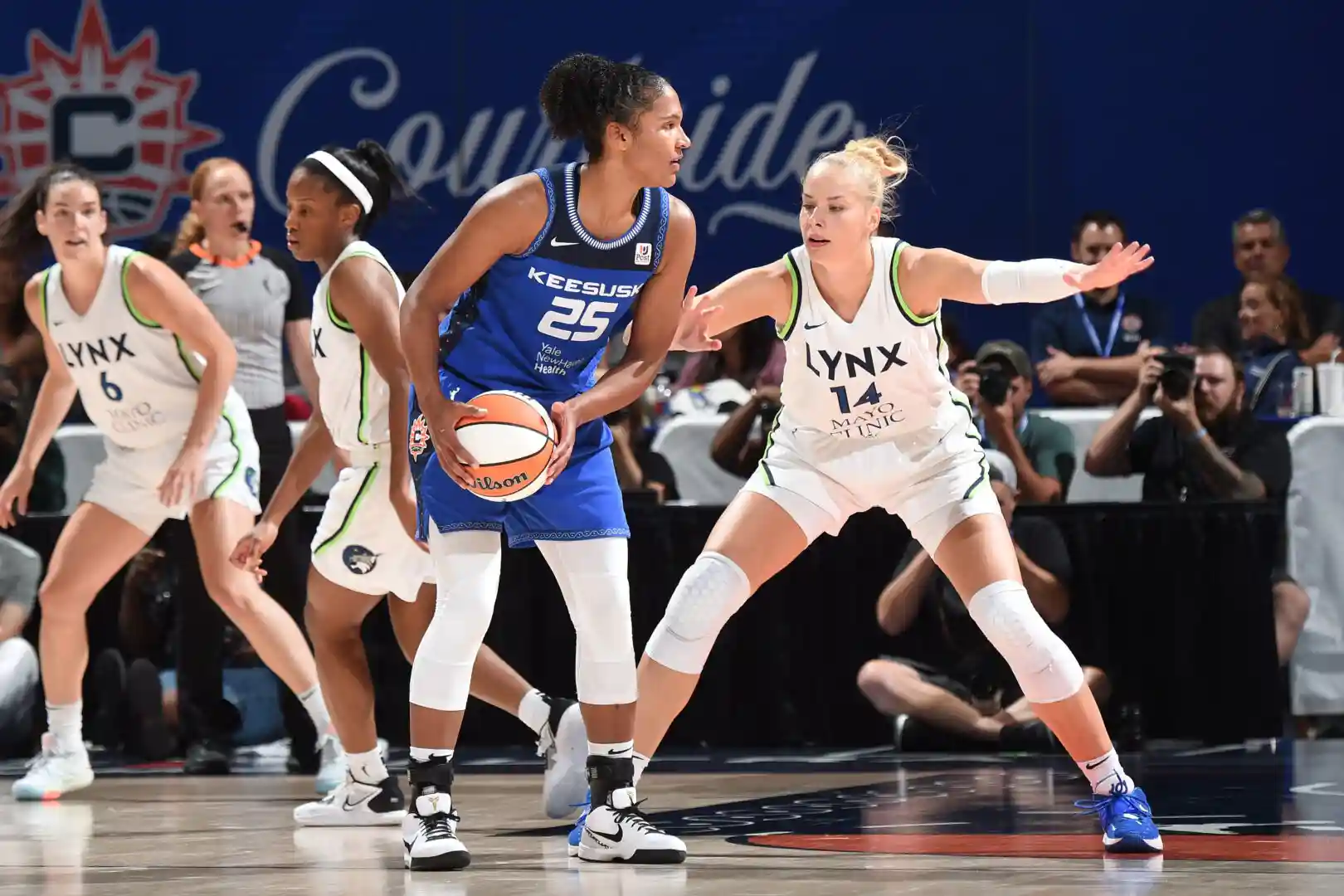 Game 1: Sept. 13, Minnesota at Connecticut, 8 p.m. ET/ ESPN2
Game 2: Sept. 17, Minnesota at Connecticut, 1 p.m. ET/ ESPN
Game 3: Sept. 20, Connecticut at Minnesota TBD/ESPN (If necessary)
Season Matchups
*Connecticut won the series 3-1*
Game 1: Connecticut 89, Minnesota 84 (Minnesota +6, over 159.5)
Game 2: Connecticut 89, Minnesota 68 (Connecticut -4, under 158)
Game 3: Minnesota 87, Connecticut 83 (Minnesota +12.5, over 161)
Game 4: Connecticut 79, Minnesota 69 (Minnesota +11.5, under 164)
Back-to-back triple doubles for Alyssa Thomas 👏

She has more triple doubles this season than all players in 2023 combined 😳 pic.twitter.com/GAzyMSg1bb

— ESPN (@espn) August 2, 2023
Injuries
Connecticut Sun
Tiffany Hayes, guard: Probable (knee)
DiJonai Carrington, guard: Questionable (foot)
Bernadett Határ, center: Questionable (knee)
Minnesota Lynx
Jessica Shepard, forward: OUT (ankle)
Lindsay Allen, guard, OUT: (thumb)
Natalie Achonwa, forward: OUT (maternity leave)
Jessica Shepard (ankle) ruled out for Wednesday.

— Underdog WNBA (@Underdog__WNBA) September 12, 2023
Series Preview
Sun
The matchup is set. The 2023 @WNBA Playoffs begin this Wednesday, September 13th at 8PM at Mohegan Sun Arena!

Don't miss the start of Sun vs. Lynx: https://t.co/vCwOo7XQtr#CTSun | #ForgedByFire 🔥 pic.twitter.com/KP7OyG28HO

— Connecticut Sun (@ConnecticutSun) September 10, 2023
The Connecticut Sun seemed doomed when they lost Jonquel Jones, Jasmine Thomas, and head coach, Curt Miller in the offseason. A year removed from the WNBA Finals; the Connecticut Sun find themselves right back in playoff contention. A month into the 2023 season, Connecticut lost their star forward Brionna Jones for the rest of the season with an Achilles injury. Led by All-Stars Alyssa Thomas and DeWanna Bonner, the Connecticut Sun prevailed and surprised many this season.
Of all teams, the Sun led the league in opponent points per game (79) and three-point percentage (31.1). With the right pieces surrounding Bonner and Thomas, the Sun were able to compete through 40 games as a defensive juggernaut. The Sun, led by Stephanie White, finished 27-13, which was third best in the WNBA. 4th overall in offensive rating, and 3rd in defensive rating, the Sun managed to stay afloat. Although the Sun dropped to 5th in offensive rating post all-star break (102.2), they managed to stay a top defensive team.
Since the All-Star break, Connecticut ranked third in rebounding (50.5) and assists percentage (67.5), and fourth in net rating (100) and steals (8.0). Through the backend of the season, the Sun dropped from 84.8 points per game, to 80.6. Connecticut is 13-7 at home, and will face the Lynx, who are .500 on the road, and beat them once at Mohegan Sun Arena. The Sun are 3-2 in their last five, in which they suffered dual losses to New York. Tiffany Hayes, DiJonai Carrington, and Bernadett Határ are all either probable or questionable for Wednesday's matchup. The loss of all three, or just one, could very much impact the series.
Lynx
next stop: Connecticut. ✈️ pic.twitter.com/OUonPDtsho

— Minnesota Lynx (@minnesotalynx) September 12, 2023
The Lynx managed to keep their playoff hopes alive and grab the No.6 seed after an 0-6 start to the season. Following the retirement of Sylvia Fowles, the torch was passed to former Husky, Napheesa Collier. Both draft picks Diamond Miller and Dorka Juhasz have been difference makers in the lineups, especially in the absence of Collier or other injuries. The Lynx, led by Cheryl Reeve will compete for a title, after missing the 2022 playoffs. Through 40 games, Minnesota ranks 8th in offensive rating (99.8), and 10th in defensive rating (105.7). Overall, they rank 10th in net rating, which measures Minnesota's point differential. Defensively, this team allows opponents to score 85 points a game, which is second highest next to Indiana.
With Jessica Shepard back from injury, along with Napheesa Collier, the Lynx didn't see much change post All-Star break. In the second half of the season, their -4.5 net rating ranks 9th in the league, ahead of the Fever, Storm, and Mercury. Once a championship dynasty in the 2010s, Minnesota will look to build around Collier, and Kayla McBride, who recently signed a multi-year extension with the Lynx. Although the matchup will be difficult, the Lynx beat the Sun on their home court, and will be without Jessica Shepard for game 1. With Shepard out, look for Juhasz and Miller to see significant playing time. The Lynx dropped four of their last six games, including losses against New York, Washington, Chicago, and Indiana.
Season Matchups
Connecticut leads the season series 3-1, in which their only loss came on their home court July 30. The Sun head into the playoffs with a 32-point differential over the four matchups, in which they outrebounded the Lynx by a total of five rebounds. In four games, the Sun shot 46.3 percent from the field, and 29 percent from the three. Minnesota finished the series shooting 43 percent from the field, and 30 percent from downtown.
Minnesota covered the spread in all matchups, and the Connecticut Sun won the MoneyLine in 75 percent of the meetings. The Sun put up 85 points a game, three more than their average, and the Lynx with 77. It's important to note, Connecticut was without Brionna Jones for three of the four matchups against Minnesota. Stephanie White, AP Coach of the Year will have home court advantage the first two playoff matchups.
Sun Key Players
One of the league's best, without question.

Congratulations to Alyssa Thomas for being named to the AP First Team All League! #CTSun | #ForgedByFire 🔥 pic.twitter.com/9zPTZR1Q6o

— Connecticut Sun (@ConnecticutSun) September 12, 2023
Forward Alyssa Thomas has been an MVP candidate all season and elevated her game to new heights. In the most valuable player race with Breanna Stewart and A'ja Wilson, Thomas was named to the AP First Team All-League. Throughout the season, Thomas recorded the most assists in a single season (316), six triple doubles, and 28 double-doubles, all WNBA records. Through 40 games, No. 25 is the first player ever to lead the league in assists and rebounds, have a 20-20-10 game, and have back-to-back triple doubles. She's the first WNBA player to have 600 points, 300 rebounds, and 300 assists. It's safe to say, without Thomas, the Connecticut Sun wouldn't be where they are this season.
DeWanna Bonner, in her 14th year in the WNBA, set a franchise single-game record with 41 points back on June 8. Averaging over 17 points a game, Bonner has been lighting it up all season long. In her fourth year with the Sun, Bonner is a force on both sides of the ball, along with Thomas.
A dominant duo
Combined, No. 24 and 25 average a combined 32.9 points per game, 15.5 rebounds, 10.1 assists, and 2.9 steals. In four games against the Lynx, Bonner and Thomas combined for 139 points (34 ppg), 62 rebounds (15.5 rpg), and 49 assists (12.2 apg). In game 2, Thomas dished out 16 assists alone, along with scoring 16 points. The play of Natisha Hiedeman, Rebecca Allen, and Tiffany Hayes will be vital, providing Hayes will be healthy. Combined, the three-guard accounted for 22 points in their 79-69 win against the Lynx. Tyasha Harris, acquired in the offseason from Dallas, will be a large x-factor off the bench. DiJonai Carrington, coming off an injury should be a key reserve for this Sun team. Health and guard production will be key here for Connecticut.
Lynx Key Players
add it to her résumé. 👑 pic.twitter.com/rTbwTLOBEC

— Minnesota Lynx (@minnesotalynx) September 12, 2023
After missing nearly all of 2022 due to the birth of her first child, Napheesa Collier was named Comeback Player of the Year. 2023 draft picks Diamond Miller and Dorka Juhasz were named to the All-Rookie team. With Kayla McBride signing her multi-year extension, the organization is certainly building around her and Collier. With some injuries, came inconsistencies for the Minnesota Lynx. Collier and McBride account for 35.8 points a game, followed by Diamond Miller with 12. The Lynx will be without Jessica Shepard and Lindsay Allen, both due to injuries. With those losses, expect Juhasz to fill that starting role, which will command a significant amount of pressure, especially from a rookie. Minnesota ranks 5th in bench points per game (19.3), which will be thinner with injuries.
Prediction
Both teams have questionable and definite injuries on both sides for Wednesday. Without Jessica Shepard, that leaves Minnesota with no choice but to start a rookie (Juhasz) in a critical game. Given the first round is only two games, I do think Minnesota will put up a fight here. Having stolen one game from Connecticut in their home arena, the Lynx are .500 on the road, and will matchup against of the best defensive units in the playoffs. If Minnesota can step up their defense, and play consistent on both sides of the ball, they may have a standing chance. With Connecticut, it can always be a gamble, however, they have a mean defense, and one of the top duos in the entire league.
My prediction for the WNBA Playoffs First-Round: Connecticut in three
We have now linked up with Prize Picks! Use the code LIFE to get a first deposit match up to $100 dollars on Prize Picks. Click here to get started.
Tweets by BallislifeBets
NATIONAL PROBLEM GAMBLING HELPLINE
1-800-522-4700
The National Council on Problem Gambling operates the National Problem Gambling Helpline Network. The network is a single national access point to local resources for those seeking help for a gambling problem. The network consists of 28 contact centers that provide resources and referrals for all 50 states and US territories. Help is available 24/7 and is 100% confidential.