With the 2023 regular season complete, the WNBA playoffs will begin on Wednesday, September 13. Eight teams, four which represent the East and Western Conference, will compete for the WNBA Championship. The First-Round Playoff matchups will include the best of three games played. Followed by the first round are the semi-finals, and then the Finals. Here, you will find the WNBA betting odds, lines, matchups, and brackets for the WNBA First-Round playoffs between the New York Liberty and the Washington Mystics.
The official bracket for the 2023 #WNBAPlayoffs presented by @Google ⬇️

First Round begins Wednesday September 13th at 8pm/ET on ESPN2 #MoreThanGame pic.twitter.com/Jc90UfZUKt

— WNBA (@WNBA) September 10, 2023
WNBA Championship Title Odds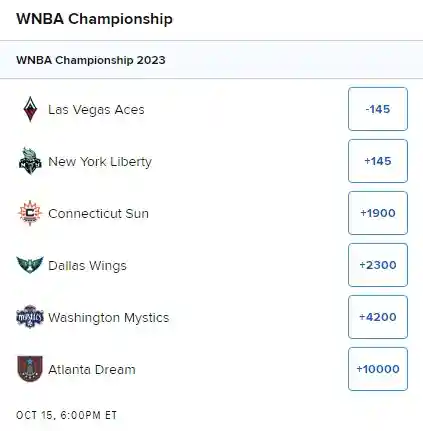 2023 WNBA Playoffs: Liberty vs. Mystics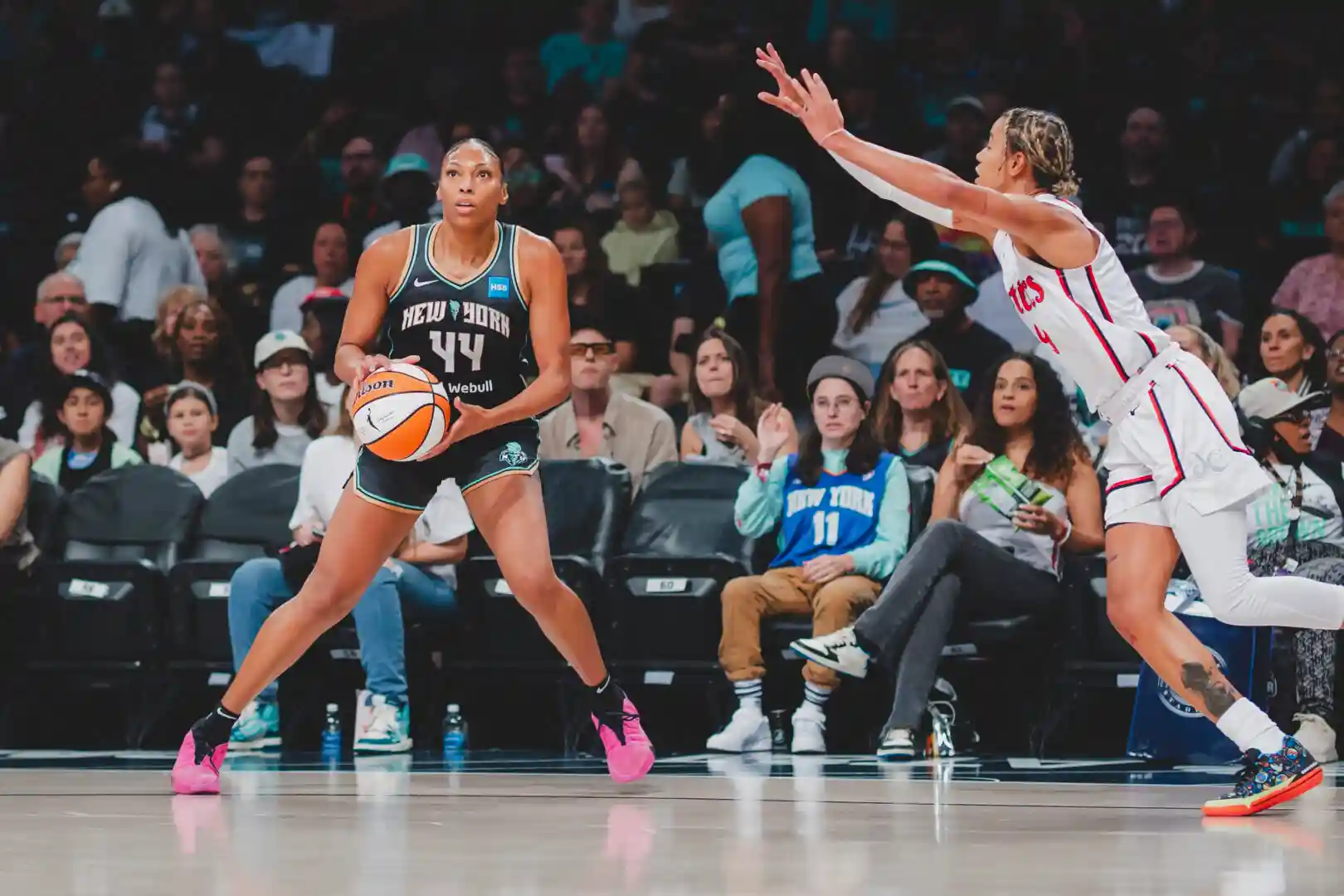 (2) New York Liberty (32-8) vs. (7) Washington Mystics (19-21)
Game 1: Sept 15, Washington at New York, 7:30 p.m. ET/ ESPN2
Game 2: Sept 19, Washington at New York, 7 p.m. ET/ ESPN
Game 3: Sept. 22, New York at Washington, TBD /ESPN (If necessary)
Season Matchups
*The Series is split 2-2*
Game 1: Washington 80, New York 64 (Washington +2.5, under 163.5).
Game 2: New York 89, Washington 88 OT (Washington +7, over 161.5)
Game 3: New York 96, Washington 87 (Washington +10, over 163.5)
Game 4: Washington 90, New York 88 (Washington +10.5, over 162.5)
Big Win in the Big Apple 😤#BallOnOurTerms | @Ticketmaster pic.twitter.com/Yyn2mhD2uN

— Washington Mystics (@WashMystics) September 10, 2023
Injuries
New York Liberty
Han Xu, Center: Out (Wasn't with the team Sept. 10 due to overseas commitment)
Washington Mystics
Kristi Toliver, guard: OUT (ACL)
Shakira Austin, Center: OUT (Hip- Out Sept. 9)
Series Preview
Liberty
The New York Liberty finished with their best record in franchise history (32-8) under Head Coach Sandy Brondello. Led by Breanna Stewart, Sabrina Ionescu, Jonquel Jones, Courtney Vandersloot, and Betnijah Laney, the Liberty finished first 1st in the WNBA Eastern Conference. Their 32 wins are the second most regular season wins in history. As they enter into the WNBA playoffs, New York averaged a franchise best in points, assists, three-pointers made, offensive rating, and total net rating.
Since the month of August, the Liberty led the league in win percentage (.867) field goal percentage (45.8), field goals made (33.3), three-pointers made/attempted, rebounds, assists, offensive rating, defensive rating, net rating, true shooting percentage, and player impact estimate. Though they dropped a nail biter in their last matchup against Washington, New York has been one of the most elite teams, especially towards the backend of the season. Overall, their roster features a combined 19 All-Star appearances. Crowned first time WNBA Commissioners Cup Champions, the Liberty look the bring the first ever trophy to New York.
Mystics
After finishing as the 5th seed in 2022, and losing to Seattle in the Semi-Finals, Washington is out for revenge this year. Unable to gather consistency due to injuries to Elene Delle Donne, Natasha Cloud, Ariel Atkins, and Shakira Austin, the Mystics have somewhat of a healthy roster. After losing Kristi Toliver due to a recent ACL tear, Washington will lose some slight guard depth. Through 40 games, the Mystics finished 7th in offensive rating, 5th in defensive rating and total net rating (-0.4). They finished as the worst team in terms of rebound percentage, and near last in field goal percentage (42.8). Since the All-Star break, Washington remained the 9th worst team offensively, with a 99.4 offensive rating. They finished 4-3 in their last games, included victories over the Las Vegas Aces and New York Liberty. With Center Shakira Austin questionable, Washingtons biggest questions remains their health.
Season Matchups
On repeat 🔁#BallOnOurTerms pic.twitter.com/NejVd6IaBv

— Washington Mystics (@WashMystics) September 11, 2023
In four regular season matchups, The Washington Mystics hold an eight-point differential, with the series split 2-2. Both franchises have met a total of nine times in the playoffs, including their last meeting in 2017. In those nine playoff matchups, New York has a 6-3 record against Washington. Overall New York outrebounded Washington 169-121. For rebounds, that's a significant margin (48), and will be a huge impact in this series.
Through four meetings, the Mystics averaged over 86 points a game, which is six points higher than their season average. Defensively, they held New York to under 40 percent three-point shooting in all matchups. For the Liberty, they averaged 84 points per game, five points less than their norm. Two of the four games were decided by two points or less, including an 89-88 overtime win by New York. On Sept. 10, the Mystics won by two points at the buzzer, thanks to a last second shot by Brittney Sykes. The New York Liberty are 32-8 when betting on the money line, and Washington 19-21-0. With only 8 losses on the season for New York, two came against Washington.
Liberty Key Players
The Stars Align Tour! Only one place to see it: BROOKLYN.

The superstars of the New York Liberty cover SLAM 246. https://t.co/iqhDhVEsqc pic.twitter.com/ThtUhmwdiq

— SLAM (@SLAMonline) September 12, 2023
Some would call this team a "super team," while Sabrina Ionescu stated "I think we're just super humans" on WSLAM. With the offseason acquisitions of Breanna Stewart, Jonquel Jones, and Courtney Vandersloot, the Liberty finished with the second-best record, with the No. 2 seed.
Voted the 2023 Associated Press Player of the Year, Breanna Stewart has the most 40-point, 10 rebound games in history. Stewart broke the WNBA record for points in a single season, tied the franchise record for 20 double-doubles, and has the most 40-point games in a season. No. 30 finished second behind Jewell Loyd in total points scored (919), third in rebounds (371) and blocks (63). Behind Stewart is a powerhouse, including Sabrina Ionescu, who was selected to the 2023 All- Associated Press Second Team.
Ionescu, 25, broke to all-time record for three-pointers made in a game, and just the 3rd player in history with 100 three-pointers made in a single season. Guard Courtney Vandersloot, "the floor general" reached 4,000 career points, and is playmaker and engine of this team. Former MVP Jonquel Jones was named Commissioners Cup MVP in August. Betnijah Laney, a defensive specialist, recently signed a multi-year extension, and has proven herself a vital part of this team. The starting five make up 74 points a game, which is 84 percent of their offense.
Defensive Specialists
With Kayla Thornton, Stefanie Dolson, and Marine Johannes on the bench, the Liberty rank near last in bench points per game (15.2). Truly a special team, all players have unselfishly come together, and developed trust and chemistry throughout the season. Jonquel Jones, Breanna Stewart, Sabrina Ionescu, and Courtney Vandersloot rank within the top ten in offensive rating. Thornton, Jocelyn Willoughby, and Dolson, all defensive players, rank top 17 in defensive rating.
Mystics Key Players
Bringing this Energy to playoffs 🗣️#BallOnOurTerms pic.twitter.com/cq7S1edZLY

— Washington Mystics (@WashMystics) September 12, 2023
The Washington Mystics are the biggest mystery heading into the playoffs. Plagued by injuries, the Mystics find themselves in a tough matchup on the road. Washington, 7-13 in away games, will be without Kristi Toliver, and possibly Shakira Austin. Led by Elena Delle Donne, the Mystics dropped three of their last five, although they achieved impressive victories over New York and Las Vegas. Delle Donne, limited to 23 games this season, finished 17th in points per game (16.7), and 13th in field goals made.
Behind Delle Donne is Brittney Sykes, Natasha Cloud, Ariel Atkins, and Shakira Austin. With a three-guard lineup, when healthy, Clout, Atkins, and Skyes account for 50 percent of the team's total offense. In their previous matchup against the Liberty, the Mystic's backcourt comprised of 48 points, with 25 off the bench. If Austin is unable to suit up, the Mystics will struggle for frontcourt depth, behind Delle Donne and Hines-Allen.
Guard Brittney Sykes ranks 21st in points per game (15.9), including a 29-point performance in game three against New York. If healthy, this is a Mystics team that can be competitive, as we've seen in previous games. With a majority of their starters healthy and ready to suit up, this may be one of the most entertaining series we may see in the first round.
Prediction
Mentioned in my previous article, all predictions are for the straight money line series win. Although the Mystics gained a few players, the health of some are questionable. With the series tied 2-2, the Liberty are a vastly different team than their third meeting, on July 21st. With the Mystics averaging 86 points a game against New York, this should be a fun and competitive series. The Liberty are scary good, and several players mentioned they haven't reached their full potential. Perhaps we will see this in the upcoming weeks.
Washington covered the spread in four games and won't let New York walk away with any easy wins. With question marks in the frontcourt, the Mystics will heavily rely on their three guards. In my opinion, this series will be close, however, I will take the Liberty based off experience and talent. New York will have to dominate on the boards, as well as in the paint, and Washington will have to play stellar defense on the perimeter.
My prediction for the WNBA Playoffs First-Round: New York in three
We have now linked up with Prize Picks! Use the code LIFE to get a first deposit match up to $100 dollars on Prize Picks. Click here to get started.
Sara Jane Gamelli is a full-time Sportswriter at BallisLife, and Sports Content Creator on Twitch and TikTok. She has a focus on the NBA, WNBA, NCAA Basketball, and the NFL. Sara Jane currently resides in Connecticut with her Cat and Dog. SJ has her undergraduate degree from the University of Connecticut in Economics, with a minor in business administration.
Tweets by BallislifeBets
NATIONAL PROBLEM GAMBLING HELPLINE
1-800-522-4700
The National Council on Problem Gambling operates the National Problem Gambling Helpline Network. The network is a single national access point to local resources for those seeking help for a gambling problem. The network consists of 28 contact centers that provide resources and referrals for all 50 states and US territories. Help is available 24/7 and is 100% confidential.