Two weeks before Kobe Bryant's final NBA game, Shaquille O'Neal told his 37-year-old former teammate, "I need 50 that night. Can you do it? Your last game, your last home game at the Staples, can you give us 50?"
"Uh, no," Bryant said, laughing. "No. Absolutely not."
We all laughed too because we all knew there was no chance Kobe, who was averaging just 16 points on 36% shooting over his previous 30 games, had any chance of scoring his first 50-point game since 2009. And NBA legends rarely ever even score 20+ in their final NBA game.
Admiral: 7
AI: 13
Barkley: 2
Bird: 12
Dirk: 20
Dr J: 24
Duncan: 19
Ewing: 12
Hakeem: 8
Iceman: 0
Kareem: 7
KG: 2
K. Malone: 2
Kobe: 60
Magic: 6
Melo: 10
MJ: 15
Nique: 2
Pippen: 2
Pistol: 10
Shaq: 2
Skywalker: 4
T-Mac: 2
Truth: 0
Wade: 25
West: 5
Wilt: 23
On April 13th of 2016, The Black Mamba not only got Shaq his unreasonable 50 but he added 10 MORE POINTS to finish with the most points ever by a NBA player in their final NBA game. If that wasn't impressive enough, he did it in a comeback victory against the Utah Jazz by outscoring the entire Jazz team 23-21 in the 4th quarter. Yes, he took an insane 50 shots in this game and did miss 15 of his 21 three-point attempts but taking the most shots ever in a final game is the most Kobe-est Kobe thing he could do.
"Mother Effin amazed!!!!!!" Tweeted Kyrie Irving. "Left the game on his terms and his way! Legend engraved in history forever!"
On the latest episode of FIRST BALLOT: THE HALL OF FAME PODCAST, the always entertaining and though-provoking Oscar winner Van Lathan Jr. joins host Neil Punsalan to discuss why Kobe is their favorite NBA player and take a deep dive into Kobe's curtain-closing act that he once compared to the ending of Quentin Tarantino's KILL BILL 2 and most of us will agree was the greatest final game by an NBA player.
Showtime Codes:
(12:20) What Van Lathan Jr. wanted to be when he grew up
(14:00) How the movie Do The Right Thing changed Van Lathan Jr.
(16:10) The movie that made Neil want to be a professional armwrestler
(18:40) Van's weight loss journey
(25:30) How Neil's mother inspires his inquiries into his own health and wellness journey
(32:10): Van describes his playing style
(33:13) Van Lathan Jr.'s player comp: Paul Pierce
(35:50) "I don't think that anybody has ever had a final game that is more emblematic"
(43:10) How Kobe makes people question their own mortality
(46:50) The autographs that Van has
(52:30) What Neil will remember from the game
(55:15) A moment that changed Van Lathan Jr.'s career
(58:15) The question Van has for the Warrior players
(01:00:48) "The trance of greatness"
(01:04:20) Van Lathan still watches the recording
(01:06:10) The game that made Neil cry
(01:07:15) Devil's advocate: Mamba Out
(01:09:48) Best sports nickname
(01:14:00) The part of the game that made Neil tear up
(01:17:28) The beverage Neil doesn't like (and it's not water)
(01:17:53) Neil shocked at Van's favorite movie
(01:19:20) Van's favorite dunk
(01:20:15) The criteria for a hall of fame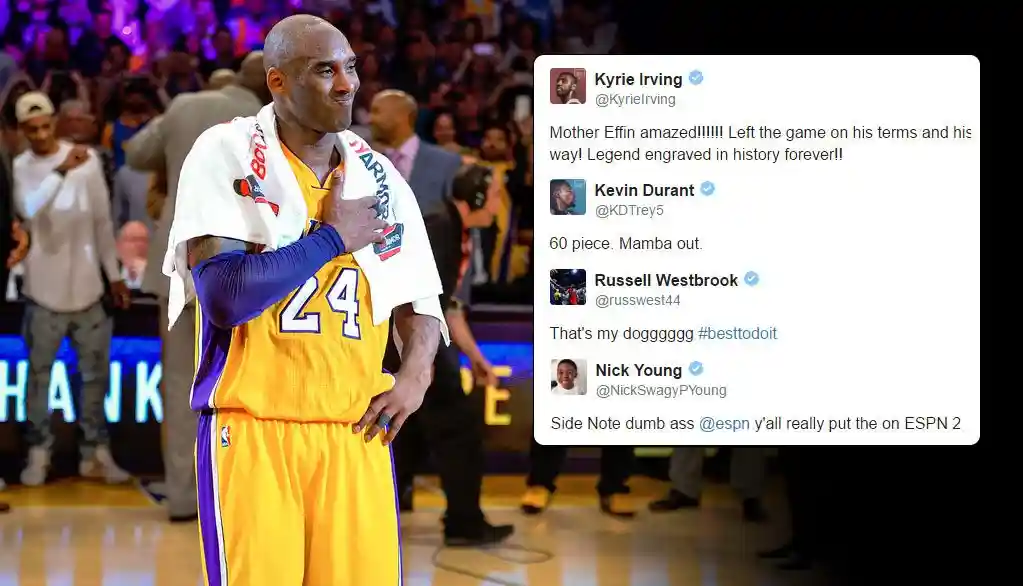 BONUS VIDEOS