Twitter: @GGirlSports
Tonight, was supposed to be the anticipated matchup between Scoot Henderson from Portland and Victor Wembanyama from San Antonio.  Henderson, the third overall pick in the 2023 NBA Draft, left last game due to a shoulder injury.  It was announced by Portland's PR team that Scoot will miss tonight's game and will be day-to-day.  With Scoot Hendersons absence, all eyes will be on Victor Wembanyama, who performed in an almost sellout crowd last game against Charlotte. These two teams will play at 9 PM EST, at Thomas & Mack Center, located in Las Vegas, Nevada. If you are looking for the best betting odds and stats, here is information to know:
*All Odds Courtesy of Draft Kings*
Portland Trail Blazers (0-1) vs. San Antionio Spurs (1-0)
Time: 8 PM EST
TV: ESPN 2
Trail Blazers: +130
Spurs: -150
Over/Under: 182
Spread: Spurs: -3
Portland Trail Blazers Summer League Stats:
PPG: 99 | FG: 41.7 % | 3 PT: 42.9 % | FT: 81 % | REB: 46 | AST: 21 | STL: 7 | BLK: 10 | TO: 15
Portland Trail Blazers Summer Betting Stats:
Money Line:  0-1 | ATS: 0-1
San Antonio Spurs Summer League Stats:
PPG: 76 | FG: 33.3 % | 3 PT: 31.3 % | FT: 60 % | REB: 51 | AST: 21 | STL: 20 | BLK: 10 | TO: 12
San Antionio Spurs Summer Betting Stats:
Money Line:  1-0 | ATS: 1-0
Portland Trail Blazers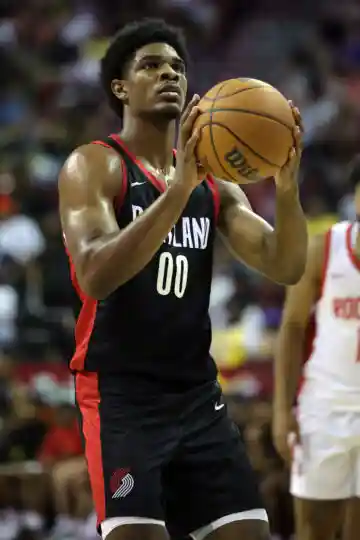 The Portland Trail Blazers are the reigning 2022 NBA Summer League Champions.
The Blazers had an absolute thriller of a first game against the Houston Rockets.  Unfortunately, things did not entirely go Portland's way.  First, the Trail Blazers lost their star rookie Scoot Henderson to a shoulder injury in the third quarter, and Rockets Jabari Smith hit the game winning shot.  Fortunately, Scoot Henderson seemed to have avoided a bad injury, however, he will be out for tonight's game, and will be listed day-to day (Portland Trail Blazers VP). 
Besides Henderson, Portland drafted Kris Murray, from Iowa, and Rayan Rupert, from France.   Fun fact, Kris Murray is the brother of Sacramento Kings second year player, Keegan Murray.  In addition, Portland has second year player Shaedon Sharpe, who averaged nearly 10 points a game last season, and Jabari Walker.  Also, Portland has Antoine Davis on the roster, who had one of best college careers at Detroit Mercy.
Although Portland lost their first game by one point, they had a high offensive scoring game. Henderson, limited by injury, finished with 15 points, 6 assists, and 5 rebounds in 12 minutes.  Sharpe led the team with 21 points on 7-21 and 3-9 shooting.  In addition, Sharpe had 2 blocks and 2 steals on the defensive end.  Overall, Portland shot over 40 percent from the three, however, they did struggle from the field.  Without Scoot Henderson, the Blazers will have to heavily rely on Sharpe, who has NBA Experience.  Overall, it will give Portland a look at other draft picks, and players fighting for a roster spot.
San Antonio Spurs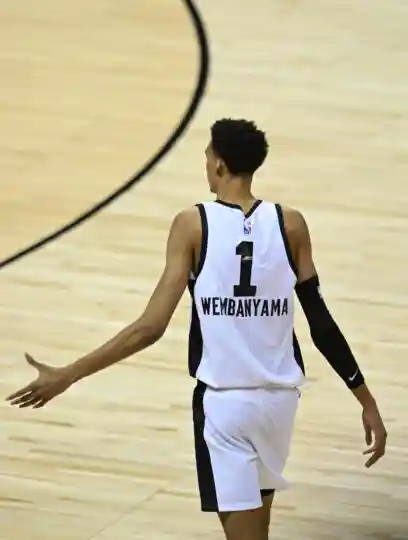 Nearly 18,000 spectators gathered to see Victor Wembanyama's unofficial NBA Debut.  The Spurs were on fire in the California Summer Classic, in which Wembanyama did not play.  Overall, Victor had a very underwhelming first game as a rookie. Also, let's not forget, it's only been one game.  Wembanyama admitted in a press conference post-game that he seemed lost and needs to condition more.
Wembanyama scored 9 points on 2-13 and 1-6 shooting in 27 minutes.  To put it lightly, Wembanyama struggled, however, there was a great amount of pressure on him coming into that game.  In addition, he grabbed 8 rebounds, and had 5 blocks on the defensive end. In addition, we saw high IQ and his ability to facilitate when the shots weren't falling.  It will take time for Wembanyama to get used to American basketball, the culture, and the tempo. It's also important to note Wembenyama was +4 on the court, and I do think he will improve more and more each game. 
The San Antonio Spurs are a very good summer team, even before Wembenyama stepped foot on the court.  Julian Champagnie, Dominick Barlow, Sidy Cissoko, and Blake Wesley are all players that can seriously ball out.  In their last game, the Spurs shot under 35 % from the field and the three in a relatively low scoring affair. I expect them to bounce back and play as well as they did in the California Summer Classic. In California, The Spurs finished 2-0 and shot nearly 40 percent from the field.  In addition, Julian Champagnie finished the California Classic third overall with 29 points per game, and Dominck Barlow, with 13.5.
Prediction
It was hard to hear that Scoot Henderson will be out for tonight's game; however, Portland made the right call on behalf of his health.  Both Portland and San Antonio are very good teams, that consists of rookies, G-League, and second year NBA Players.  If Portland wants to win this game, other players will have to step up in place of Henderson, and they will have to take advantage of the Spurs perimeter defense. On paper, Portland is averaging more than 20 points more per game, however, it's from a small sample size. 
We saw a different Spurs team than what we saw in California.  Both Wesley and Champagnie struggled shooting wise, although they were still positive on the court.  The Spurs also shot poorly as a whole on the floor, and at times looked out of sync with the debut of Wembanyama. I think this will be an exciting game on both ends, however I expect Wemby to have a comeback game.  I fully believe Wembanyama needs time to adjust and develop his game. However, he can have an immediate impact on this team. Give me the Spurs Money Line, and the -3.  
For More NBA Betting Info & Game Predictions, Follow us at @BallislifeBets.
Sara Jane is a full-time content creator, focusing on both college basketball, the NBA, NFL, and writer of Ballislife.com. Don't forget to follow her on Twitter/YouTube/Kick/Twitch/Instagram: @GGirlSports.
NATIONAL PROBLEM GAMBLING HELPLINE
1-800-522-4700
The National Council on Problem Gambling operates the National Problem Gambling Helpline Network. The network is a single national access point to local resources for those seeking help for a gambling problem. The network consists of 28 contact centers that provide resources and referrals for all 50 states and US territories. Help is available 24/7 and is 100% confidential.