@Twitter: @GGirlSports
Summer League has kicked off, and today includes a slate of games to bet on.  In this article, we will break down the matchups of the day, odds, stats, and our predictions for the early afternoon matchups. Today's games start at 3:30 PM EST, with the last game starting at 10 PM EST. In addition, each matchup will be aired on either NBA TV or ESPN2.  Also, the 8 sets of games will be played at Cox Pavilion, and Thomas & Mack Center, located in Las Vegas.  If you are looking for the best betting odds and stats, here is information to know.
*All Odds Courtesy of Draft Kings*
Toronto Raptors (0-1) vs. Cleveland Cavaliers (1-0)
Time: 3:30 PM EST
TV: NBA TV
Raptors: +110
Cavaliers: -130
Over/Under: 178.5
Spread: Cavaliers: -4
Toronto Raptors Summer League Stats:
FG: 37.3 % | 3 PT: 34.3 % | FT: 60 % | REB: 35 | AST: 16 | STL: 11 | BLK: 9 | TO: 17
Toronto Raptors Betting Stats:
Money Line:  0-1 | ATS: 0-1  
Cleveland Cavaliers Sumer League Stats:
FG: 42.3 % | 3 PT: 31.6 % | FT: 82.1 % | REB: 50 | AST: 20 | STL: 6 | BLK: 10 | TO: 20
Cleveland Cavaliers Betting Stats:
Money Line: 1-0 | ATS: 1-0
Toronto Raptors
The Toronto Raptors had a terrible first game of the Summer League and are looking to bounce back.  All eyes will be on Gradey Dick, the sharpshooter out of Kansas.  In 30 minutes against the Bulls, Dick scored 10 points on 3-12 and 2-9 shooting. In addition, Dick had 3 steals, 2 assists and 4 rebounds.  Although Gradey struggled in his first game, he's taking a high volume of shots, and is able to space the floor very well.  Markuis Nowell, the March Madness sensation out of Kansas State, outshined Dick with 17 points, 3 steals, 5 assists, and 4 rebounds. In addition, Nowell was 4-6 from the three, and 6-12 from the field. Much like in March Madness, Nowell is not afraid to shoot the three. Overall, this Raptors team is very young, and doesn't have much NBA experienced compared to most teams.  
Besides, Gradey Dick and Markuis Nowell, Moses Brown was a stud in his first summer game.  We saw a lot of the pick and roll between him and Nowell and played strong.  Brown has NBA experience, and finished with 14 points, 4 blocks, and 7 rebounds.  They will be playing the Cavaliers, who also don't have the strongest or NBA ready players.  
Cleveland Cavaliers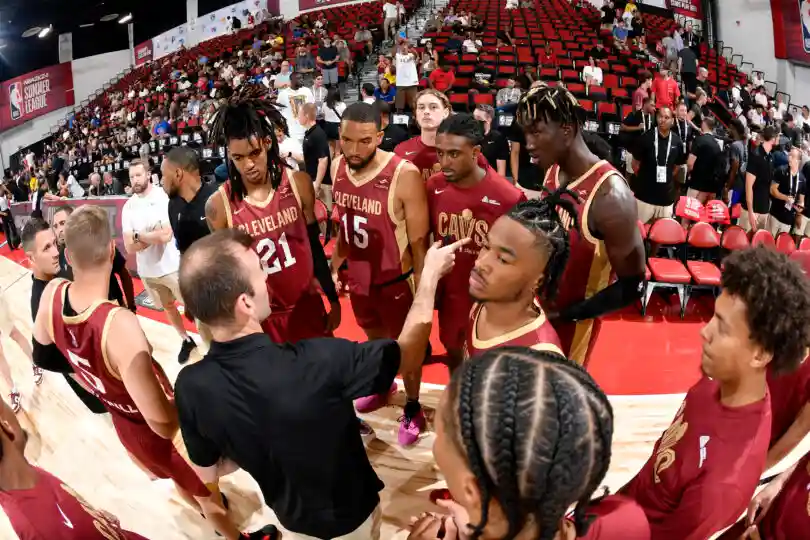 The Cavaliers won their first summer league game 101-97 against the Brooklyn Nets.  Cleveland gave up Ochai Agbaji from last year's draft pick in the Donovan Mitchell trade.  In addition, the Cavaliers took a chance this year on Emoni Bates, out of Eastern Michigan.  In his first game, Bates had 16 points, 5 rebounds, and shot 4-13 from the field.  Sharife Cooper, from the G-League had an incredible performance against the Nets.  Cooper scored 27 points on 8-12 and 4-12 shooting. In addition, Cooper had 2 blocks, and got to the free-throw line 11 times.  Isaiah Mobley had a nice game as well, who also has very little NBA experience.  
Prediction
Both of these teams don't have a lot of NBA experience or proven Talent.  Although the Cavaliers didn't shoot well from the three last game, they put up over 100 points, and had great games from Sharife Cooper and Isaiah Mobley.  Give me Cleveland Money Line, and Cleveland -4.  
Los Angeles Lakers (1-0) vs. Charlotte Hornets (0-1)
Time: 4 PM EST
TV: ESPN 2
Lakers: -150
Hornets: +130
Over/Under: 184.5
Spread: Lakers: -3.5
Los Angeles Lakers Summer League Stats:
FG: 47.3 % | 3 PT: 43.8 % | FT: 59.4 % | REB: 38 | AST: 16 | STL: 18 | BLK: 6 | TO: 14
Los Angeles Lakers Betting Stats:
Money Line:  1-0 | ATS: 1-0
Charlotte Hornets Sumer League Stats:
FG: 29 % | 3 PT: 31.6 % | FT: 15.6 % | REB: 50 | AST: 58 | STL: 11 | BLK: 9 | TO: 13
Charlotte Hornets Betting Stats:
Money Line: 0-1 | ATS: 0-1
Charlotte Hornets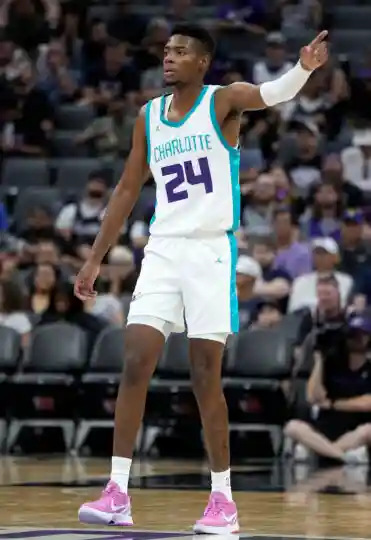 Let's be honest, in the small sample size we have seen, Charlotte is not a good team this summer. Although Charlotte has the 2nd overall pick, Brandon Miller, their offense is concerning.  Charlotte put up just 68 points against the Spurs and shot poorly from everywhere on the court.  In addition, the Hornets lost by more than 20 points against the Spurs in the California Summer Classic. 
Miller had a team high 16 points last game, and James Bouknight struggled with his shooting.  Besides McGowens, Bouknight and Miller, this Charlotte team did not produce a ton of offense. All eyes will be on Brandon Miller and his continued development and comfortability.  
Los Angeles Lakers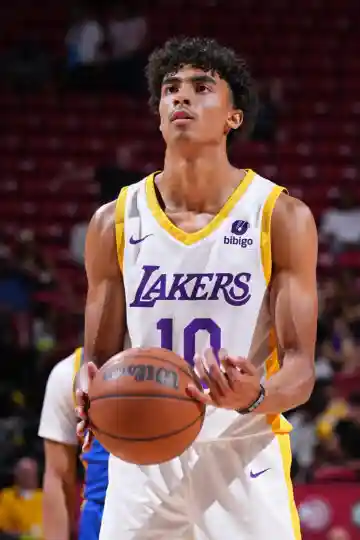 The Lakers played great in the California Classic and stayed hot in their win against Golden State.  Rookie Jalen Hood-Schifino struggled shooting; however, he had played great defense with 4 steals.  In addition, guard Max Christie continues his impressive summer outing.  Christie scored 22 points in 31 minutes and shot 6-11 and 3-5. In addition, Christie had 2 blocks and 7 rebounds.  Cole Swider, a 2022 undrafted player, continue to shine for the Lakers as well.  Swider added 19 points and shot 5-8 from the three.  It's clear the Lakers have an incredible amount of talent on this team that can translate to the NBA.
Prediction
I'm hot on the Lakers, and they have proven they can score a high number of points this summer.  I'm worried about Charlotte, and their offensive struggles. Unless Charlotte can hit their shots this game, I am going with Lakers Money Line, and Lakers -3.  Los Angles has NBA ready talent and are one of the hottest teams in the league. 
New York Knicks (0-1) vs. Brooklyn Nets (0-1). 
Time: 5:30 PM EST
TV: NBA TV
Knicks: +120
Nets: -140
Over/Under: 188.5
Spread: Nets: -2.5
New York Knicks Summer League Stats:
FG: 45.7 % | 3 PT: 15 % | FT: 75 % | REB: 42 | AST: 18 | STL: 6 | BLK: 8 | TO: 19
New York Knicks Betting Stats:
Money Line:  0-1 | ATS: 0-1
Brooklyn Nets Sumer League Stats:
FG: 42 % | 3 PT: 31.4 % | FT: 63.2 % | REB: 36 | AST: 15 | STL: 11 | BLK: 7 | TO: 11
Brooklyn Nets Betting Stats:
Money Line: 0-1 | ATS: 0-1
New York Knicks
The Knicks didn't have a single draft pick this year; however, they have a potent offense in what we've seen so far this summer. New York shot just 15 percent from the three and managed to put up 101 points against the 76ers in their first game.  Furthermore, they should be able to produce a high amount of offense today against the other New York team. 
Ironically, the Knicks bench played better than their 5 starters, and their entire bench had points in double digits.  Also, New York team has several G-League players on its roster, which should be led by DaQuan Jefferies, Trevor Keels, and Isaiah Roby.  Jefferies showed out first game, including an incredible dunk on an inbound. Jefferies added 20 points, 2 blocks, and 4 rebounds in 21 minutes.  Despite not shooting well beyond the arc, a majority of their points came inside the paint. 
Brooklyn Nets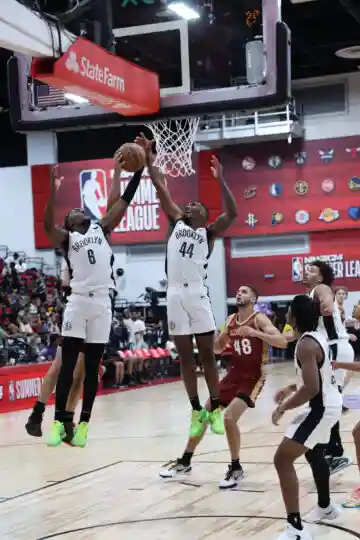 The Brooklyn Nets summer team is led by rookie draft picks Noah Clowney and Jalen Wilson.  In addition, the Nets have Adonis Arms, Armoni Brooks from the G-League, and Kenny Chandler, who all stepped up in their loss against Cleveland.  Although Brooklyn only shot 31 percent from the three, Brooks and Wilson added 17 points a piece. Noah Clowney had underwhelming first game, in which he shot 1-9 and 1-7.  
The Nets showed high scoring offense in their first game and have players with G-League and NBA experience, such as David Duke Jr., and Jamorko Pickett.  Clowney continued to shoot through his struggles, which is a sign he is working through his struggles. 
Prediction
I do believe Noah Clowney will have someone of a better game shooting wise, and I would have to see better shooting from the Knicks to count them in.  In addition to their shooting woes, New York had a good number of turnovers.  I expect this to be a high scoring affair. Give me the OVER for this game.
For More NBA Betting Info & Game Predictions, Follow us at @BallislifeBets.
Sara Jane is a full-time content creator, focusing on both college basketball, the NBA, NFL, and writer of Ballislife.com. Don't forget to follow her on Twitter/YouTube/Kick/Twitch/Instagram: @GGirlSports.
NATIONAL PROBLEM GAMBLING HELPLINE
1-800-522-4700
The National Council on Problem Gambling operates the National Problem Gambling Helpline Network. The network is a single national access point to local resources for those seeking help for a gambling problem. The network consists of 28 contact centers that provide resources and referrals for all 50 states and US territories. Help is available 24/7 and is 100% confidential.