WNBA betting Odds, trends, stats, and predictions for Tuesday, August 1st.
There are four games on the WNBA slate for Tuesday, August 1st. The first matchup begins at 7 PM EST, and the last starting at 10 PM EST. In today's article, I will discuss the odds, stats, betting trends, prop bets, and our best prediction. All games will air on ESPN, ESPN3, or NBA TV. If you're interested in watching all games, the WNBA League Pass is available. If you are looking for the best WNBA betting odds, stats and analysis, here is some information to know.
We got a 4-game slate for your watch list today📺

7pm/ET ➡ @minnesotalynx vs. @ConnecticutSun on @espn and @PhoenixMercury vs. @IndianaFever on ESPN3

10pm/ET ➡ @AtlantaDream vs. @LVAces on League Pass and @nyliberty vs. @LASparks on @NBATV #MoreThanGame pic.twitter.com/0BDnn8H4LX

— WNBA (@WNBA) August 1, 2023
WNBA Daily Betting Odds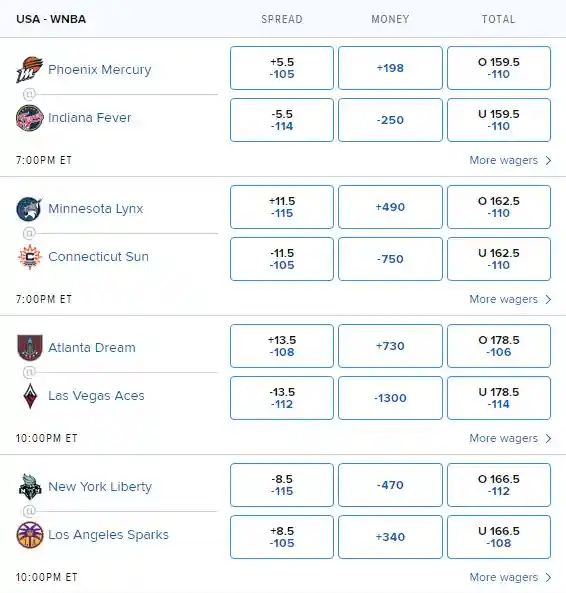 Minnesota Lynx Vs. connecticut sun o 162.5 (-110)
LYNX WIN!!!

LYNX WIN!!!

LYNX WIN!!!#CantTameUs pic.twitter.com/jzc6gU0XWG

— Minnesota Lynx (@minnesotalynx) July 30, 2023
Minnesota had the upset over Connecticut, 87-83
The Minnesota Lynx (13-13, 7-5 Away) will play their second straight game versus the Connecticut Sun (18-7, 8-4) on the road. In their Sunday matchup, Minnesota defeated Connecticut, 87-83, in which the Lynx covered the spread, and the over hit. The Sun were held to 17.6 percent three-point shooting, and 38.9 percent from the field. DeWanna Boner, a season 34 percent three-point shooter, struggled from downtown (2-8). Connecticut, a season 35.6 percent three-point team, has to shoot the ball more efficient in tonight's matchup. Sun forward, Alyssa Thomas had a triple double, 17 points, 14 rebounds, and 11 assists. Connecticut will need some help from starter Tiffany Hayes.
As for the Lynx, Minnesota shot 57 percent from the field, in which McBride led the way with 19 points (7-10). With Napheesa out of the lineup due to injury, rookie Dorka Juhasz stepped up, with 11 points, and 6 rebounds. Juhasz was a force on the defensive end, adding a key block and steal. Guard Lindsay Allen scored 16 points and had 2 crucial steals in 32 minutes played.
Back at it. #ForgedByFire 🔥

Sun vs Lynx
⏰ 7 PM ET
📍Mohegan Sun Arena
📺 @espn pic.twitter.com/6FlEJuOYXf

— Connecticut Sun (@ConnecticutSun) August 1, 2023
Connecticut vs. Minnesota over/under trends
Connecticut is 14-12-0 (Over/Under), and Minnesota 15-10. The Lynx hit the over in four straight games, and in seven out of their last ten. The Sun hit the over in two straight games, and six out of their last ten games. The over/under is 2-1 between these two teams. In the last matchup, the over hit at 170, and that includes Connecticut shooting poorly. In the first matchup, Connecticut defeated Minnesota, 89-64 in which the over hit, at 173.
Cheryl Reeves squad is playing very well as of late, with two crucial wins over the Connecticut Sun and the New York Liberty. Both the overs hit against those two teams. If you're looking to do some betting on the WNBA, the Connecticut Sun will look for revenge over last game. Give me the over for this game.
New York Liberty 1st Half Spread -5.5 (-102)
The New York Liberty (19-6, 9-2 away) will take on the Los Angeles Sparks (9-16, 7-7 Home) for their second straight time on the road. In Sunday's matchup, the Liberty defeated the Sparks, 87-79, in which they led 51-35 at the half (-16 point differential). New York played stellar in the first quarter, and limited Los Angeles to 11 first quarter points.
In the last five games, New York had a 57- 42 (15 point differential) lead against Atlanta at the half. Though New York had a comeback win against Seattle, the Liberty commanded a 68-46 lead against the Indiana Fever at the half.
At the half.🗽 pic.twitter.com/nplloYGLMG

— New York Liberty (@nyliberty) July 30, 2023
Why the Liberty will cover the first half spread.
I am reluctant to pick New York for the full spread, due to the fact the Liberty covered the spread only twice in the last ten games. The Sparks gained steam and cut the deficit to seven points last game. Overall, the Sparks rank 11th in points per game (78.5), and rebounds per game (31.6). Marine Johannes found her stride, hitting 5-7 three-pointers, and Jonquel Jones had another double-double (13 points, 13 rebounds). Breanna Stewart led the way with 25 points and 3 blocks, and Ionescu with 14 points, 1 steal, block, and 6 rebounds.
The Liberty are playing their second straight game against the sparks and coming off minimal rest. These two teams are far apart numbers and talent wise. Give me Liberty to cover -5.5 at the half.
Jonquel Jones O 9.5 Rebounds (-113)
3️⃣5️⃣ with another double-double 🤝 pic.twitter.com/EAzIILjEhK

— New York Liberty (@nyliberty) July 31, 2023
Why Jonquel Jones will hit over 9.5 rebounds tonight.
If you're betting on the WNBA, Jonquel Jones over rebounds has been my favorite play for the past couple of weeks. Jones, 29, is coming off a double-double (13 points and rebounds) and has double-digit rebounds in six straight games. The Liberty forward had four straight double-doubles in the month of July, and hit over 9.5 rebounds in six straight games, and 7/11 games in July.
The Los Angeles Sparks have All-Star Nneka Ogwumike, who averages 9.1 rebounds this season. In her last matchup against New York, Ogwumike was held to 5 rebounds. As a team, New York outrebounded Los Angeles, 26-17, and the Sparks rank 11th in rebounds per game (31.6).
If you're betting on the WNBA, I like Jonquel Jones over 9.5 rebounds. The line has been consistently over 7.5, however, she has hit this prop several games in a row. The Sparks allow opponents to grab 35.8 boards a game, which is 9th in the WNBA.
Aliyah Boston O 7.5 Rebounds (+100)
Why Aliyah Boston will hit over 7.5 rebounds tonight.
Fever Rookie Aliyah Boston is a candidate for the WNBA rookie of the year. If you're betting on the WNBA, Boston is averaging 7.8 rebounds a game. The Indiana Fever (6-19, 1-8 Home) will matchup against the Phoenix Mercury (6-18, 1-12 Away) at home tonight. The Mercury will be without their all-start Brittney Briner, as she stepped away to take care of her mental health. Griner, 32 averaged 6.7 rebounds a game, and had 6 rebounds against Indiana.
The Mercury are 2-0 against the Indiana Fever this season. Boston had 7 and 9 rebounds in the first two matchups. With or without Griner, Phoenix ranks last in the WNBA in rebounds per game (30.7), and the Indiana Fever average 34.5 boards per game (6th). Indiana is second in the league in opponent rebounds per game (32.5.).
If you're betting on the WNBA, the odds are not in favor for Aliyah Boston to snag over 7.5 rebounds (+100). With Griner out, and Boston's stats against the Mercury, I like the over here.
Sara Jane Gamelli is a full-time Sportswriter at BallisLife, and Sports Content Creator on Twitch. She has a focus on the NBA, WNBA, NCAA Basketball, and the NFL. Sara Jane currently resides in Connecticut with her Cat and Dog. She is a Boston Celtics, Boston Bruins, New York Yankees, and New York Giants fan. SJ has her undergraduate degree from the University of Connecticut in Economics.
Tweets by BallislifeBets
NATIONAL PROBLEM GAMBLING HELPLINE
1-800-522-4700
The National Council on Problem Gambling operates the National Problem Gambling Helpline Network. The network is a single national access point to local resources for those seeking help for a gambling problem. The network consists of 28 contact centers that provide resources and referrals for all 50 states and US territories. Help is available 24/7 and is 100% confidential.