New York Liberty roll past the Los Angeles Sparks in back-to-back road games, 76-69. Breanna Stewart finished with another double-double, and Courtney Vandersloot finished with a season-high 23 points.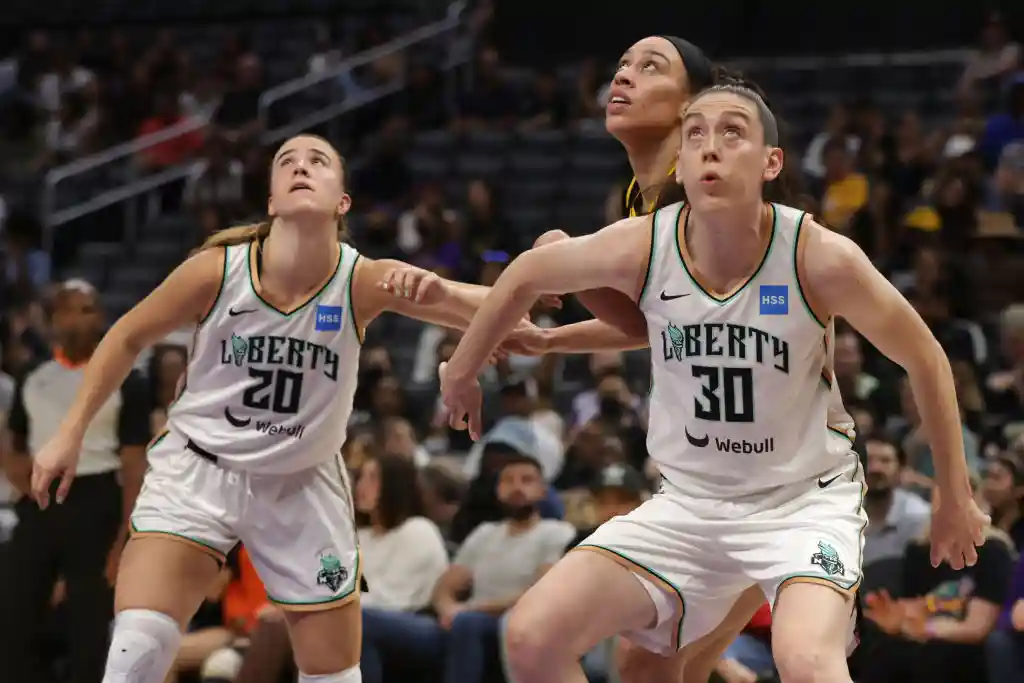 The New York Liberty, 20-6, finished up their two-game miniseries against the Los Angeles Sparks. New York matched up against Los Angeles twice, in three days, and will finish up their series on the road, Friday, against Minnesota. Liberty Guard, Courtney Vandersloot scored a season-high 23 points, and Breanna Stewart finished with her 13th double-double of the season (16 points, 12 rebounds). Liberty Head Coach, Sandy Brondello got her 200th career win.
GOOD ROAD DUB IN LA🌴#SEAFOAMSZN | #LIGHTITUPNYL pic.twitter.com/SbfHN69yBq

— New York Liberty (@nyliberty) August 2, 2023
New York Liberty Pre-Game Interviews and comments
Liberty Head Coach, Sandy Brondello, gave some pregame insight about the presence of Sparks star, Nneka Ogwumike, and New York's plan of attack, following last game.
"You kind of know what were areas that you didn't do well," said Brondello. I think that makes it kind of easier, but now it's about who makes the most adjustments, and you can execute and exploit what the other team is doing."
That is exactly what the New York Liberty did, at least in the fourth quarter. The Sparks outscored the Liberty 34- 32 in the first half, and 54-50 through the first three quarters. New York did exactly what Sandy Brondello talked about pregame, they executed and exploited when it mattered. All-Star Courtney Vandersloot got caught up in setting a high screen earlier in the game. However, that didn't affect her performance down the stretch. Vandersloot had 14 out of her 23 points in the final quarter and exploited the defense with wide open shots. The Liberty guard was able to utilize screens to find the open lane, in which she had multiple lay ins. The Liberty were able to capitalize off the double teams on guard, Sabrina Ionescu.
With 3:16 left to go in the fourth, Vandersloot was found wide open on the perimeter, thanks to the Sparks high pressure on Stewart and Ionescu, and Laney's crucial screen. With 1:08 to go, New York was able to capitalize on second chance points, and with the perimeter guarded heavily, Vandersloot once again found the wide-open lane. From there, New York was able to finish on free-throws, with Los Angels in the bonus.
New York Liberty Post- Game Interviews and Comments
Liberty Guard, Courtney Vandersloot talks about her fourth quarter success.
Sloooooot 🗣️@Sloot22 has come up CLUTCH in the second half, giving the @nyliberty the 4 PT nod

📺 @NBATV pic.twitter.com/HTQ9oeTFDp

— WNBA (@WNBA) August 2, 2023
Courtney Vandersloot gave some insight their thoughts on their hard-fought win over the Sparks. Vandersloot mentioned how she was able to have success, and exploit the Sparks defense, especially in the second half.
" Well, you know, they were putting two on the ball, and Sabrina, when she was coming off ball screens—they were trapping her, and you know, she's getting the ball out, and then my teammates were finding me—I was just open for our shot— Catch and shoot was the reason I was able to knock em down in."
New York Liberty Head Coach Sandy Brondello spoke on the importance of Courney Vandersloot, and the impact of her injury early on in the game.
Szn-high 20 PTS for the General🪣 @Sloot22 pic.twitter.com/B2fvkFca0f

— New York Liberty (@nyliberty) August 2, 2023
In 31 minutes played, All-Star Courtney Vandersloot scored 23 points, 14 in the fourth, on 9-14 and 4-5 three-point shooting. The Guard had one steal, a block, six assists, and seven rebounds. Coach Brondello opened up about the guard, and how much of a factor she was in the win. Vandersloot Shot 80 percent from the three, and 64 percent from the field.
"I think Sloot got pissed off she got injured, said Brondello. You focus a little bit more when you get a little banged up. But you know, we don't win this game without her tonight. We were just trying to put the ball in her hand, and that's what she does. She's so creative, but I wanted her to be a scorer. I keep saying she's got to keep shooting it when she's open, because we believe in her, and she had no hesitation tonight, which was great. We obviously increased some of her minutes tonight, and we needed every bit of that 31 that she played."
All-Star Breanna Stewart talked about her team's defense, and what adjustments that were made in the final quarter.
Breanna Stewart filled up the box score vs. the Sparks 🔥 @nyliberty

🗽 16 PTS
🗽 12 REB
🗽 4 AST
🗽 4 STL
🗽 3 BLK pic.twitter.com/XYxB9b4eOD

— The Sporting News (@sportingnews) August 2, 2023
New York Liberty Forward, Breanna Stewart finished with a double-double, 16 points and 12 rebounds.
"I think we just continued to talk through things. A lot of things were happening pretty fast and making sure that we were communicating— having one another's back, and doing what needed to be done," said Stewart.
The Liberty held the Sparks to just 15 points in the fourth quarter on 3-15 shooting.
"We needed to get a few extra stops because I think I think we started the fourth quarter down by four, or whatever the case was—So we were just doing that, and making sure we rebounded and got a good shot," said Stewart.
Overall, the New York Liberty didn't have their best shooting night. They rank second in three-point percentage (37.4), and first in three-point attempts per game (29.1). In last night's matchup against the Sparks, New York was held to 24.2 percent three-point, and 42 percent field goal shooting. New York was able to keep things close, and ultimately closed it out in the fourth.
New York Liberty remaining Schedule
The New York liberty finish up their three-game road trip at Minnesota, on Friday night. They have fourteen games remaining, four of which are against the top team, Las Vegas Aces. The Liberty are currently 20-6, and stand in first place, in the Eastern Conference.
You can find their next matchup on ION, Friday, August 4th, at 8 PM EST.
Liberty Head Coach, Sandy Brondello moves up in the WNBA Coach rankings.
Congratulations to Head Coach Sandy Brondello, who got her 200th career win, which is 9th on the All-Time WNBA coach rankings.
Lastnights W marked 200 career wins for Coach @SBrondello 🗽 pic.twitter.com/6euLmjbu7q

— New York Liberty (@nyliberty) August 2, 2023
For more WNBA related articles, click here!
Sara Jane is a full-time Sportswriter at BallisLife, Journalist, and Sports Content Creator on Twitch. She has a focus on the NBA, WNBA, NCAA Basketball, and the NFL. Sara Jane currently resides in Connecticut with her Cat and Dog. She is a Boston Celtics, Boston Bruins, New York Yankees, and New York Giants fan. SJ has her undergraduate degree from the University of Connecticut in Economics.
Tweets by BallislifeBets