The WNBA Finals are set to begin Sunday between the New York Liberty and the Las Vegas Aces. The series will include two finals MVPs, and three WNBA MVPs. With a magnitude of talent on both teams, lets break down the key players for each side.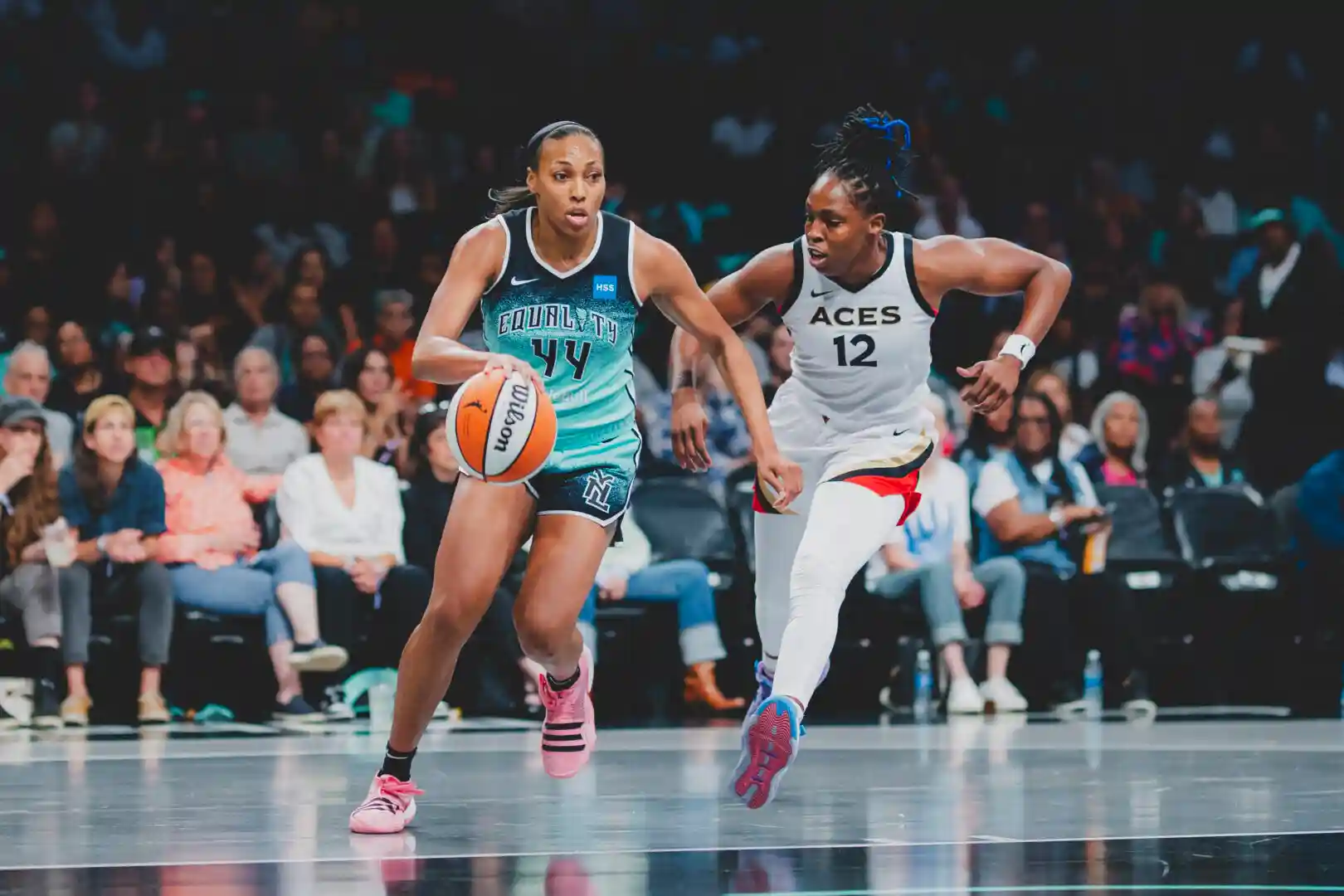 In an inevitable, much anticipated WNBA Finals between the Las Vegas Aces and the New York Liberty, there are several key players to keep an eye on. What makes this series so exciting and unique is the level of talent on both rosters. In the finals, we will see three current and former MVPs, Breanna Stewart, Jonquel Jones, and A'ja Wilson. Out of those players, both Stewart and Wilson are 2x WNBA Most Valuable Players.
With the Aces headed back to their second consecutive Finals, this matchup will include two finals MVPs, Breanna Stewart (Seattle) and Chelsea Gray. Four of the Aces starters were selected as All-Stars, A'ja Wilson, Kelsey Plum, Chelsea Gray, and Jackie Young. For the Liberty, each of their five starters have been named an All-Star in their career, including Breanna Stewart, Jonquel Jones, Betnijah Laney, Courtney Vandersloot, and Sabrina Ionescu.
After rewriting the NCAA record books, Kelsey Plum was drafted No. 1 in the 2017 WNBA draft.

First-round results ➡️ https://t.co/FfcxEPXa9Q pic.twitter.com/ATIYWYwU18

— SLAM (@SLAMonline) April 14, 2017
Between these accomplished teams, the Liberty starting five and Aces core four have a combined 32 All-Star appearances. Sabrina Ionescu and Breanna Stewart join A'ja Wilson, Kelsey Plum, and Jackie Young as former first overall draft picks. In fact, Kelsey Plum was selected first overall by the San Antionio Stars in 2017. In 2018, the Stars moved to Las Vegas and became the Aces.
Liberty Key Players
Betnijah Laney was a force in the Semi-Finals 😤

Game 2: 20 PTS, 4 REB, 3 AST
Game 3: 20 PTS, 8 REB, 4 AST
Game 4: 21 PTS, 7 REB, 5 AST

📸 @EmJ_not23 pic.twitter.com/XJqNTZOrEd

— WNBA (@WNBA) October 1, 2023
There are two key players for the New York Liberty in this series, Betnijah Laney and Jonquel Jones. The New York Liberty defense will also be essential.
A member of the Liberty since 2021, Laney has embraced her role around several stars. As the season progressed, so did her play and grit. Known for her defensive prowess, Laney was named to the All-Defensive second team. Becoming a confident scorer over time, Laney is usually tasked with guarding the best player on the court. A defensive juggernaut in the series against the Aces, Laney averaged 12.5 points, 5.3 rebounds, and 2.8 assists.
In four games, the forward shot 50 percent from the field, and 41.2 percent from the three. Laney, who was held to three points in Game one versus Connecticut, proved her value in the next three games. In six postseason games, No. 44 is averaging 15 points, 5.2 rebounds, and three assists. She's shooting a remarkable 48.2 percent from the floor, and 43 percent from long range. Though the box score often doesn't reflect the entire story, Laney will be the ultimate x factor on both sides of the ball. The Aces have a powerful guard trio, in addition to A'ja Wilson. Betnijah will be one of the players, aside from Breanna Stewart and Jones to step up on the defensive end.
Jonquel Jones is a double-double machine
New year, same result 👏

Jonquel Jones dropped 25 points in the win to eliminate her former team 💰 pic.twitter.com/Qou9EQeU45

— espnW (@espnW) October 1, 2023
Jonquel Jones is a former MVP for a reason. Traded to the Liberty this offseason, No. 35 found her stride, specifically after the All-Star break. Named Commissioners Cup MVP, Jones was a vital part of New York's game two win against Washington. When the Liberty couldn't hit their shots, the offense flowed through Jones. Jones grabbed a critical rebound, and hit two free throws, saving the Liberty.
Using her size and strength, the forward was able to score inside the paint, as well as run the pick and roll with Stewart. Post All-Star break, Jones averaged 12.2 points, and 10.3 rebounds, on 52 percent field goal shooting. In six postseason games, Jones is averaging 16.5 points, 12.7 rebounds, and 2.2 blocks. She set WNBA history with six consecutive double doubles. Jones leads the entire playoffs in total rebounds.
It will be crucial for Jones to stay out of foul trouble. While only averaging 9.3 points against the Aces, No. 35 totaled close to ten boards per game. Look for the Kiah Stokes matchup with Jones, as she is a defensive presence for the Aces. If the Aces limit the Liberty in perimeter scoring, the offense must flow through Jones.
Liberty Defense
In two wins against the Aces, New York's defense held A'ja Wilson to 18 points in two games, including the Commissioner's Cup. Over those two games, Wilson was held to 4-24 shooting, which is rare for the Aces star. Limiting her looks will be vital to win the series. Over the playoffs, Jonquel Jones and Breanna Stewart are averaging five blocks per game, and are a strong front court duo. With the Aces small guard lineup, New York will be forced to pick up on screens and heavily guard the perimeter. Having two rim protectors for the Liberty will be essential for defense, as well as paint presence on the offensive end.
The New York Liberty played zone defense this postseason over 40 times, compared to 88 in the regular season. New York ranked third in defensive rating this season, and limited opponents to 80 points per game. With the Aces running a six-player rotation, Kayla Thornton will be pivotal for New York's defense. Don't let the box score fool you, Thronton is a 3&D guard, who can also shoot the ball.
Aces Key Players
We still think about this @cgray209 pass.

pic.twitter.com/1m3UqKzCBc

— Las Vegas Aces (@LVAces) October 4, 2023
As much as I want to say this will be the battle between Stewart and Wilson, Kiah Stokes, Alysha Clark, and "Playoff Chelsea" will be key for the Aces. In four matchups, both Breanna Stewart and A'ja Wilson were held to under 20 points per game. With a six-player rotation, Clark will be key off the bench, especially on the defensive end against Stewart. If the guards are struggling on the perimeter, look for Clark to be open on the corner, especially if New York decides to switch to a zone defense.
In five playoff matchups, Clark is averaging 8 points, and 4 rebounds. No. 7 is shooting over 40 percent from deep, and 53.6 percent from the field. Despite Parker out with injuries, Stokes has been a defensive presence, although hesitant to shoot at times. Stokes will have the primary responsibility of guarding Jonquel Jones. The center has averaged 8.6 rebounds and nearly 1.5 steals in five playoff games.
Stewart started to show signs of life in game four against Connecticut. She's struggled primarily on the offensive end in the postseason, which shows how deeply talented New York is. Stewart shot 22 percent from the three-point against the Aces and averaged 18 points in four games. Even worse, No. 30 averaged 35.6 percent from the floor.
Chelsea Gray was the 2022 Finals MVP for a reason. In four games against New York, Gray averaged 16.8 points, 5.8 rebounds, 8 assists, and 1.8 steals. It will be crucial for Gray to distribute the ball and make plays for her teammates. Shooting over 60 percent in last year's playoffs, look for the guard to find those notorious mid-range jumpers.
A'ja Wilson vs. Breanna Stewart
ACES. LIBERTY.

THE WNBA FINALS ARE SET 🍿 pic.twitter.com/qJoFdeS5XX

— SportsCenter (@SportsCenter) October 1, 2023
There's no question all eyes will be on A'ja Wilson and Breanna Stewart. Stewart edged out Wilson and Alyssa Thomas for MVP, while Wilson was named defensive player of the year. Regardless of Stewarts struggles in the postseason, she's the best player in the world, along with A'ja Wilson. Both players underperformed in four regular season meetings. Stewart averaged 18 points, 9 rebounds, 3 steals and 2.5 blocks. Limited to 22 percent three-point shooting, No. 30 saw a significant decrease in her production on the road in Vegas. In two matchups on the road, the MVP averaged only 14 points a game, and 6.4 rebounds on 30 percent shooting. While Stewart didn't have the best outings against Vegas, she thrives in big moments. In the regular season, Stewart was second in points, fourth in blocks, and third in rebounds. When she struggles on offense, Stewart capitalizes on the defensive end.
A'ja Wilson had a historic season, along with Breanna Stewart. The 2023 Defensive Player of the Year averaged 17.3 points, 6.4 rebounds, and 1.8 blocks against the Liberty this season. Her three consecutive 30-point games are the most in playoff history and had the most points through four playoff games. With Wilson held to 4-24, including the Commissioners Cup, look for her and Stewart to battle all series long.
Keys for the Liberty
Rebounding and inside scoring will be key for the Liberty this series. They are second in the playoffs in rebounding percentage, and second chance points. In four meetings, excluding the Commissioners Cup, New York outrebounded by only 8 boards, and dominated on the defensive boards. In games two and four, New York did an excellent job of controlling the rebounds, and well as scoring in the paint. This postseason, the Liberty average 38.3 points in the paint, and will face the top defense in the league, the Aces.
While Las Vegas are at the top defensively, New York led all teams in the regular season in assists per game. Loaded with talent, this Liberty team has excellent ball movement, and improved their shot selections. With Courtney Vandersloot as the floor general, fluid movement and looks will be key.
The Aces are elite when it comes to guarding the perimeter, and Liberty guard Sabrina Ionescu thrives in the spotlight. Over four games, Ionescu shot 52.9 percent from three, and 52.6 percent from the field. With strong screens, No. 20 will pull, even with the slightest amount of room.
Overall, the Liberty thrive on momentum and confidence. Slowing down A'ja Wilson is necessary, and it will be essential to disrupt the flow of offense. It will be important to establish a lead early, and force the Aces to scramble, even on their home court.
Keys for the Aces
Much like the Liberty, rebounds and paint presence will be imperative in all games. In their two victories against the Liberty, they controlled the paint. The Aces play at a faster pace than the Liberty, and controlling the tempo will be extremely important. With rumors swirling Candace Parker was at practice, the Aces could have a bolster to their front court.
With Becky Hammon utlizing a six player rotation, the Aces are in shape, and used to playing a high number of minutes. In their third finals appearance, the Aces need to utilize their home court advantage, a place where they only lost one in the regular season.
There's one area the Aces dominate it, and that's experience as a team. The New York Liberty are headed into the finals with three new additions in their starting lineup. For the Aces, they need to take advantage of their already established presence and chemistry together.
Stay tuned for more WNBA related articles. Click here
Sara Jane Gamelli is a full-time Sportswriter at Ballislife, and a Sports Content Creator on Twitch and TikTok. She has a focus on the NBA, WNBA, NCAA Basketball, and the NFL. Sara Jane currently resides in Connecticut with her Cat and Dog. SJ has her undergraduate degree from the University of Connecticut in Economics, with a minor in business administration.
Tweets by BallislifeBets