The Las Vegas Aces defeated the New York Liberty in dramatic fashion on Wednesday evening. Led by A'ja Wilson, the Aces scored a WNBA record 38 points in the first quarter. The Aces are one win away from capturing their second consecutive WNBA Championship.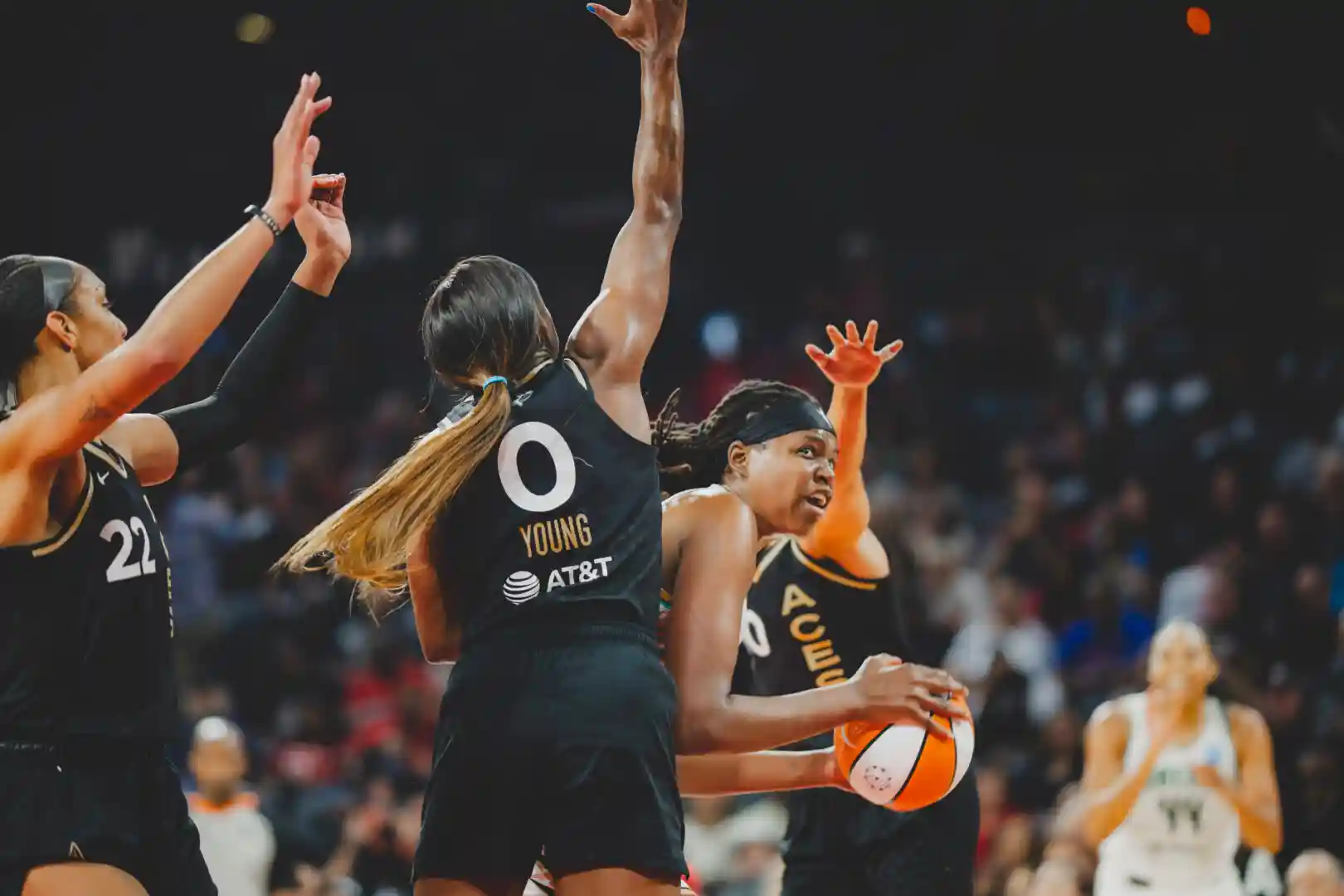 The Las Vegas Aces are ELITE
The @LVAces set a new WNBA Finals 1Qscoring record with 38 PTS 👏#WNBAFinals | @YouTubeTV | #PhantomCam pic.twitter.com/zXteyNft6z

— WNBA (@WNBA) October 12, 2023
No Candace Parker? No problem for the Aces.
Unable to regroup after a devastating game one loss, the Liberty looked unrecognizable as the Aces torched New York in game two of the WNBA Finals. Las Vegas started the game on a 27-7 run, and finished with a WNBA Finals record 38 points in the first quarter. The Aces defeated the Liberty 104-76, bringing them one step closer to another WNBA Championship. After dropping two consecutive losses for the first time this season, the Liberty are on the brink of elimination.
Through the first ten minutes, the Aces shot 14-20 on 70 percent field goal, and 6-10, 60 percent three-point shooting. It all started with Kelsey Plums step back three-pointer over Sabrina Ionescu, and ended with Chelsea Gray's mid range shot. The Liberty often looked disheveled on defense, allowing Kiah Stokes to shoot a wide open three-pointers in the corner. Stokes, primarily a defensive juggernaut for the Aces, had 5 points alone in the first, and 8 total. She's averaged only 2.2 points in the regular season.
The Liberty couldn't punch first
New York looked lifeless, and missed their first three shots to start the first quarter. Slow in transition defense, Las Vegas was able to known down three pointers, and attack inside. With a 19-2 lead, the Aces were able to capitlize on several possession where New York couldn't hit their shots. The Liberty finished the first quarter with 19 points on 30 percent field goal, and 20 percent three-point shooting. Breanna Stewart led the way with 7 points and 3 rebounds.
Speaking of transition defense, Coach Brondello noticed some deja vu in game two. "We talked about transition defense," Brondello continued. "No one was matched up with anyone. Our guards struggled out there tonight, their guards could do whatever they wanted."
New York hardly looked like the Liberty team that finished a franchise best 32-8 to end the season. Their offensive and defensive schemes were out of rhythm, leaving them unable to bounce back from such a large deficit. "I think it's disappointing, said Breanna Stewart of defeat. " We still have a lot of basketball to be played. This is the Finals and there's no reason why we shouldn't be ready to go from the start of the game to the start of the third quarter. As frustrating as it is, we still have an opportunity."
Jonquel Jones takes over the second quarter
Ballin' at its finest, @jus242 is gettin' buckets #WNBAFinals | @YouTubeTV pic.twitter.com/DQQlrEwTO5

— WNBA (@WNBA) October 12, 2023
New York had a collosal second quarter, in which they outscored Las Vegas 28-13. The offense primarily flowed through Jonquel Jones, who put up 16 points, 8 rebounds, and 2 blocks. Jones finished with a team high 22 points, 10 rebounds, and four blocks. Outside of Jonquel, New York's offense looked relatively stagnant, and comatose. New York's backcourt continued to struggle, with Ionescu and Vandersloot shooting a combined 1-9. Jones utilized her size and mismatches, in which she accounted for 64 percent of the Liberty's offense in the second quarter.
"We haven't taken steps forward, no we haven't shown it," said Liberty coach Sandy Brondello. "We're disappointed, very disappointed because we're way better team than what we showed. We're better, We're better than this. The challenge is to go home and to win on Sunday."
With fluid ball movement, the Aces often caught the Liberty collapsing inside the paint, which opened up opportunities on the outside. Chelsea Gray was incredibly accurate, hitting several improbably shots before the shot clock expired. Gray, finished with 14 points and 11 assists on the night, which marks her second on the All-Time Finals Assists leaderboard.
A'ja Wilson is playing at an MVP level
👀A'ja Wilson had a MONSTER performance in game 2 of the WNBA Finals#WNBATwitter pic.twitter.com/20U9blasn3

— Ballislife Bets (@BallislifeBets) October 12, 2023
Defensive Player of the year and 2x WNBA MVP A'ja Wilson scored a team high 26 points and 15 rebounds. Jackie Young had another monumental game, finishing with 24 points, 8 rebounds, and 4 assists. Their core four, Wilson, Young, Plum, and Gray combined for 95 points, hardly missing any shots. The Aces are the only team in WNBA history to shoot at least 50 percent from the field, and 40 percent on three-pointers in consecutive games. That in itself should show the level of eliteness on this team. In fact, they are the only team in history to have three players score 20 points in two finals games.
A'ja Wilson is continuing to prove how elite she really is. She led the team in Points, Rebounds, and Blocks, for the second time in her Finals Career. She joins her opponent Jonquel Jones, as well as Lisa Lesley, as the only players to accomplish that stat line. In prime season form, Wilson was an automatic bucket from mid range last night.
"They were good tonight", Becky Hammon told the press."They don't leave me speechless very often, but they executed defensively. Offensively shared it, everything we've been asking them to do."
Las Vegas shreds New York in the third quarter
Defended The 🏠@_ajawilson22: 26 PTS // 15 REB // 63% FG@JackieYoung3: 24 PTS // 8 REB // 4 AST // 56% FG@Kelseyplum10: 23 PTS // 8 AST // 3 STL // 5 3PM@cgray209: 14 PTS // 6 REB // 11 AST // 43% FG@kstokes41: 8 PTS // 7 REB // 2 3PM#RaiseTheStakes pic.twitter.com/6kXhQ1QO4h

— Las Vegas Aces (@LVAces) October 12, 2023
The Las Vegas Aces continued their dominance through the third quarter. Outscoring the Liberty 28-13, New York shot just 31.2 percent from the field. Both Young and Wilson combined for 21 points, which both players compiled several "and ones" at the line. Young especially used her size advantage with Sabrina Ionescu when driving to the basket.
"They are the real deal, said Hammon. They're the real deal. I could really go down the whole list. Their competitiveness and their fight for each other. They're a real team, they're a real team."
In an offensive showdown, the Aces finished the night on 52.9 percent field goal shooting, and 44.8 percent from long range. Their "core four" players each had points in double figures, and the lead ballooned to 32 points. Unable to stop the bleeding, the Liberty simple couldn't play to the standards of the Aces. Las Vegas is the first team in WNBA history to average 100 points, 40 rebounds, and 30 assists in a single finals game.
"We know what we're playing for," A'ja Wilson told the press. " The biggest thing when you're approaching this game in a series is keeping the main thing. The main thing and understanding that basketball is a game of runs. I think we understood, and we always tell ourselves, we've got to weather the storm. When you're playing against the Liberty, you have a great team that has a lot of weapons. "
No team has come back from a 0-2 deficit to win the WNBA Finals. Best of five games, the New York Liberty will attempt to capture a victory at home on Sunday.
Stay tuned for more WNBA and betting related articles. Click here
Sara Jane Gamelli is a full-time Sportswriter at BallisLife, and Sports Content Creator on Twitch and TikTok. She has a focus on the NBA, WNBA, NCAA Basketball, and the NFL. Sara Jane currently resides in Connecticut/NYC area with her Cat and Dog. SJ has her undergraduate degree from the University of Connecticut in Economics, with a minor in business administration.