The New York Liberty will matchup against the Las Vegas Aces for game two of the WNBA Finals tonight on the road. Here are the best player prop odds, bets, and predictions for Wednesday, October 11.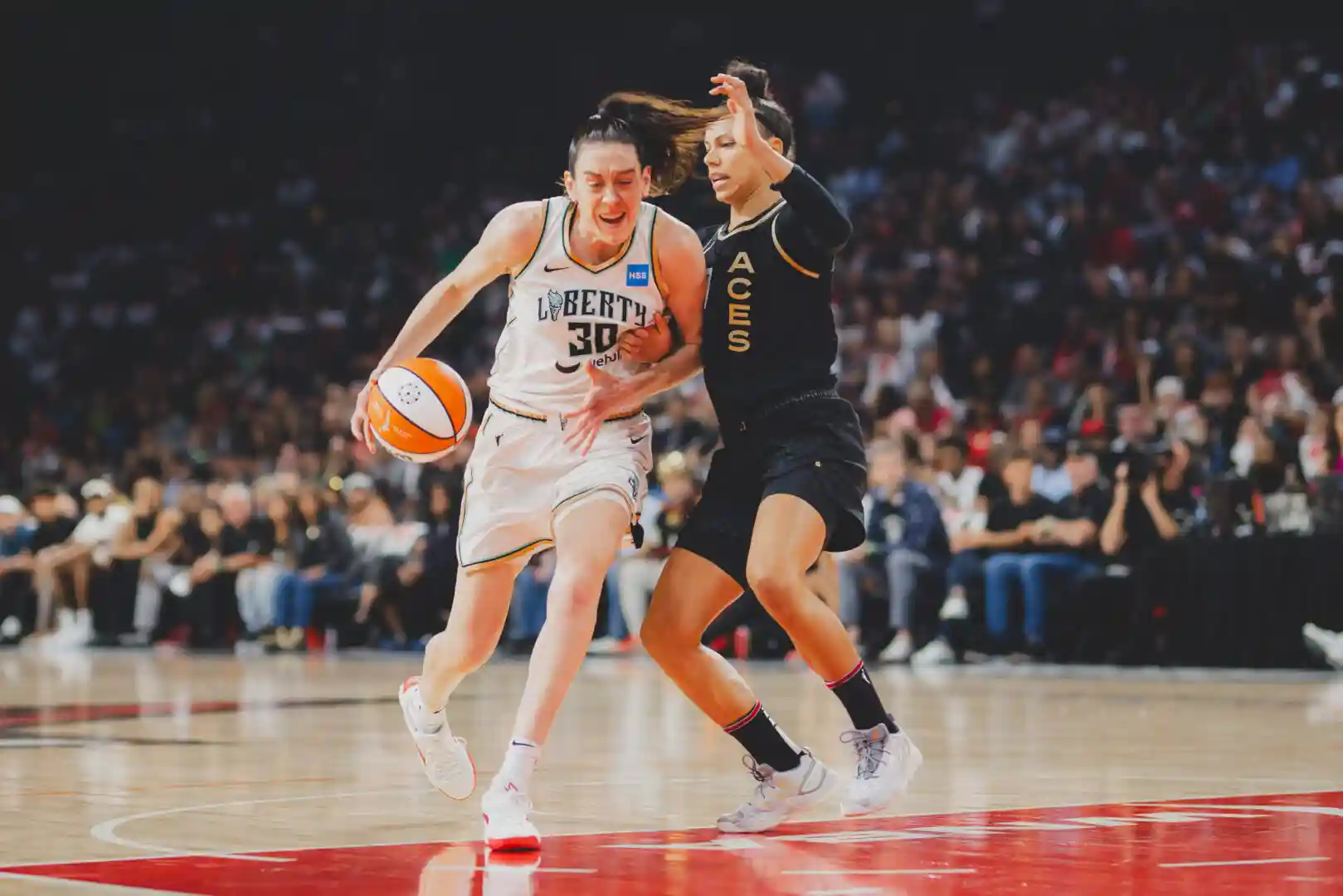 Tonight, is game two of the WNBA Finals between the New York Liberty and the Las Vegas Aces. With a game one victory, the Aces will look to take a series commanding 2-0 lead. In a tough matchup on the road, the Liberty will face an Aces team who are undefeated in the postseason. With 32 All-Star selections combined in the two teams, there are plenty of player prop bets to look at for tonight. Here, you will find the WNBA betting odds, statistics, trends, player prop bets and predictions for tonight.
Jackie Young under 19 Points
🤩 26 PTS
🤩 5 REBS
🤩 4 ASTS
🤩 3 STLS

Jackie Young FLEXED on the New York Liberty 😤 pic.twitter.com/akvZlhCNCO

— SportsCenter (@SportsCenter) October 8, 2023
Season Stats PPG: 17.6 | FG: 52.3 % | 3 PT: 44.9 % | FT: 86.7 % | REB: 4 | AST: 3.8 | STL: 1.3 | BLK: 0.1
Playoff Stats: PPG: 17 | FG: 39.7 % | 3 PT: 45.9 % | FT: 88.5 % | REB: 6.2 | AST: 4.8 |STL: 2 | BLK: 0.2
Season Stats vs New York: PPG: 17.8 | FG: 58.5 % | 3 PT: 57.9 % | FT: 100 % | REB: 3 | AST: 4 | STL: 0.8 | BLK:0
Jackie Young was a star in game one
Jackie Young stole the spotlight in game one of the the WNBA Finals. Young, 26, had a Playoff-Career High 26 points on 60 percent field goal, and 62.5 percent three-point shooting. Not only did she put on a show, Young became just the fifth player to have 25 points and five made three pointers in WNBA history. Drafted first overall by the Aces in 2019, Jackie Young has developed into a sniper beyond the perimeter. Shooting over 44 percent is absurd, but 62 percent? Her performance in game one was brilliant.
No. 0 has morphed into one of the best finishers in the league, along with her stellar shooting. I do think she will come back down to earth in game two. With three other All-Stars on the Aces, the probability of Young reliving her improbable game one performance is rather low. One of the most consistent players in the league, Young is averaging just over 17 points per game in the playoffs, similar to the regular season. In four regular season matchups against New York, the guard averaged 17.8 points on 57.9 three point shooting.
If you're betting on this prop, over 19 points hit just one time in the playoffs, and that was against the Liberty last game. Over points hit just two times in ten games, and one in five games. In fact, this prop hit just over 30 percent this season, and two of eight games in July.
Why Jackie Young will score under 19 points
Ironically, Young had her most efficient scoring games on the road rather than at home. On the road, the guard averaged just over 18 points a game, compared to 16.5 at home. In fact, Young had her least productive games scoring games coming off rest days. In nine games on two days rest, Jackie averaged a season low 15.2 points on 45.1 percent field goal shooting. Similarly, Young only averages roughly 14.5 points on two days rest this postseason.
In five regular season matchups against the Liberty, including the Commissioners Cup, Jackie Young scored over 19 points in just one game. If anything, I like Jackie Young over rebounds tonight rather than points. Post game, the Liberty stated the guards [Jackie Young, Kelsey Plum] had too many looks at the basket. Plum, along with Young, scored 29 points on 19 field goal attempts. With Sabrina Ionescu mostly guarding Young last matchup, look for head coach Sandy Brondello to stop the bleeding tonight.
The Finals is the best out of five, and coach Becky Hammon will need every ounce of energy from her six player rotation. Look for Jackie to take a step back tonight in terms of points scored.
Breanna Stewart O 21 Points
Stew York City 🗽 pic.twitter.com/f0eXDZJQk5

— New York Liberty (@nyliberty) October 8, 2023
Season Stats PPG: 23 | FG: 46.5 % | 3 PT: 35.5 % | FT: 85.1 % | REB: 9.3 | AST: 3.8 | STL: 1.5 | BLK: 1.5
Playoff Stats: PPG: 20 | FG: 36.5 % | 3 PT: 21.2 % | FT: 91.7 % | REB: 9 | AST: 2.7 |STL: 1 | BLK: 2.4
Season Stats vs Las Vegas: PPG: 18 | FG: 35.6 % | 3 PT: 22.2 % | FT: 87.5 % | REB: 7.5 | AST: 4.8 | STL: 1.8 | BLK: 2.3
Breanna Stewarts is not a stranger to the finals
Liberty forward Breanna Stewart was named MVP for a reason. A 2x WNBA Champion and 4x NCAA Champion, Stewart shines in the brightest moments. Stewart undeniably struggled this post season, specifically against the Washington Mystics and the Connecticut Sun. In some of her least efficient shooting games, Stewart often finished with over 20 points scored.
In game one of the WNBA Finals, Stewie [Stewart] led New York with 21 points and 9 rebounds on 8-19 and 1-4 (25 percent) three-point shooting. Breanna Stewart scored over 21.5 points three of the last five games, including game one, and two wins over Connecticut. Hitting over 55 percent this season, over 21.5 points scored hit six of the last 10 games. Although Breanna Stewart scored over points just once in four regular season matchups, there's no stage brighter to shine than the WNBA Finals.
I mentioned before that Stewart tends to hit her scoring props even on a terrible shooting night. For example, No. 30 finished with 27 points in game two against Washington on 9-25 field goal shooting. With her tall, slender frame, Stewart excels at drawing fouls, and had eight free-throw attempts that matchup.
Stewart, the MVP, averaged just over 23 points per game this season. In four matchups against the Aces, the Liberty start averaged 18 points on 35.6 field goal percentage. On the road, Breanna was limited to just 14.5 points in two games in Vegas. Conversely, she averaged 22.6 points on 45.2 field goal shooting on two days of rest.
Why Breanna Stewart will score over 21 points tonight
They often say the regular season isn't an entire projection of the playoffs, which is somewhat true in Breanna Stewarts case. In seven playoff games, she's had improved games on the road, averaging 24.3 points on 48.3 percent shooting. In those matchups, No. 30 is averaging nearly 40 minutes a game, and 19.6 field goal attempts per game. Over 21 points seems like a steal for a player averaging close to full playing time and nearly 20 shot attempts per game.
In seven postseason games, Stewart ranks second in minutes played (271) and first in field goal attempts (137). Behind A'ja Wilson, she ranks second in free-throw attempts, with 36 in the playoffs. Although the Liberty are comprised of a magnitude of talent, look for Breanna Stewart to be on the court at all times tonight.
Breanna Stewart should have another tough matchup against defensive player of the year, A'ja Wilson tonight. If and when Wilson will get a rest, Alysha Clark will have the honor of guarding Stewie. If she can hit her notorious mid range shots, and get to the line, I have full confidence this prop will hit tonight.
We have now linked up with Prize Picks! Use the code LIFE to get a first deposit match up to $100 dollars on Prize Picks. Click here to get started.
Sara Jane Gamelli is a full-time Sportswriter at Ballislife, and Sports Content Creator on Twitch and TikTok. She has a focus on the NBA, WNBA, NCAA Basketball, and the NFL. Sara Jane currently resides in Connecticut with her Cat and Dog. SJ has her undergraduate degree from the University of Connecticut in Economics, with a minor in business administration.
Tweets by BallislifeBets
NATIONAL PROBLEM GAMBLING HELPLINE
1-800-522-4700
The National Council on Problem Gambling operates the National Problem Gambling Helpline Network. The network is a single national access point to local resources for those seeking help for a gambling problem. The network consists of 28 contact centers that provide resources and referrals for all 50 states and US territories. Help is available 24/7 and is 100% confidential.