After being announced he was replacing John Wall on Team LeBron for All-Star weekend, Andre Drummond dominated LeBron's Cleveland team with 21 points, 22 rebounds, 7 assists, 3 steals and 3 blocks in a 125-114 win for his Detroit team. It was the perfect FU game for people who thought a few other players should have been picked over him. Players like Lou Williams, Ben Simmons and Draymond Green's pick, Jaylen Brown.
When Drummond was announced as the replacement, Brown tweeted out a few thinking/confused emojis that had people thinking he was questioning the league's decision to select Drummond. I posted a pic of Drummond, along with Brown's tweet (and Ben Simmons' laughing tweet) to our Instagram account.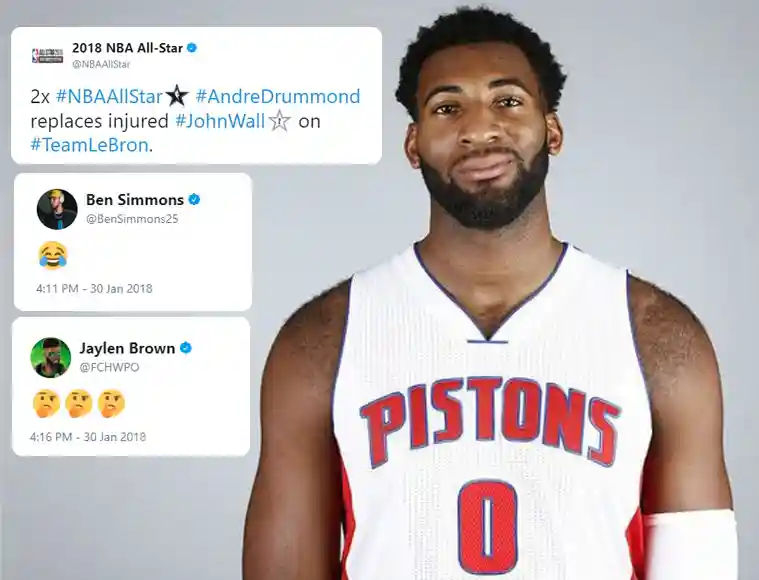 After Drummond made 9-of-12 shots against the Cavs, he went to our IG account and sort of took a shot at Brown for his tweet.
"Not sure why Jaylen Brown is confused. He's not even the top 3 option on his team. Got a lot of respect for Ben, his time is coming sooner than he knows."
He also had a pretty hilarious response to a person asking why he has such a hairy back.
"I'm a gorilla."
This is where I would insert the crying laughing emoji and then say, "Congrats Dre. You deserve it. Team LeBron!"
Back to the fantasy God line against Captain LeBron, this was his 18th 20/20 game. The great Bob Lanier is the only Detroit Piston to have more (30). Bill Laimbeer has done it 15 times, Dave DeBusschere five times and Dennis Rodman three times.
BONUS VIDEO