In the closest three-way race in WNBA history, Breanna Stewart edged out Alyssa Thomas and A'ja Wilson for the leagues Most Valuable Player. Stewart is the first MVP in New York Liberty's 27-year franchise history.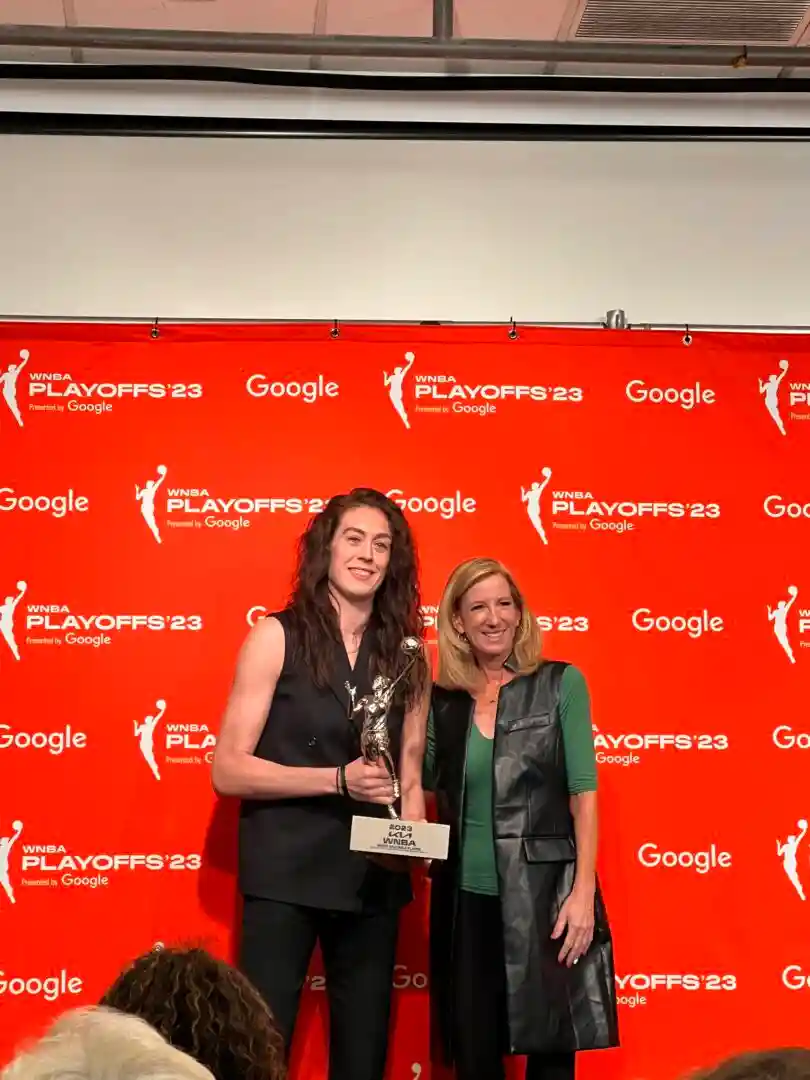 No. 30 wins her second career MVP trophy
Less than seven hours before tipoff, the news became official, Breanna Stewart won the 2023 WNBA MVP. Edging out Alyssa Thomas and A'ja Wilson, Stewart is the first Liberty player in franchise history to win the award. For the first time in 50 years, Stewart is the only professional basketball player to win the MVP in New York City.
In her inaugural season in New York, No. 30 averaged 23 points, 9.3 rebounds, 3.8 assists, 1.5 steals, and 1.6 blocks. She was second in points, behind Jewell Loyd, and third overall in total rebounds. The forward helped lead the Liberty to their franchise best 32-8 finish, in which New York placed as the No. 2 seed. In August, Stewart and the New York Liberty captured their first ever Commissioners Cup Championship against the Las Vegas Aces. It's her second time winning the leagues most valuable player in her seventh year tenure in the WNBA. Stewart last won the award in 2018, in which the Seattle Storm captured their WNBA championship since 2010.
With 446 total points, Stewart averaged career-highs in points, assists, and offensive rebounds. In a close race, Stewart had nothing but praise for Wilson and Thomas. "It's been an unbelievable season as a whole for the WNBA. To see what all the top players have done is only going to continue to make this league shine brighter and be better, " said Stewart. "AT [Alyssa Thomas] and A'ja [A'ja Wilson] had amazing seasons, just shows that you know, we're reaching new heights, and we're doing things that we've never done before."
The New York Liberty front office praises Stewart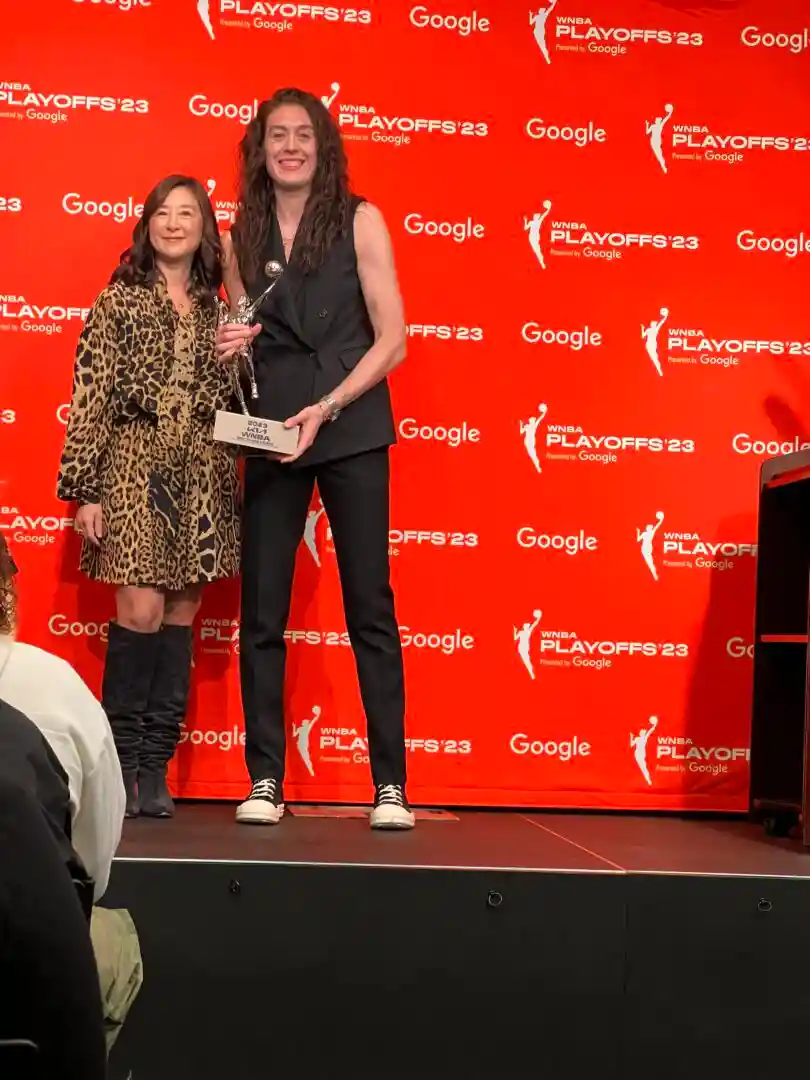 "Stewie's first season with the New York Liberty has been nothing short of historic on every level," said Liberty General Manager Jonathan Kolb. "The constant resiliency, belief, selflessness, toughness, and professionalism she has brought to the Liberty on a nightly basis is an incredibly rare combination – culminating in such a special season, both personally and collectively," General Manager Jonathan Kolb told reporters in a press release.
Prior to game two against Connecticut, Breanna Stewart arrived at the Barclays Center with family, alongside WNBA Commissioner Cathy Engelbert. Present was her daughter Ruby, along with her Wife, Marta Xargay. In a packed media room, her teammates were in attendance, including coach Sandy Brondello, and Liberty owners Joe Tsai, and Clara Wu Tsai.
"The Liberty have come a long way since I joined the league, in building a true championship mentality", Engelbert told the press. "Back in February, when Stewie [Stewart] took advantage of free agency to begin a new journey, she said, I decided to go New York because I want to continue to be great." With those words, Stewart held up her promise and commitment to continue greatness in addition to transforming the WNBA.
Shortly after receiving the MVP trophy, Stewart accredited the organization, along with her coaches, and teammates. "I'm grateful for my teammates, my coaches, and our front office [Claire Wu Tsai, Joe Tsai]."
Breanna Stewart credits her wife, daughter and family
Back in 2018, when Breanna Stewart won her first WNBA MVP, her life was drastically different. She was settled in Seattle, at the beginning of her career. Five years later, Stewart has a strong foundation that surrounds her, including wife Marta Xargay, her daughter Ruby, and another child on the way. With her father and grandparents present, Stewart elaborated on the importance of family, and what it means to share this moment with her daughter, Ruby.
Ruby stole the night during Breanna Stewart's MVP acceptance speech ❤️#wnba #morethanagame pic.twitter.com/gBkYKAt4LW

— Sara Jane Gamelli (@SaraJGamelli) September 27, 2023
"To be a role model to you, Ruby is really what keeps me going. And today, you get to see your mommy win MVP." Stealing the spotlight, Ruby remained at the podium in Stewarts arms.
A few moments later, Ruby stole the show, sporting No. 30 on the back of her shirt.
"We're just going to be up and down, Parenting is hard," said Stewart. Much of the media was sent into laughter after that statement. "With parenting, you're thrown a lot of curveballs, and you never know what to expect," said Stewart. So today was an emotional day, a happy day."
Breanna Stewart described this day as "emotional," which started with a phone call from WNBA Commissioner Cathy Engelbert. "The moment I told Marta, was emotional for both of us, just because, as a former player, she [Marta Xargay] knows what it takes to be great. To be able to balance both, I wouldn't be able to do it without her, " Stewart told the press. With tears visible, Stewart stated "It was a moment for us to celebrate it all, and you know, let our emotions flow freely. I wouldn't but able to do this without her." She expressed that having her wife and daughter present at that moment meant the "world to her."
She wants to set an example for Ruby
"Having a wife, and having a family, is understanding, that you know, there's so many things that happen throughout a basketball game-- good, bad, turnovers, miss shots. Look who I get to come home to."
Throughout her acceptance speech, Breanna Stewart made her daughter Ruby, the focal part of the night. With her second MVP award, came several changes, both on and off the court. "I think motherhood has given me perspective," mentioned Stewart. "Wanting to be great for them, and show Ruby that if she wants to play basketball someday, then these can be her goals, or whatever she wants. "
Stewie always strives for greatness
Congrats @BreannaStewart
1st @WNBA MVP in @NyLiberty history!

Some of her games this season
45 PTS, 12 REB, 6 3PT
43 PTS, 12 REB, 6 AST
42 PTS, 6 AST, 5 3PT, 3 BLK, 3 STL
38 PTS, 11 REB, 6 3PT
28 PTS, 14 REB, 7 AST
21 PTS, 6 REB, 6 STL, 4 BLK pic.twitter.com/piZzgRLNaK

— Ballislife.com (@Ballislife) September 26, 2023
Breanna Stewart has always expressed the importance of being great, from her high school days, throughout her UConn career, into the WNBA. When signing with the New York Liberty this offseason, Stewart implied she wanted to continue her greatness in New York. "Since I entered this league, I probably demanded more of myself than anyone, and I want to be great everyday." Stewart insisted she's always had greatness instilled in her, since she "was a tall lanky kid growing up in Syracuse, New York."
"I want to be an example to Ruby about what it means to approach life with the humility and grit necessary to lead teams to help others be great, and to win at things that matter the most." In her illustrious career, Stewart is a 2x MVP, 2x WNBA Champion, 2x WNBA Finals MVP, 5x All-Star, 4x NCAA Champion, 2x WNBA Commissioners Cup Champion, and a 2x Olympic gold medalist. In addition to her several accomplishments, Stewart has several accolades overseas. She is a 2x EuroLeague Champion, and EuroLeague regular season MVP.
"To all the players, we make each other great by showing up to compete every night and by standing together through adversity. Being a two time MVP of the league, and the first to the award home to the Liberty, a franchise whose legacy is built by players whose shoulders I stand on."
In her first season in Brooklyn, Stewart set a WNBA single-season record with four 40 points games. Her 919 total points scored is second all-time in a single season. The MVP had five 35-point games, which ties the single season record. In 40 games, Stewart tied the franchise record for twenty double-doubles, and had the most 40 point, 10 rebound games in history.
Breanna Stewart is the first player in Liberty franchise history to win MVP
1-of-1. Check her resume. 🤷‍♀️ pic.twitter.com/uIRivBhuV3

— New York Liberty (@nyliberty) September 26, 2023
Prior to Tuesdays matchup, coach Sandy Brondello praised the MVP for her hard work and leadership within the organization. "We are all very emotional, very proud of Stewie [Stewart] to be named MVP today," Brondello told the press. "It was so close, and we have so much respect for the other players. To be the first New York Liberty player to win MVP-- that's amazing.
Although the Liberty were focused on game two against the Connecticut Sun, Coach Brondello was sure to take in this special moment in as second year head coach of the Liberty.
"I try to just embrace the moment because it is special. It's very hard to achieve an MVP, you know it is tough," said Brondello. When asked how the team balanced the news so close to a playoff game, Brondello stated the team is experienced, and knew they had to win regardless.
"I think you know, we have an experienced team, and we know we need to win. It was very emotional for the team. We put it [MVP tribute video] on the big screen in the arena today and it was just great to share that moment with her."
Coach Brondello mentioned the team knew what was at "stake," and wanted to to have a much better game. With Stewart winning the MVP so close to tip off, the Liberty were able to capture that moment with their fans.
Stewarts impact on her team is colossal
The moment the Libs found out Stewie got MVP was EVERYTHING 😭 pic.twitter.com/O0XsnYcNYB

— New York Liberty (@nyliberty) September 27, 2023
If there's one thing to know about Breanna Stewart, she isn't great by luck. As the team watched the MVP tribute in the arena, they showed camaraderie and emotion. Through covering the Liberty all season long, Stewarts teammates adore and admire her. In a tweet by Stefanie Dolson, she describes No. 30 as "humble, incredible, and deserving." Dolson is reunited with Stewart after winning two national titles together at the University of Connecticut.
"The way that she prepares for the game, it's not two hours before the game. It's as soon as she wakes up. The activation, the pilates, the yoga, what she eats, she's very disciplined," said Brondello. "Her greatness is not by accident. That rubs off on all the players. Her leadership, she does it by action, but she will also speak up too."
"We are very happy to have her in New York, obviously we wouldn't be here today. We're very grateful for that. She believes in the organization and the vision that we had."
Stewart finished with 11 points, 11 rebounds, five blocks, and two steals in New York's game 2 win over the Sun. Post game, Jonquel Jones praised Stewart. Previously Jonquel Jones, along with several teammates expressed their desire for Stewie to win MVP.
"That's just what she does, you know, and that's why she's an MVP. She can affect the game in so many ways, in so many different ways," said Jones. "Her mindset is always right, and it's not just about scoring. There's many different ways that she can help the team out and lead by example."
Stewart thanks the fans
Stewart is extremely proud to win the award, despite tearing her achilles while overseas and taking risks. She thanked the people that voted for her, but also the ones that didn't cast their ballot for her. She stated the "business doesn't go on without the fans," and was "excited to share the it [MVP] with the fans."
No. 30 specifically touched upon the energy the fans bring at the Barclays Center, and how much that means to her. "We have to really use the energy behind our fans and our crowd."
In a historically tight race, Breanna Stewart had a total of 446 points, Alyssa Thomas with 439, and A'ja Wilson with 433 points. All three players were incredible, impactful, and deserving of the award.
The WNBA MVP race this season was CLOSE 😳 pic.twitter.com/9rx8ScxdIf

— ESPN (@espn) September 26, 2023
Breanna Stewart, just in her seventh season, has morphed into one of the most elite women's basketball players of all time. With her future bright in New York, Stewart still has plenty of accolades and accomplishments to add to her resume. Her leadership, and dedication on and off the court is paving the way for the younger generation.
Stay tuned for more WNBA related articles. Click here
Sara Jane Gamelli is a full-time Sportswriter at Ballislife, and a Sports Content Creator on Twitch and TikTok. She has a focus on the NBA, WNBA, NCAA Basketball, and the NFL. Sara Jane currently resides in Connecticut with her Cat and Dog. SJ has her undergraduate degree from the University of Connecticut in Economics, with a minor in business administration.