The New York Liberty defeated the Connecticut Sun 84-77 in game two of the Semifinals. Down 0-1, the Liberty found a way to secure a crucial victory in front of a sellout crowd at the Barclays Center. Best of five games, the series is tied 1-1.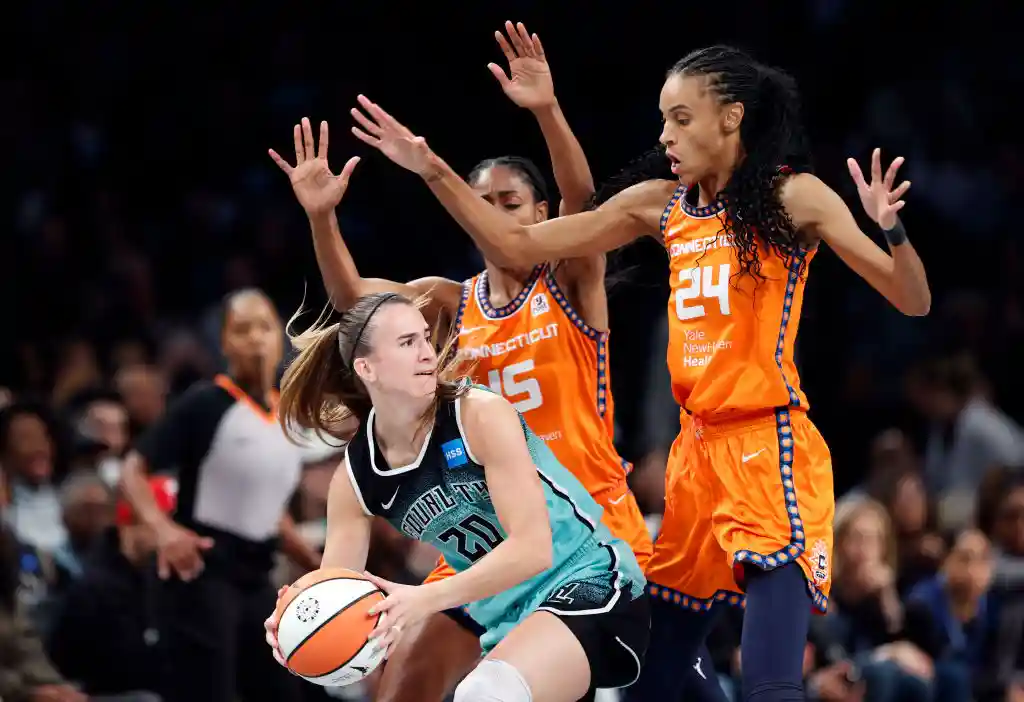 Hours before tip off, the league learned about Breanna Stewart winning the league MVP. In an emotional day, the Liberty knew what was at stake. Down 0-1, New York responded with resilience and determination. Once down by 12 points, the Liberty managed to change their game play and adapt to Connecticut's defensive strategy.
RELATED: Breanna Stewart wins the WNBA MVP
Prior to the start of the matchup, Breanna Stewart commented on juggling the MVP news along with preparing for a significant matchup. Despite winning the award, Stewart make it clear she was locked in for game two.
"Yeah, it's a juggling act today, " Stewart told the press. "[I am] happy to have my family here, but the moment I step off this podium, it's time to lock in for the game." "I expect to respond really well. Connecticut played well on Sunday, and we're ready to bounce back tonight. It comes down to the way we play-- we want to be the aggressors, we want to play fast."
Despite an early lead, Connecticut went on a 13-2 run in the first quarter. Tiffany Hayes, who finished with a team high 30 points, scored 12 in the first quarter. The Sun held the Liberty to 16.7 percent from the three-point, in which Breanna Stewart and Alyssa Thomas were held scoreless. Similar to game one, New York created four turnovers, in which Connecticut scored six unanswered points.
Jonquel Jones sets the tone early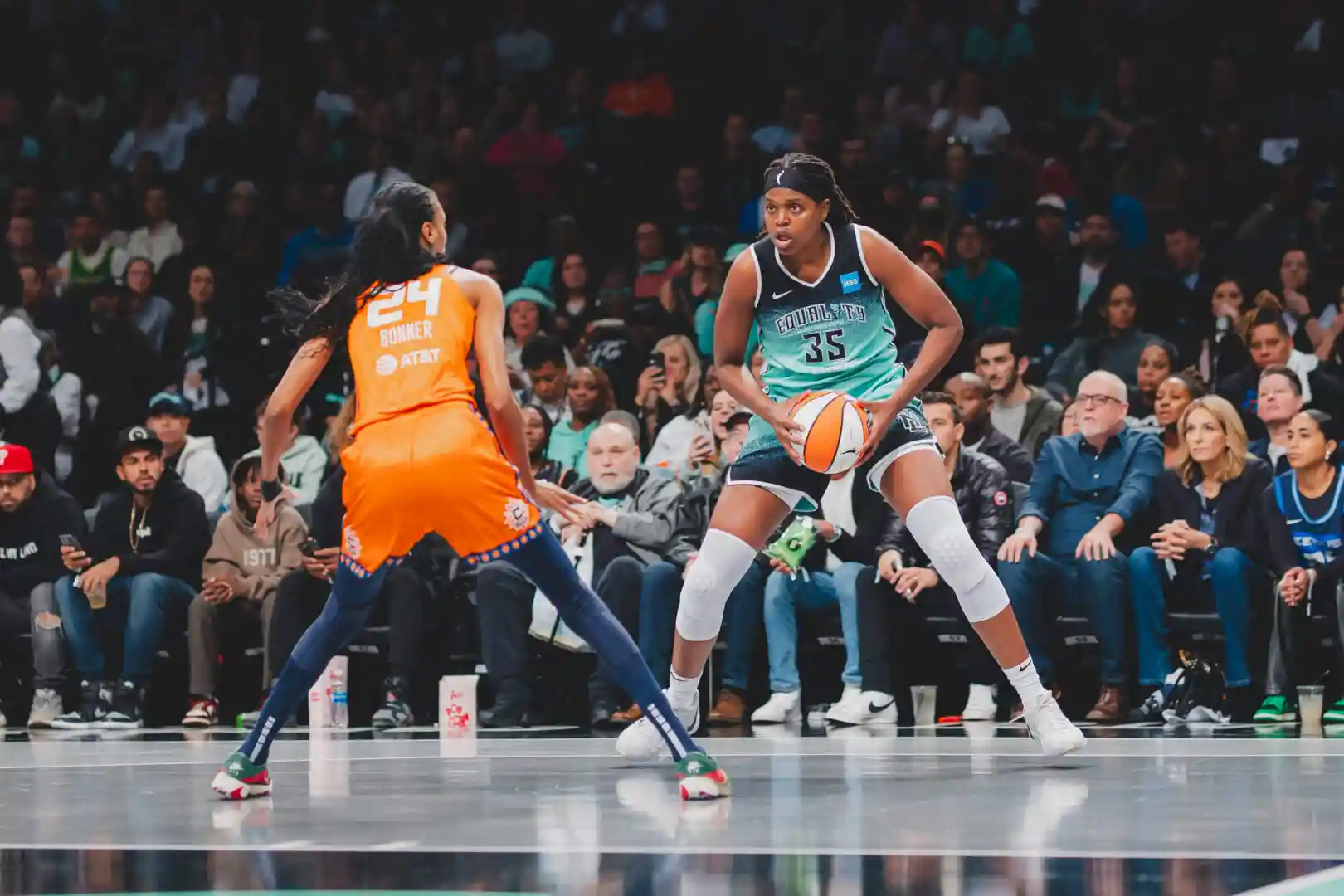 WE SEE YOU 3️⃣5️⃣ @jus242 leading the Libs with 11 PTS | 9 REB pic.twitter.com/zNiHIQgZ3M

— New York Liberty (@nyliberty) September 27, 2023
Heading into this series, coach Sandy Brondello learned to adapt her teams strategy outside the three point shot. Jonquel Jones, acquired in the offseason in a three-team trade, has been vital for New York on both sides of the ball. In a must win victory over Washington in the first round, Jones used her size in the paint, when the shots weren't falling. Similarly, the Liberty looked for Jones to utilize her strength and use the mismatches in the post. In the first ten minutes, No. 35 had nine points and three rebounds. Much like the first matchup, Jones was limited to zero points in the second half. The Liberty forward was an integral part of the defense, especially in her matchups with Bonner and Thomas. Jones finished with another double-double, 11 points and 13 rebounds.
In Tuesday's victory, the crowd at the Barclays Center was electric and paramount to the team's success.
"For us, it kind of felt like a do or die situation," said Jones. "We allowed them to come in and you know, basically win on our home court obviously. We felt like we needed to give the fans something to cheer about. "
The Liberty adapted their offensive game plan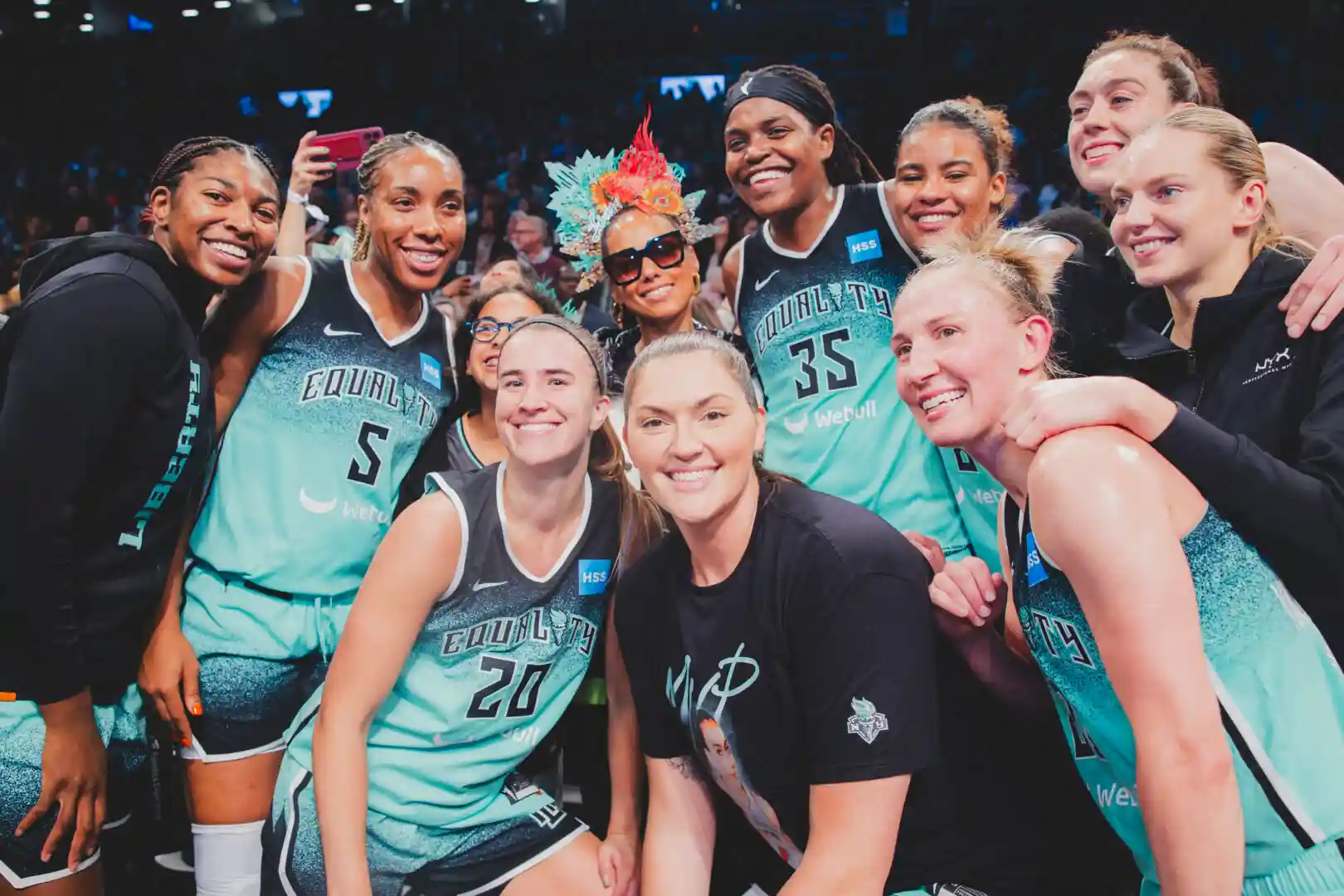 It's no secret the New York Liberty have struggled shooting the deep ball in the playoffs. Similar to game one, the Liberty found themselves down by twelve points in the second quarter. Determined to secure a win, New York changed their game plan 7:37 minutes before halftime. Betnijah Laney played stiffling defense on Bonner, in addition to hitting her first shots of the game. Sabrina Ionescu, finished with 21 points, one block, one steal, five assists, and two rebounds. 1-5 from long range, Ionescu, continously attacked the rim, drawing fouls on multiple defenders. By halftime, Ty Harris and Rebecca Allen tallied two personal fouls each. Ionescu, 25, had a playoff high of ten free throw attempts made by the end of regulation. The Liberty, a 87.3 percent free-throw shooting team, shot 16-16 from the line Tuesday night.
Sab lit it up in game 2 🔥 pic.twitter.com/MQ3WxBBY63

— New York Liberty (@nyliberty) September 27, 2023
Ionescu admits that being a three-point threat can be used to her advantage at times, even when the shots aren't falling. Post game, the guard emphasized the importance of applying pressure to Connecticut's defense by attacking inside the paint. Rebecca Allen, a vital player for the Sun in game one, tallied five personal fouls. Instead of forcing tough shots, New York was excellent on finding patience, and attacking in the right areas.
By the end of regulation, New York outscored Connecticut 32-24 in the paint, which was improbable considering the Sun are the top team against paint points in the playoffs. With zone defense, the Liberty were able to capitalize on the rebounds, along with fast break points. With created turnovers, New York was able to score 11 points, and had effective offense in transition post second half.
"Getting into the paint either to score at the rim or getting to the foul line, " Ionescu commented post game. "For me, it was continuing to read and how they are gonna play me, but not settling. Not settling for jump shots, and understanding what I'm able to do if I'm you know, getting on two feet into the paint and being strong with the ball."
The Liberty heat up in the third quarter
In game one, New York was outscored 28-15 in the third quarter. Down four point at the half, the Liberty executed on their pregame plan. They came out punching first, and were dialed in. The momentum quickly shifted after a Jonquel Jones rebound, which led to a layin by Courtney Vandersloot. With Alyssa Thomas creating a turnover, Betnijah Laney set the tone early with a three-point shot. From there, the home crowd went into a frenzy with a 43-42 Liberty lead.
BIG B AND THE B STANDS FOR BANDS CAUSE THAT WAS MON3YYY💰 @BetnijahLaney pic.twitter.com/JyXyiRKiPM

— New York Liberty (@nyliberty) September 27, 2023
Poised to defeat the Sun, Sandy Brondello's team played New York basketball. In collaboration, New York shot over 42 percent from the three, and 47 percent from the field in that third quarter. With DeWanna Bonner and Tiffany Hayes having honorable performances, New York switched to zone defense, which doesn't happen often.
"We knew we had to win on our home court," Brondello told the media post game. "You could see a very connected team today. We went to the zone, but there's still a lot of communication. The zone was effective for us tonight, but we didn't want to lose. We weren't happy with our last game." That was a big thing for us because we haven't been coming out really strong in that third quarter."
With the effective zone scheme on defense, New York held Connecticut to just 25 percent field goal shooting in the third quarter. Both Tiffany Hayes and DeWanner Bonner were held to four points each. MVP candidate Alyssa Thomas finished with 10 points, on just 2-13 shooting.
Betnijah Laney is the ultimate X-Factor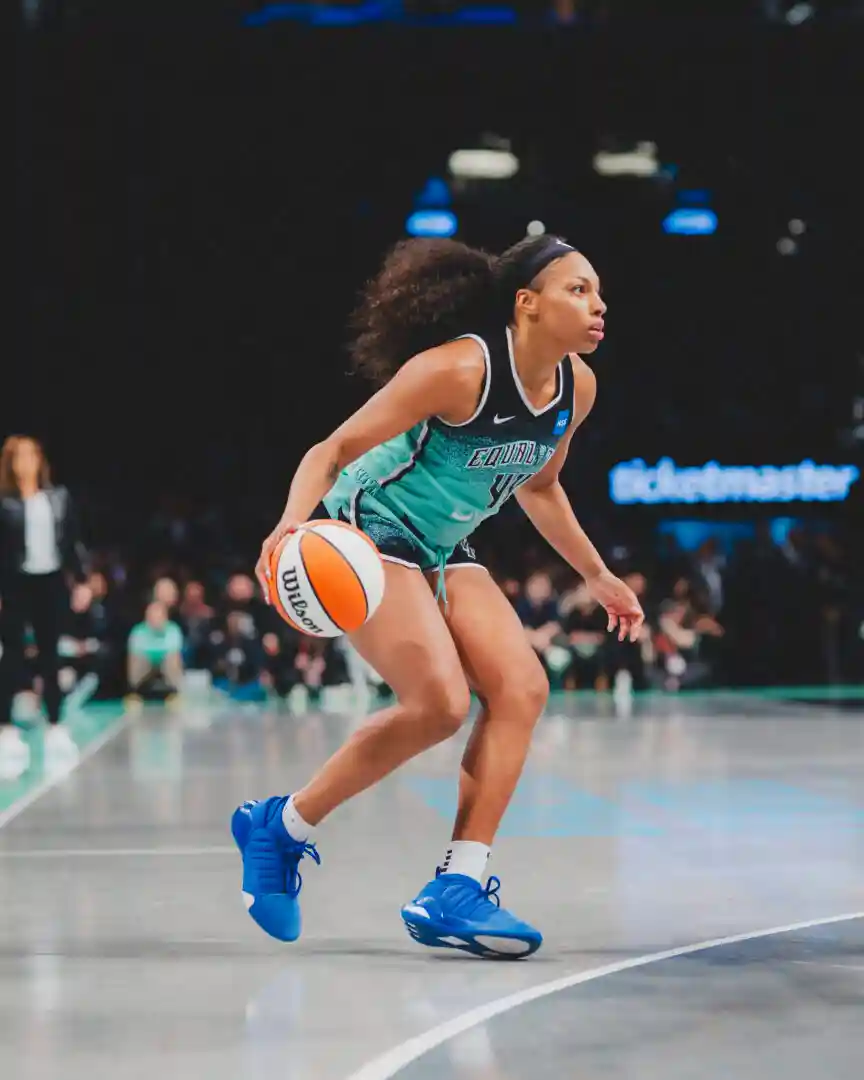 Betnijah Laney has been a crucial member on both sides of the ball all season long, despite the volume of talent that surrounds her. No. 44 was held to just three points in New York's game one casualty against Connecticut. Often times, Laney is the one to set the tone, which creates momentum and opportunities for her teammates.
Named All-Defensive Second team, Laney is often matched up with some of the leagues most elite. Defending Bonner most of the night, Betnijah was able to defend both the perimeter and Alyssa Thomas on the inside. With Hayes having a impactful night, Laney had some defensive matchups on No. 15.
WE LOVE THIS SONG 👑🐝 pic.twitter.com/X4CZcYTMjm

— New York Liberty (@nyliberty) September 27, 2023
Offensively, Laney was able to get some open looks, in addition to fast break opportunities. She finished with 20 points, one steal, three assists, and four rebounds. In 37 minutes, No. 44 shot 5-7 from long range, and 7-11 from the field. Her toughness and resiliency is a crucial part of this team, in which she contributes in various ways the box score doesn't always show.
In a tight 75-70 game, the crowd erupted after Laney banked a three-point shot in transition from Sabrina Ionescu. After DeWanna Bonners four point play, Benijah sunk another three point, extending the the lead 80-70.
"It says a lot of B [Laney], its all about winning," said Brondello. " I think she's improved her three point shooting, and she loves the moment. B [Laney] has been great for us. She scores in multiple ways."
Coach Sandy Brondello expressed how proud she was of Laney, especially embracing a role amongst a talented roster.
Stew York City
Often the MVP is not the player who scores the most every night. On Tuesday evening, Breanna Stewart finished with just 11 points. Her contributions on defense were immense, and set up the Liberty for offensive opportunities. In 39 minutes, the MVP finished with 11 points, five blocks, two steals, five assists and 11 rebounds. Towards the end of the matchup, she found her stride with a three-pointer pick and pop with Courtney Vandersloot.
Things we love to see: IT 🔥 @breannastewart pic.twitter.com/53sVVi6uwx

— New York Liberty (@nyliberty) September 27, 2023
With four minutes to go in the fourth quarter, Breanna Stewart had a monumental block on Olivia Nelson-Ododa, in which you could feel the energy from fans in Brooklyn. Stewart also had critical blocks over Alyssa Thomas and DeWanna Bonner.
MVP WITH THE REJECTION ❌ pic.twitter.com/FtRWaeICHk

— New York Liberty (@nyliberty) September 27, 2023
Breanna Stewart continues to make history. Her five blocks is a postseason single-game franchise record.
"We wanted to win for Stewie [Stewart], we wanted to win for ourselves. I think it was the hardest for [Stewart] because that's a big day--- handling all the emotions and all the interviews. She [Breanna Stewart] came out and she competed. It wasn't about scoring here, but just her effort and her leadership, and her overall just running and doing the little things well certainly helped us get the W," said Brondello.
In combination of zone defensive, it was a collaborative effort on offense for New York. All five starters were positive +/- on the floor, and each had points in double figures. Not rushing shots, New York had fluid ball movement, and efficient floor spacing.
The New York Liberty (1-1) will face the Connecticut Sun (1-1) on the road for game three of the Semifinals on Friday, Sept. 28. The best of five games, game three will certainly be a tone setter with the next two matchups on the road.