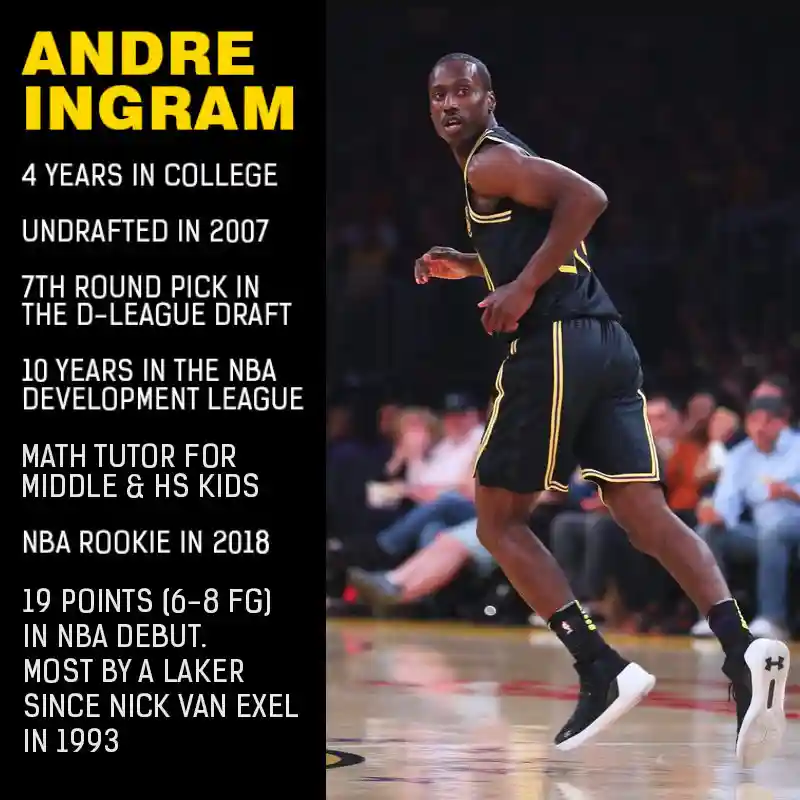 If the Andre Ingram story was a fictional screenplay being shopped around Hollywood, I would have said "toss that shit in the trash" because it's ridiculous and too unrealistic. I don't even think BET or the Lifetime network would green light a story about a 32-year-old baller who has spent the past decade playing in the G-League and tutoring middle and high school kids in math, getting signed by the Lakers and having one of the most impressive NBA debuts in recent memory. It's just too crazy to be made. But, Andre Ingram made it happen…in reality.
On April 10th of 2018, "The Real Ingram (as Lonzo Ball would jokingly say)" made 6-of-8 shots for 19 points in his NBA debut. The 19 points were the most points by a rookie in a Lakers debut since Nick Van Exel put up 23 in 1993; this means Ingram scored more in his debut than Eddie Jones, Kobe Bryant, D'Angelo Russell, Julius Randle, Lonzo Ball, Kyle Kuzma and Brandon Ingram!
The NBA version of Rudy also had everyone from players on opposing teams to Oscar winner and Lakers legend Kobe Bryant talking about his storybook performance, which I'm calling the sequel to La La Land.