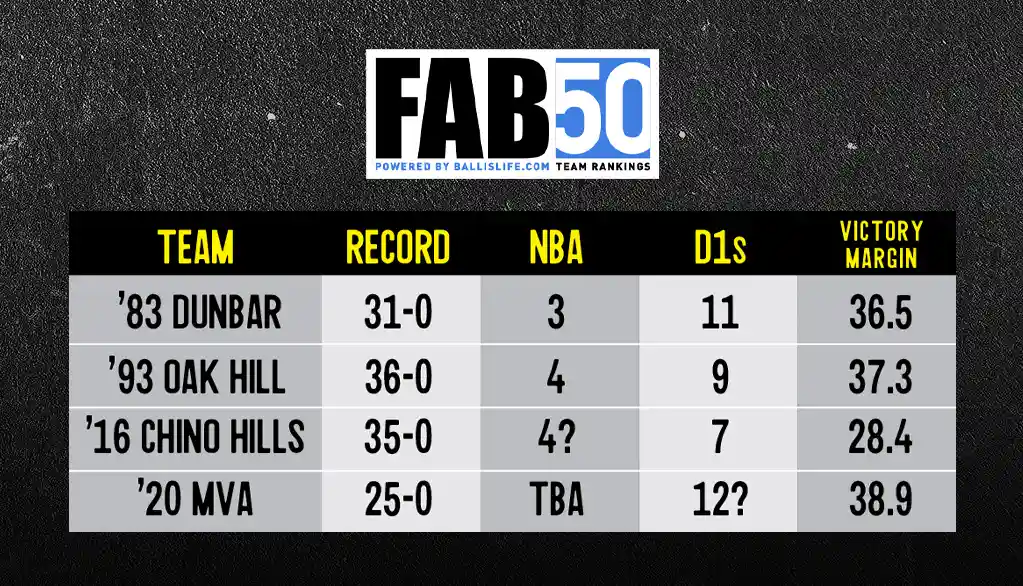 FAB 50 No. 1 Montverde Academy just completed one of the most dominant runs through a high school season. Are the Eagles the greatest team of all-time? We compare and contrast their team and resume to three other all-time great teams. You'll be surprised to see how similar the resumes for these great teams are!

RELATED: Final 2019-20 FAB 50 Rankings | Salute To All-Time FAB 50 No. 1s
Without a question of a doubt, the 2019-20 Montverde Academy (Montverde, Fla.) team is one of the greatest of all-time. What the Eagles accomplished over 25 games this past season has only been matched a few times in the history of the high school game going back to Brown vs. Board of Education in 1954, which ushered in an era of the game where statistics are available to research (they are much harder to do when schools were segregated), end-of-season national honors and awards for elite players emerged, and colleges began recruiting nationwide starting with Wilt Chamberlain that next spring.

Of course, most will argue that high school basketball is much better now than it was even 30 years ago, an to an extent it's true. The competition at the top has never been better and the elite high school game has evolved into something that doesn't resemble what the average high school team looked like 30-40 years ago.

The reality of the situation, however, is that all the elements of modern, elite high school basketball have been in play for much longer than the mixtape generation (2005 to current) realizes. National scouting has been around since the early 1970s, teams with elite players have played in national events since that same time period, national weekly team rankings began in 1975, and widely distributed national player rankings have been available since the 1978-79 season.

Besides, great teams and players stand the test of time. With that in mind, we wanted to break down Montverde Academy's resume to that of three other great teams over the past 40 years, one an independent basketball power and the other two public schools.
GREATEST HIGH SCHOOL TEAMS
ALL-TIME TALE OF THE TAPE


1982-1983 Dunbar (Baltimore, Md.)
Record: 31-0
Ranking: No. 1 (preseason No. 1 by USA Today)
Points For: 2,572/83.0
Points Against: 1,442/46.5
Victory Margin: 1,130/36.5
Starters: PG Tyrone "Mugsy" Bouges 5-3 Sr. (5.8 ppg, 7 apg, 7 spg), SG Keith James 6-5 Sr. (9.4 ppg), SF Reggie Williams 6-7 Sr. (23.4 ppg, 12 rpg, 4 apg, 2 bpg), PF Mike Brown 6-4 Jr. (11.2 ppg), C Tim Dawson 6-7 Sr. (9.2 ppg, 12 rpg, 5 bpg).
Roster: Derrick Lewis 6-3 Jr., Darryl Woods 5-9 Sr., Reggie Lewis 6-7 Sr., Herman Harried 6-7 Jr., Bryan Williams 5-6 Jr., Gerard Marable 6-0 Jr., Reggie McNeil 6-2 So., Eric Green 6-2 Jr., Jerry White 6-2 Sr., David Johnson 6-2 Sr.
Resume: The Poets defeated teams from seven states and captured the Poet-Laker Tip-Off, Beltway/Capital City Classic, King of the Bluegrass Tournament, Johnstown Tournament, and won the MSA Class "A" title. To close the season, coach Bob Wade's team crushed nationally-ranked Flint Hill Prep (Roanoke, Va.), 87-59, and defeated a good Cardinal Gibbons (Baltimore, Md.) team, 82-53, to win the Metro Classic. By the time the Flint Hill Prep game came, few people gave coach Stu Vetter's team a chance to stay close, as opposing coaches felt it was just an honor for their team to be able to compete with a team as talented as Dunbar. The first big win of the season was a 67-55 victory over DeMatha Catholic (Hyattsville, Md.) in which James had 16 points and Williams added 14. They simply crushed the field at the prestigious King of the Bluegrass, defeating Carlisle County (Ky.) 65-48 in the title game as Williams had 21 and Dawson 17. Williams, the Mr. Basketball USA National Player of the Year and a top four national recruit, scored 20 more points 22 times and could have went off even more expect the Poets were comfortably ahead by the third quarter in a vast majority of their games. Only one team gave them any real trouble, as King of New York (with McDonald's All-American Kenny Hutchinson) had Dunbar, including Williams, battling major foul trouble. Reserve Reggie Lewis (5.5 ppg/172 pts) stepped up with nine points and 11 rebounds to be named Johnstown (Pa.) Tournament MVP after Dunbar posted a 57-52 victory, the Poets' only single-digit win. Similar to '93 Oak Hill and '20 Montverde Academy, only one team stayed within double figures.
Analysis: After the 1982 team finished 27-0 and was ranked No. 2 by Basketball Weekly, the 1983 team went wire-to-wire as No. 1, dominating its foes on a national schedule, very comparable to the best schedules played up to that point. Dunbar's 1982 team started David Wingate (Georgetown) and Gary Graham (UNLV) along with Dawson, Bouges, and Williams and went 27-0, but the 1983 team clearly played better teams. To give one an idea of just how good '82 Dunbar was, it routed nationally-ranked Camden (N.J.), 84-59, to end that program's long-standing home winning streak while national No. 1 Calvert Hall (which did not play Dunbar in 1982 or 1983) defeated that same team 67-62 in a come-from-behind win. What separated the two Dunbar teams was incredible depth, with at least 11 players with D1 ability on the '83 team. That was evident in Dunbar's play when the reserves were in and by its margin of victory, as the Poets never let up against any foe. As some would say about Oak Hill's 1993 team and Montverde Academy's 2020 team, the bench was likely a nationally-ranked team.
1992-1993 Oak Hill Academy (Mouth of Wilson, Va.)
Record: 36-0* (30-0 vs. high school competition)
Ranking: No. 1 (preseason No. 1 by National Prep Poll)
Points For: 3,211/89.2
Points Against: 1,868/51.9
Victory Margin: 1,343/37.3
Starters: PG Jeff McInnis 6-2 Sr. (17.0 ppg, 8.4 apg, school-record 303 assists) SG Jermaine "Sunshine" Smith 6-2 Sr. (12.2 ppg), SF Jerry Stackhouse 6-6 Sr. (25.6 ppg, 7.3 rpg, 4.0 apg), PF Alex Sanders 6-7 Jr. (12.7 ppg), C Makhtar Ndiaye 6-9 Sr. (10.3 rpg, 8.1 bpg).
Roster: Mark Blount 7-0 Soph., Michael Brittain 6-8 Jr., Ronald Williams 6-3 Sr., Vincent Luther 6-4 Sr., Jason Thomas 6-4 Sr., Tavaras Johnson 6-6 Jr.
Resume: The Warriors defeated teams from 11 states, plus the District of Columbia, as they went wire-to-wire as the No. 1 team. People nowadays talk on social media about what would happen if the nation's best FAB 50 teams or all-time great high school teams played colleges. Well, the Warriors did, going 6-0 versus colleges, including a 100-68 win over Roanoke (Va.) College, a 122-76 win over Alice Lloyd College (Ky.) and a 117-68 win over Central Piedmont Community College (N.C.). To be transparent, other great high school teams of yesteryear also beat colleges, such as Wilt Chamberlain's 1955 Overbook (Philadelphia, Pa.) club. Most high school teams were simply overwhelmed by Oak Hill's physicality, size and pressure defense. A 96-8 victory over John Battle (Bristol, Va.) at the Virginia Tip-Off Classic drew national headlines and the Warriors defeated nationally-ranked St. John's Prospect Hall (Frederick, Md.), 63-49, to win the Iolani Classic. Oak Hill was even more dominant in its second win (91-74) over St. John's Prospect Hall (another team coached by Vetter) to close the season at the St. James Invitational. The Warriors also captured the prestigious Las Vegas Holiday Prep Classic with a 57-52 victory of Felipe Lopez-led Rice (New York). Ironically, it was the same score that '83 Dunbar won its lone single-digit game by.
Analysis: This was the first of Steve Smith's national title clubs at Oak Hill and is his best overall club. The National Prep Poll (FAB 50 precursor) and the National Sports News Service (the original end-of-season national rankings) both tabbed Oak Hill No. 1 wire-to-wire, while USA Today had the Warriors No. 3 behind Simon Gratz (Philadelphia, Pa.) and King (Chicago, Ill.). Similar to Dunbar's Williams, Stackhouse was the nation's best wing forward (and a top three national player along with Gratz's Rasheed Wallace and guard Randy Livingston of Newman in New Orleans) and put up big scoring outings. The difference was the physicality, as Stackhouse could simply overpower high school players and had the ability to jump passing lanes because of Oak Hill's huge front line. Stackhouse and McInnis were McDonald's All-Americans, with the clutch Smith joining McInnis in a backcourt that could really pressure the ball or funnel players towards Ndiaye, who blocked a ton of shots without the worry of foul trouble or playing from behind. This team could go big with Blount (who joined Stackhouse, McInnis, and Ndiaye in the NBA), while Sanders and Johnson helped Oak Hill finish ranked No. 1 as seniors in 1993-94.
2015-16 Chino Hills (Chino Hills, Calif.)
Record: 35-0
Ranking: No. 1 (preseason No. 11 in FAB 50)
Points For: 3,447/98.5
Points Against: 2,453/70.1
Victory Margin: 994/28.4
Starters: PG Lonzo Ball 6-6 Sr. (23.9 ppg, 11.3 rpg, 11.5 apg, 5.1 spg), SG LaMelo Ball 5-10 Fr. (16.4 ppg, 3.8 apg), SF LiAngelo Ball 6-5 Jr. (27.4 ppg, 3.1 rpg) PF Eli Scott 6-5 Jr. (15.8 ppg, 8.6 rpg), C Onyeka Okongwu 6-8 Fr. (7.9 ppg, 7.2 rpg, 3.1 bpg).
Roster: Matthew Reed 5-11 So., Andre Ball 6-7 So., Pierce Richards 5-11 Jr., Jayson Mitchell 6-0 Jr., Nic Manor-Hall 6-2 Fr., Cam Shelton 6-0 So., Grant Trueman 6-2 Jr., Adam Vasquez 6-2 Jr., Shane Hopkins 6-9 Sr.
Resume: The Huskies defeated teams from nine states and captured three major holiday tournaments: The BattleZone Tournament, City of Palms Classic and Maxpreps Holiday Classic. Unlike the other three teams, the Huskies had plenty of close calls, but they did know how to close games. Some of those wins included a 91-90 victory over Jefferson (Brooklyn, N.Y.) that Lonzo Ball saved on a terrific defensive play, a 83-82 overtime win over Montverde Academy (Fla.), a 66-60 overtime win over Patrick School (Elizabeth, N.J.) and a 71-67 win over an unbeaten Bishop Montgomery (Torrance, Calif.) team. Three of those wins were at City of Palms and the Bishop Montgomery showdown was one of the most highly-anticipated regular season games in recent California history. Bishop Montgomery came into that game ranked No. 7 in the FAB 50 and Steve Baik's club defeated 11 programs that were FAB 50 ranked at some point, including Bishop Montgomery, No. 38 Foothills Christian and No. 43 High Point Christian more than once. Chino Hills had to move up to the No. 1 spot (it started No. 8 by USA Today and No. 5 by Maxpreps) and was No. 1 after the City of Palms Tournament. The Huskies were a clear preseason No. 1 in California and likely would have started in the seven to Top 10 range of the FAB 50 had it won the CIF D1 state title in 2015, when it went 24-8 on the court and lost in double overtime in the state final after Lonzo Ball fouled out.
Analysis: The Huskies join this conversation for three main reasons. One, the program was a public school and there is misnomer that public schools can't compete at the elite level. Chino Hills is a "neighborhood school" program while Dunbar attracted students from all over Charm City through its magnet program. Second, Chino Hills is a team the video-centric generation of fans can relate to as they make comparisons. Lastly, even though the Huskies didn't start off with the fanfare of the other three clubs in this conversation, it's where you finish and with Okongwu and Melo Ball on their way to the NBA to join Lonzo their greatness continues to cast a shadow as time elapses. Will Scott or Gelo get a NBA crack? After the close calls during the regular season, the Huskies took it up a notch against the toughest post-season competition in California, defeating eight opponents by an average of 29 points in the CIF Southern Section and SoCal Open Division playoffs. Similar to the '83 Dunbar club, late in the season it felt like Chino Hills was a team of destiny and it rolled Bishop Montgomery 84-62 in the SoCal Open title game. With Okongwu and Melo Ball in the lineup, Chino Hills had two 14-year olds and detractors would say that puts them at a big disadvantage against these three other teams. The freshmen duo played fearlessly and beyond their years and Okongwu did a terrific job against older interior post players. It's ironic that Lonzo Ball fouled out in that 2015 state title game because the Huskies starters did a terrific job of not fouling out during the 2015-16, especially Okongwu in the middle as he never fouled out despite having a few close calls with four personals. Baik went with his starters nearly exclusively and the lack of depth was even more noticeable when Andre Ball (the cousin of Zo, Gelo and Melo) was lost to injury during the Maxpreps Holiday Classic. Lonzo Ball did a bit of everything defensively and carried the Huskies on his way to becoming California's all-time assist leader, but the scoring ability of Gelo Ball and the contributions of Scott cannot be overlooked. Chino Hills tied a state record with 18 100-point games and Lonzo Ball was named Mr. Basketball USA while collecting a triple double in 25 of 35 games, a single-season state record that may never be broken.
2019-20 Montverde Academy (Montverde, Fla.)
Record: 25-0
Ranking: No. 1 (preseason No. 2 by FAB 50)
Points For: 2,173/87.0
Points Against: 1,200/48.0
Victory Margin: 973/38.9
Starters: PG Cade Cunningham 6-7 Sr. (13.9 ppg, 4.2 rpg, 6.4 apg), SG Moses Moody 6-5 Sr. (10.9 ppg, 3.3 rpg), SF Scottie Barnes 6-8 Sr. (11.6 ppg, 6.5 rpg, 4.6 apg), PF Caleb Houstan 6-7 So. (10.0 ppg, 3.5 rpg), C Day'Ron Sharpe 6-10 sr. (12.1 ppg, 7.3 rpg).
Roster: Dariq Whitehead 6-5 So., Ryan Nembhard 6-1 Jr., Langston Love 6-4 Jr., Zeb Jackson 6-2 Sr., Keegan Harvey 6-11 Sr., Jesse Jones 6-3 Sr., Michael Wu 6-7 Jr.
Resume: The Eagles were preseason No. 2 in the FAB 50 and Maxpreps placed them at No. 1 and, on paper, not much separated Montverde Academy and IMG Academy. The Eagles, however, took their game to another level during the season and just as '83 Dunbar and '93 Oak Hill Academy did, only had one single-digit game. When the Eagles and IMG Academy met in the City of Palms Classic title game, the Ascenders gave Montverde Academy its toughest game of the season, falling 63-55. Montverde Academy defeated IMG Academy twice more, 67-46 and 76-64, while no other team came within 20 points. When Barnes joined the Eagles' roster, it turned a potential juggernaut into a virtual machine, as coach Kevin Boyle's club Eagles defeated 12 FAB 50 ranked clubs (at the time of the matchup), including No. 4 DeMatha Catholic (Hyattsville, Md.) 76-56 in a game that wasn't as close as the score indicates. The Eagles could have potentially faced three more FAB 50 ranked teams had GIECO Nationals not been wiped out by the COVID-19 Pandemic. Would any of those nationally-ranked clubs have been able to Montverde Academy a good game?
Analysis: IMG Academy edged the Eagles for the preseason No. 1 spot by the slimmest of margins, but in the end it didn't matter and Boyle's club provide to be one of the best teams of all-time. GEICO Nationals notwithstanding, Montverde Academy captured its fifth FAB 50 title in the past eight seasons, and fielded its best overall team in that time frame. When talking about the best teams and how they fared at the time, Montverde Academy has as strong a resume as any. The raw numbers clearly illustrate that and the roster provides more evidence. Cunningham, like Ball, Stackhouse, and Williams before him, is a Mr. Basketball USA talent and the Eagles had incredible depth and balance. The other teams were more reliant on one player for scoring (Williams and Stackhouse) or play-making (Ball), but MVA truly could beat teams in many ways, as seven players averaged 8.3 ppg or more led by Cunningham's 13.9 ppg. How would that approach work against one of the other three teams mentioned here? The evidence suggests the Eagles would have found a way to be successful. What if Montverde Academy found a way to slow Williams, Stackhouse or Ball down? The evidence suggests others would have stepped up. It would have been interesting to see Montverde Academy play upwards of three ranked foes in succession to see if it could have been pushed to its limit. The contrast between Barnes and Bouges is fascinating because they are catalysts of the same fashion despite a huge difference in size. Could Barnes have slowed down Williams? On the other end, who on Montverde's roster could have stayed with Bouges or kept him from disrupting the Eagles' offense? Some opponents, like Camden (N.J.), didn't respect Bouges because of his size, but he made them pay severely for that by completely disrupting their offense. Could Dunbar have kept up with Montverde Academy on the boards? Dawson and Williams were fine on the glass but would have their work cut out for them trying to slow down Sharpe, who gives the Eagles an All-American at three different positions (lead guard, wing, post). Matchup wise, '93 Oak Hill might be the better comparison and the tougher check for Boyle's club. The Warriors had a huge front line and nobody on MVA's team is the physical wing scorer that Stackhouse was. Cunningham and Moody are tough checks, but McInnis and Smith were mentally tough, battle-tested and capable defenders who could put the ball in the hole when necessary. Unlike Chino Hills, there wouldn't be much issue with Oak Hill playing aggressively because of the firepower on the bench. It's easy to point to the Eagles' ranked players (their ninth man is going to Michigan), but at 5-foot-3 Bouges was ranked No. 24 by All-Star Sports. One had to think if the summer circuit and camp atmosphere was in 1982 what it is today, Lewis would have blown up and been a nationally ranked player. Luckily for Jim Calhoun and Northeastern, he didn't blow up. As role players on the '83 Dunbar team, Brown (No. 16), James (No. 40) and Harried (No. 64) were all top 100 players in the Class of 1984. Montverde Academy would seem to have the edge in versatility because Cunningham is as unique a point guard as we've seen on a team with so much talent. Ball is his equal, but he didn't have the horses around him to work with player No. 2 through No. 12. In a four-team bracket, Montverde Academy would have a strong case as the BEST team of the lot. When you talk about how GREAT the teams are, however, you can't take nothing away from Dunbar and Oak Hill. They have the data to back up their receptive cases and the numbers going forward to take their place amongst the all-time great teams. Stackhouse and McInnis were joined in the NBA by two of their teammates, but Ndiaye and Bount enjoyed cups of coffee. That's what makes '83 Dunbar so unique, as Williams, Bouges and Lewis were three of the top 22 picks in the 1987 NBA Draft. When you add in the fact that trio (along with Wingate from the '82 team) developed into long-time NBA players, it secures Dunbar's spot among the all-time great high school teams. A certain aspect of how great this year's Montverde Academy team is will be determined later by how much success individual Eagles' players have at the next levels of the game compared to Dunbar, Oak Hill, Chino Hills and other great undefeated No. 1 ranked teams that produced multiple NBA players.

Ronnie Flores is the national Grassroots editor of Ballislife.com. He can be reached at [email protected]. Don't forget to follow him on Twitter: @RonMFlores