Another trip to the West Coast for me as I attended the Wootten Top 150 Camp last weekend. It was a camp with a lot of talent and a good amount of southern flavor. In this recap, I evaluate the players from the South that were in attendance.
Nic Codie Has Added Muscle
It was my first time seeing 2024 Nic Codie play since the NCAA July live viewing period, and he looks stronger. He played stronger as well, while playing through contact to garner a rebound and on drives, he embraced contact better to get to his spots to finish. Now he isn't completely out-muscling guys, but the added strength definitely is helping him. Liked his motor and consistency at Wootten.
2024 Evals
Jalen Shelley, 6'8 Wing - Link Year Academy (MO): Coming from Frisco, Texas, Shelley was good at Wootten Camp. Lefty that showed his scoring prowess. Comfortable getting to the mid-range and shooting, but overall, he seemed to be more comfortable shooting off the bounce. A versatile scoring threat, that when hot, can make shots in bunches.
David Castillo, 6'1 PG - Sunrise Christian (KS): From Oklahoma, the K-State pledge played well at Wootten Camp. Was hot from deep, showed extended range and because he was such a threat from 3-point land, he was able to get to the rim and finish strong.
Micah Robinson, 6'6 Wing - Oak Hill (VA): Also coming from the DFW, I thought the TCU commit was solid. Played the right way, moved the ball and made threes off the catch. Wasn't very assertive, but he made the right basketball play and worked within the flow of the game. A power wing that's a dependable 3-point shooter and utilizes his body on drives.
Dillon Battie, 6'7 PF - Lancaster (TX): Talk about power, Dillon plays with a lot of it. Strongly built, plays very well off of two feet and showed an improved jumper. Dillon's engine continues to go and when he finds his perfect blend of inside-out scoring, he can be a matchup problem at the next level. Has official visits set up with Washington and Washington State.
The 2026's Shined
Thought it was a good showing for the 2026 prospects from the Southwest Region. Jacob Lanier (Maumelle, AR) out of Arkansas really showed his playmaking. He got to spots, made the right read consistently and shot it well off the catch. Someone that's impactful playing on and off the ball. Will hear his name amongst the upper tier of that class nationally until he graduates. A lot of upside with this one.

JJ Andrews (Little Rock Christian Academy, AR) made an impact especially in transition. A power athlete that was fantastic in transition, as he displayed his athleticism. He was a strong driver to the rim, absorbing contact well and flashing his shooting when the defense played off of him. Showed why he's nationally known and continuing to rise.
From Texas, I was impressed with Dakari Spear (The Colony, TX). A 6'4 combo that shows adequate shot making abilities. Doesn't have crazy blow by speed but he's crafty, uses body to generate separation and holds good elevation on his pull-up jumper. Trent Perry (Frisco Lone Star, TX) made his presence known as well. Athletic but uses go-go gadget arms to finish over taller defenders. Like his upside as a defender, his shot mechanics look cleaner and he seems more comfortable shooting from 3-point land. Alex Barther (Eastern Hills, TX) is a big wing that plays with energy in this atmosphere. He's versatile, I was interested in seeing how he would be versus the older guys and I thought he was just fine. He looked comfortable getting to the mid-range, competing on the defensive end. Definitely think he's a plus team defender that communicates. I know what Barther can do offensively, but it's the other stuff that impressed me. Can impact games without the scoring.
Hudson Greer Continues To Perform
No matter the event, 2025 Hudson Greer seems to be productive. Pangos Camps, heard great things at USA Basketball, fall league games, and now here at Wootten 150 Camp. An athletic wing that's an opportunistic scorer. Attacks the rim on closeouts and when receiving a hand-off, finds the ball on missed shots and puts it back with slams, running the floor and finishing transition plays. His shooting is coming along and he makes open threes. Better shooter off the catch, but his overall off the dribble shooting has seen an up-tick as well. He's putting himself in the category as a potential McDonald's All American for 2025. It's early, there's a lot of basketball to be played, but he's helping himself a lot.
2025 Evals
Jaden Toombs, 6'9 C - Dynamic Prep (TX): Jaden was very solid. He knows how to play and he has great touch around the rim. He also flashed his 3-point shooting as a pop guy. He's commitment to improving his body, expanding his game, but not floating and settling.
Leroy Kelly IV, 6'2 2/1 CG - Dynamic Prep (TX): It's a big year for Leroy. In years past, he primarily played off the ball but he's transitioning on playing more of a primary ball-handler role. I believe he's a better decision maker than he was a year ago so I think the transition is going fine but he hasn't learned how to blend it all together yet. When he's confident in his jumper, he's a hard cover because he's a versatile shooter. Combined that with improved passer feel and skills, he can put a lot of pressure on the defense.
Jermaine O'Neal, 6'5 Wing - Dynamic Prep (TX): Really showed his mid-range scoring prowess. Jermaine takes shots you probably wouldn't want others to take but they go in. Contested one-legged fades, pull-up jumpers with a hand in his face, O'Neal isn't fazed by the defender and puts the ball in the hole.

Kayden Edwards, 6'2 2/1 CG - Duncanville (TX): A lefty scoring guard with supreme confidence. Made shots from deep, has a short memory and is fast with the ball. Love his upside as a scorer and playmaker.
Dorian Hayes, 6'4 SG - Ridgepoint (TX): I like Hayes' upside. A scoring guard that has his best basketball is ahead of him. He uses his length on the offensive end as a shooter. Extending over the contest, Hayes uses minimal dribbles to create space and generate shot opportunities. Doesn't get talked much in this class but he's one to keep tabs on.
King Grace, 6'4 2/1 CG - Waxahachie (TX): A scoring guard that has improved as a live dribble passer. I know he can score the ball but I wanted to see how he's improved as a passer and overall decision maker. It's definitely better than it was in the past, but there's still times he puts himself in no-win opportunities on offense. Shot looks cleaner as well and he's a confident scorer that can fill it up quick.
David Iweze, 6'8 PF/C - Ischool (TX): David has made big strides since April and is playing with more confidence. Grabs rebounds and initiates transition breaks. A good passer but a risky one at that so he'll have goofy turnovers. He's a versatile offensive threat with a good feel of the game. When his motor is on, he's uber effective.
Cam Smith, 6'6 SF - Duncanville (TX): Cam continues to grow on me. First saw him in Atlanta in the summer and he was good, but he's improved since March. Playing more in control and with better balance. He made athletic finishes in transition, showed a more functional handle and has improved as an overall shooter. High upside with this one, such as Dorian Hayes, is good now but will be really good later.
Outside The Region Observations
I have many notes from prospects even outside the Southwest and I came away very impressed with 2026 Chris Washington (The Villages, FL). A big wing-forward with long arms. He can make shots with space, assertive on the glass and is a rim deterrent. He has some rawness to him offensively, as he can get out of control at times but his upside is tremendous. Will be ranked high in his class throughout his high school career.
More Notes
Donnie Freeman, 2025 6'9 PF - IMG (FL): Motor was continuously running and was making shots as a trail, pop or spot up guy. Mixed energy, effort, toughness and perimeter shooting well and was one of the top performers there.
Moustapha Thiam, 2025 7' C - DME Academy (FL): Has gotten stronger and is playing through contact better. Faced up and scored, had a good amount of offensive rebounding attempts and showed upside as a guy that can space the floor down the road.
Nikolas Khamenia, 2025 6'7 PF/SF - Harvard Westlake (CA): Skill and feel. That immediately stands out when watching Nikolas plays. Terrific footwork, shooting touch and is crafty. Understands angles very well and keeps the defense guessing. What helps him out as well is his passing feel. He hits the open target or the guy in stride which then opens up his scoring opportunities.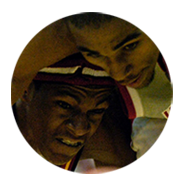 Want more on this article?
Ask a question or start a conversation in the BALLISLIFE Forum!
Click Here!