Nicknames have always been a part of high school basketball, even though they may be a bit more rare than past generations. We pick the best ones each year and this year it's hard to top "Fat Daddy", a forward from Coronado High in Henderson, Nev., via Detroit. Similar to our Names of the Year going back to to the 1969-70 season, we've also have Nicknames of the Year going back to the 1954-55 season.
At one time, nicknames for high school basketball players were commonplace and mentioned in newspapers across the country. With the newspaper industry dying a slow death in this country, daily high school coverage is a fraction of what it used to be and nicknames doing get circulated like they used to.
There are still some memorable ones in 2020 and some unique names as well. Some of the better nicknames include Donovan "Puff" Johnson of Hillcrest Prep (Phoenix, Ariz.) and Elite All-American Carlos "Scooby" Johnson of Benton Harbor (Mich.), but this year it was hard to top the originality of Tyrelle "Fat Daddy" Hunt of Coronado (Henderson, Nev.).
Hunt, a native of Detroit who is still undecided for college, was a rather large baby growing up, hence his nickname that stuck. This season "Fat Daddy" averaged a double-double for the second consecutive year for a 19-9 team and also played tight end on the Cougars' football team.
A majority of the players listed below played at an all-state level and above, with nicknames coined while still in high school. There have been tons of nicknames given out through the years, but these are some of the most memorable. In today's political climate, some of the selections may appear a bit insensitive, but they were appropriate for that particular time.
All-Time Nicknames of the Year
(Player must be of all-section, all-region or all-state caliber; We do not pick the same player twice and the nickname cannot just be a short version of player's actual name.)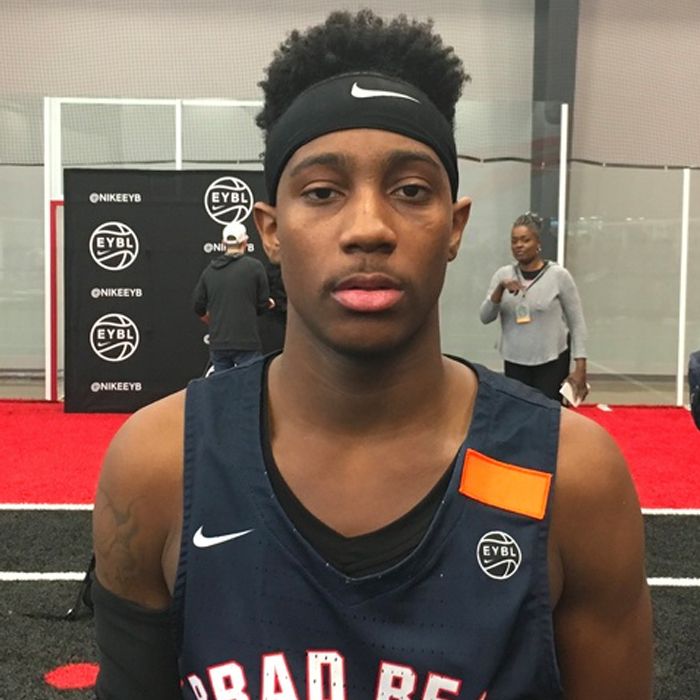 6'2" - PG - 2019
2020 -- Tyrelle "Fat Daddy" Hunt, Coronado (Henderson, Nev.) 6-5 F
2019 -- Mario "Hoodie Rio" McKinney, Vashon (St. Louis, Mo.) 6-2 G
2018 -- Rechon "Leaky" Black, Cox Mill (Concord, N.C.) 6-7 F
2017 -- Brian "Tugs" Bowen, La Lumiere (La Porte, Ind.) 6-8 F
2016 -- Terrance "2K" Ferguson, Advanced International Prep (Dallas) 6-6 G
2015 -- Kerwin "Snoop" Roach Jr., North Shore (Houston, Texas) 6-3 G
2014 -- Lourawls "Tum Tum" Nairn Jr., Sunrise Christian Academy (Wichita, Kan.) 5-10 G
2013 -- Kris "Turkish Mamba" Yanku, Taft (Woodland Hills, Calif.) 6-2 G
2012 -- Aquille "Crime Stopper" Carr, Patterson (Baltimore, Md.) 5-6 G (Jr.)
2011 -- Quddus "Duece" Bello, Westchester Country Day (High Point, N.C.) 6-4 G
2010 -- Jamal "Buddha" Fields, Albany Academy (Albany, N.Y.) 6-1 G
2009 -- Keith "Tiny" Gallon, Oak Hill Academy (Mouth of Wilson, Va.) 6-8 C
2008 -- J'Mison "BoBo" Morgan, South Oak Cliff (Dallas) 6-10 C
2007 -- Jamelle "J-Melo" Horne, San Diego (Calif.) 6-8 F
2006 -- Demond "Tweety" Carter, Reserve Christian (Reserve, La.) 5-8 G
2005 -- Brandon "Snoop" Costner, Seton Hall Prep (West Orange, N.J.) 6-9 F
2004 -- Sebastian "Bassy" Telfair, Lincoln (Brooklyn, N.Y.) 5-11 G
2003 -- Leon "The Show" Powe, Oakland Tech (Oakland, Calif.) 6-8 F
2002 -- Anthony "Peeper" Roberson, Saginaw (Mich.) 6-1 G
2001 -- DeJuan "The Messiah" Wagner, Camden (N.J.) 6-2 G
2000 -- Zach "Z-Bo" Randolph, Marion (Ind.) 6-9 C
1999 -- Erwin "Helicopter" Dudley, Hatch (Uniontown, Ala.) 6-8 F
1998 -- David "Super Crip" Hamilton, Compton (Calif.) 6-9 F
1997 -- Edwin "Greedy" Daniels, Cohen (New Orleans, La.) 6-1 G
1996 -- Ramel "Rock" Lloyd, Cardinal Hayes (Bronx, N.Y.) 6-3 G
1995 -- Robert "Tractor" Traylor, Murray-Wright (Detroit) 6-8 C
1994 -- Shawn "Reds" Smith, Simon Gratz (Philadelphia) 5-9 G
1993 -- Maurice "Kojak" Fuller, Anderson (Ind.) 5-9 G
1992 -- Faron "Meatball" Hand, Franklin Learning Center (Philadelphia) 6-6 C
1991 -- Michael "The Exterminator" Tate, Fremont (Los Angeles) 6-5 C
1990 -- Anfernee "Penny" Hardaway, Treadwell (Memphis, Tenn.) 6-7 G
1989 -- James "Hollywood" Robinson, Murrah (Jackson, Miss.) 6-1 G
1988 -- Vincent "Ham Head" Mason, University City (Philadelphia) 6-5 C
1987 -- Jay "Silk" Edwards, Marion (Ind.) 6-4 G
1986 -- Lloyd "Swee' Pea" Daniels, Andrew Jackson (Queens, N.Y.) 6-8 G (Jr.)
1985 -- Greg "Boo" Harvey, Andrew Jackson (Queens, N.Y.) 6-0 G
1984 -- Richard "Master Blaster" Madison, Northside (Memphis, Tenn.) 6-7 F
1983 -- Antoine "The Judge" Joubert, Southwestern (Detroit) 6-5 G
1982 -- Dwayne "Pearl" Washington, Boys & Girls (Brooklyn, N.Y.) 6-2 G (Jr.)
1981 -- Walter "Dinky" Proctor, Rutgers Prep (Somerset, N.J.) 6-7 F
1980 -- Ralph "Action" Jackson, Inglewood (Calif.) 6-3 G
1979 -- Dominque "Human Highlight Film" Wilkins, Washington (N.C.) 6-7 F
1978 -- Tony "Red" Bruin, Mater Christi (Queens, N.Y.) 6-4 G (Jr.)
1977 -- Darryl "City Lights" Warwick, West Philadelphia (Pa.) 5-11 G
1976 -- Charles "Hawkeye" Whitney, DeMatha Catholic (Hyattsville, Md.) 6-5 F
1975 -- "Flintie" Ray Williams, Dorsey (Los Angeles) 6-3 G
1974 -- Allen "Skip" Wise, Dunbar (Baltimore, Md.) 6-2 G
1973 -- Wayne "Tree" Rollins, Crisp County (Cordele, Ga.) 7-1 C
1972 -- Robert "Bubbles" Hawkins, Pershing (Detroit) 6-3 G
1971 -- Les "Pee Wee" Cason, East Rutherford (N.J.) 6-11 C
1970 -- Harold "Briefcase" Sullinger, Woodrow Wilson (Camden, N.J.) 6-8 F
1969 -- Kevin "White Tornado" Joyce, Archbishop Malloy (Queens, N.Y.) 6-2 G
1968 -- Tom "Cookie" Marsh, Northern (Detroit) 6-1 G (Jr.)
1967 -- Dean "The Dream" Meminger, Rice (New York) 6-0 G
1966 -- Rick "Rocket" Mount, Lebanon (Ind.) 6-5 G
1965 -- "Pistol" Pete Maravich, Needham Broughton (Raleigh, N.C.) 6-4 G
1964 -- Mike "Crusher" Davis, Eastern District (Brooklyn, N.Y.) 6-2 G
1963 -- Earl "The Goat" Manigault, Ben Franklin (New York) 6-2 F (Jr.)
1962 -- James "Goose" Ligon, Kokomo (Ind.) 6-7 F
1961 -- "Fabulous" Freddie Goss, Compton (Calif.) 6-2 G
1960 -- Charles "Cotton" Nash, Lake Charles (La.) 6-4 F
1959 -- Lawrence "Bumpy" Nixon, Galesburgh (Ill.) 6-6 C (Jr.)
1958 -- Billy "The Hill" McGill, Jefferson (Los Angeles) 6-9 C
1957 -- Thomas "Satch" Sanders, Seward Park (New York) 6-5 F
1956 -- "King" Kelly Coleman, Wayland (Ky.) 6-3 G
1955 -- Ray "Chink" Scott, West Philadelphia (Pa.) 6-9 C (Jr.)
All-Time Names of the Year
(Player must be of all-section, all-region or all-state caliber; We do not pick the same player twice.)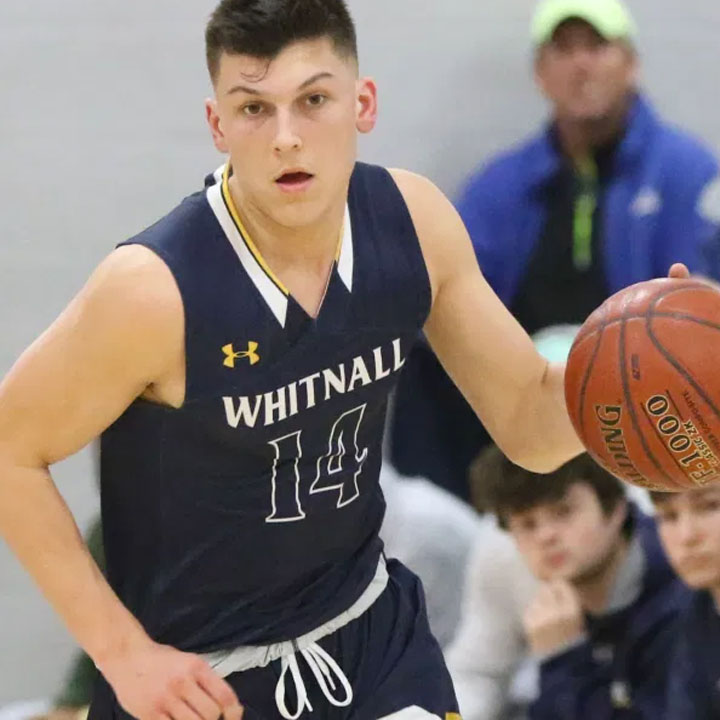 6'5" - SG - 2018
2020 -- Dain Dainja, Park Center (Minneapolis, Minn.) 6-9 C
2019 -- Zeke Nnaji, Hopkins (Minnetonka, Minn.) 6-11 C
2018 -- Tyler Herro, Whitnall (Greenfield, Wis.) 6-5 G
2017 -- Clyde Trapp, Lower Richland (Hopkins, S.C.) 6-4 G
2016 -- Seventh Woods, Hammond School (Columbia, S.C.) 6-2 G
2015 -- Tacko Fall, Liberty Christian Academy (Tavares, Fla.) 7-5 C
2014 -- Brekkott Chapman, Roy (Utah) 6-8 F
2013 -- Schuyler Rimmer, Boone (Orlando, Fla.) 6-9 C
2012 -- Wannah Bail, Lamar Consolidated (Rosenberg, Texas) 6-9 F
2011 -- Jenard Jarreau, McDonough (New Orleans, La.) 6-10 F
2010 -- Vander Blue, Memorial (Madison, Wis.) 6-3 G
2009 -- Bak Bak, Village Christian (Sun Valley, Calif.) 6-10 C
2008 -- Yves Jules, Canarsie (Brooklyn, N.Y.) 6-2 G
2007 -- Gani Lawal, Norcross (Ga.) 6-8 F
2006 -- An'Juan Wilderness, Dunwoody (Ga.) 6-6 F
2005 -- Tiki Mayben, Troy (N.Y.) 6-2 G
2004 -- Arizona Reid, Gaffney (S.C.) 6-5 F
2003 -- Chaz Spicer, Lawrence North (Indianapolis, Ind.) 6-8 F
2002 -- Delco Rowley, Arlington (Indianapolis, Ind.) 6-8 F
2001 -- Winsome Frazier, Northwestern (Miami, Fla.) 6-5 F
2000 -- Imari Sawyer, King (Chicago) 6-2 G
1999 -- Majestic Mapp, St. Raymond's (Bronx, N.Y.) 6-2 G
1998 -- Paris London, Hamilton (Memphis, Tenn.) 6-7 F
1997 -- A.J. Mexican, San Juan (Blanding, Utah) 6-6 F
1996 -- Rocky Three Irons, Lapwai (Idaho) 6-2 G
1995 -- Shammgod Wells, LaSalle Academy (New York) 5-11 G
1994 -- Scientific Mapp, Rice (New York) 5-10 G
1993 -- Tweedy Stiner, Monroe (Sepulveda, Calif.) 6-1 G
1992 -- Exree Hipp, Harker Prep (Potomac, Md.) 6-7 F
1991 -- Romeo Roach, Dunbar (Washington, D.C.) 5-4 G
1990 -- Elvis Old Bull, Lodge Grass (Mont.) 6-3 F
1989 -- Poncho Hodges, DeMatha Catholic (Hyattsville, Md.) 6-8 F
1988 -- Dexter Boney, Bradywine (Wilmington, Del.) 6-4 F
1987 -- King Rice, Binghamton (N.Y.) 6-0 G
1986 -- Alaa Abdelnaby, Bloomfield (N.J.) 6-10 C
1985 -- Tracy Dildy, King (Chicago) 6-0 G
1984 -- Sterling Quash, Caroline County (Milford, Va.) 6-5 F
1983 -- Sherlock Holmes, Mitchell (Colorado Springs, Col.) 6-5 F
1982 -- Gino Groover, Jenkins (Savannah, Ga.) 6-1 G
1981 -- Niguel Miguel, Notre Dame (Sherman Oaks, Calif.) 6-6 F
1980 -- Ben Franklin, Baptist Institute (Oneida, Kent.) 6-3 G
1979 -- Ricky Ross, South (Wichita, Kan.) 6-5 F
1978 -- Lex Drum, Poplar Bluff (Mo.) 6-10 C
1977 -- Boo Williams, Phoebus (Hampton, Va.) 6-7 F
1976 -- Lee Southern, Northside (Warner Robbins, Ga.) 6-9 C
1975 -- Winford Boynes, Capitol Hill (Oklahoma City, Okla.) 6-6 F
1974 -- Frank Stingo, West (Fairmont, W. Va.) 5-10 G
1973 -- Jackie Robinson, Morningside (Inglewood, Calif.) 6-6 F
1972 -- Boyd Batts, Thornton (Dolton, Ill.) 6-6 C
1971 -- Roscoe Pondexter, San Joaquin Memorial (Fresno, Calif.) 6-6 F
1970 -- Phaynes Reeda, Jordan (Los Angeles) 6-0 G
Ronnie Flores is the National Grassroots Editor of Ballislife.com. He can be reached at [email protected]. Don't forget to follow him on Twitter: @RonMFlores