Can we all agree that basketball is just better without players trying to take charges? I don't care what your coach says, unless you are as good as Anthony Tolliver at taking charges (77.7% charge rate over the past 4 seasons), everyone on and off the court is better off with you not trying to play defense by freezing in front of an offensive player. Yeah, you might get the ball but you also might end up with busted balls or chipped teeth from the knee of the offensive player. Or, you end up causing the offensive player to trip or flip and fall on his neck or head like Cassius Stanley.
During the second quarter of Saturday's Southern Cali Regional final, Sierra Canyon's high-flying junior guard took a nasty fall when he decided to take a flight and the defender decided to stop on a dot, turn into a statue and then raise his arms, causing Stanley to flip over.
According to the LA Times, Stanley's hands and shoulders absorbed most of the fall and he was not diagnosed with a concussion. The Times also reported that Stanley has been cleared to practice and play in next weekend's Open Division state championship game.
On Monday, Stanley posted a few photos of the fall to his Instagram account with the caption: "God was holding my hand."
UPDATE: The defender posted this message in response to us asking our audience if they thought the play was dirty.
"Bro jumped over me and I pushed him off me it wasn't on purpose at all when he got up I made sure bro was ok y'all making this bigger than it has to be things like this happen if your a hooper and this bothers u then maybe this ain't the sport for you"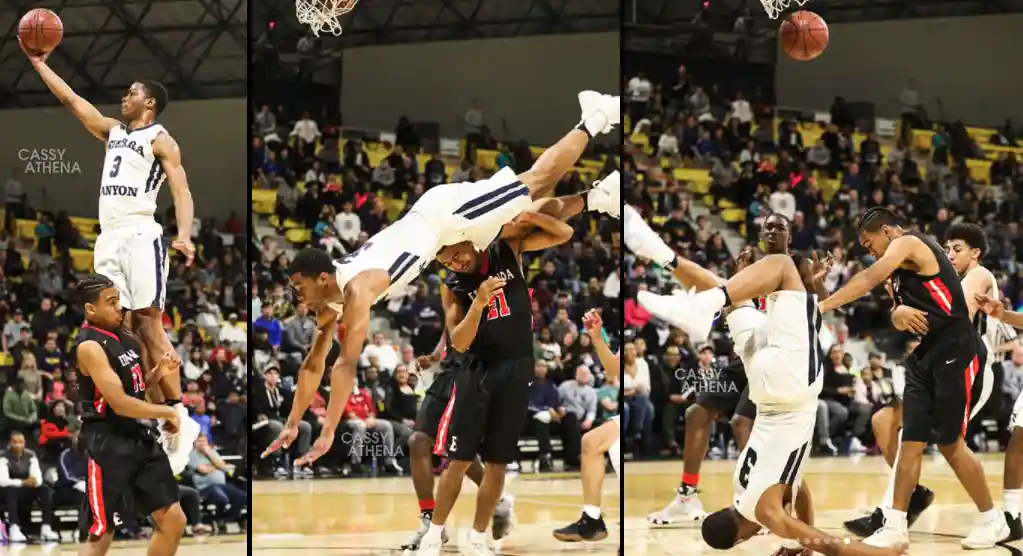 Cassius Stanley down in the 2nd quarter after a nasty header. pic.twitter.com/f1qbfGeKE2

— dylan stewart (@dylanstw__) March 18, 2018
Lost in the shock of the nasty fall was how nasty that block was by Stanley's teammates at the beginning of the video. If Stanley would have been able to dunk on the defender, then this sequence might have turned into one of the best defense to offense clips of the year.
Source: LA Times
Photos: Cassy Athena
BONUS VIDEO
This is what happens when you don't foul Stanley.