Our Grassroots Editor Ronnie Flores dropped his annual preseason FAB 50 national rankings and Top 20 regional regional ranks over the last couple of weeks and we wanted to take that coverage a step further by highlighting some of the individual talent among the ranked teams.
In this piece we take a closer look at some of the best wings on the teams who to make the Top 15 cut in Ronnie's preseason FAB 50 rankings. Check the full player breakdowns below and make sure to dive further into each player in our profiles database!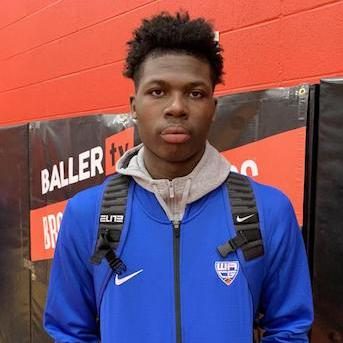 6'6" - SG - 2022
Chris Livingston, No. 6 Oak Hill Academy – Livingston has an impressive combination of size, length, athleticism and off-the-bounce skill that you see in a high major college wing, which is obviously his projected level as he signed with Kentucky. The 6-foot-6, 200-pounder is an explosive leaper both in space and in traffic and uses that trait to finish above and through contact in the lane. While Livingston is best when getting out and filling the lane in transition, he has the ball skills to break down a defender in the half-court setting and get to the rim where he finishes with power and highlight-reel dunks.
Chris Bunch, No. 15 Wasatch Academy – Bunch is a smooth and explosive wing who uses his fluid three-point and mid-range shooting strokes to open up driving lanes. The 6-foot-7 Syracuse-signee has shown the ability initiate offense with the ball in his hands when needed, but is most effective in a fast break setting where he can slash his way to the bucket for an above-the-rim finish.
Dariq Whitehead, No. 1 Montverde – Whitehead has really nice feel and basketball instincts both on and off the ball. At 6-feet-6 with a strong 190-pound frame, the Duke-signee is a matchup nightmare for opposing defenders because of his first-step explosiveness and quick twitch athleticism. Whitehead is a relentless downhill attacker of the basket, but can also keep defenses honest with a smooth pull-up jumper and catch-and-shoot consistency from three-point range. Perhaps Whitehead's ticket to being a long-term pro is his defensive potential on the wing.
Dillon Mitchell, No. 1 Montverde – Mitchell is a freaky transition and vertical athlete whose length and explosiveness make him a poster dunk waiting to happen. At 6-feet-7 and a long, wiry 180 pounds, the Texas-bound wing is great when moving off of the ball and finding a weak spot in the defense where he can finish off a lob with a dunk. Mitchell is one of those high motor guys who rarely takes a play off, which will pair well with Chris Beard's style of play at Texas.
6'4" - CG - 2024
Isaiah Elohim, No. 9 Sierra Canyon – The 6-foot-5 wing will have to sit out until Dec. 27th for the Trailblazers due to the California Interscholastic Federation (CIF) transfer rules and when he's eligible to play it will add another versatile offensive piece to a loaded Sierra Canyon Roster. Elohim is a smooth three-level scorer with advanced feel for the game. The surefire national recruit is just a sophomore, but already has a polished scoring package complete with deep three-point range and a sweet pull-up mid-range jumper.
Jarace Walker, No. 2 IMG Academy – Walker has a body and skill-set that's kind of in that in-between space of a wing and power forward type of prospect. The 6-foot-8, 220-pounder is an athletic specimen who dominates the offensive and defensive boards. He has the ball skills and basketball IQ to push the break and make a good decision and can get to the rim off of dribble-drives for power finishes. The Houston-signee can hit face-up mid-range shots, but it will be interesting to see how he's used at the next level and if he can develop a consistent perimeter shot.
Jett Howard, No. 2 IMG Academy – Howard will be heading to play for his father, Juwan, at Michigan and really has the type of game you'd expect from a former NBA player's son. At 6-feet-7, the senior is a lethal three-point shooter both off the catch and off the bounce, has the ball handling, vision and passing IQ to initiate offense if needed, and is a multi-positional offensive player who can create mismatches on the court.
Justin Edwards, No. 10 Imhotep Charter – The Top-15 ranked junior is one of those guys who is just wired to score. At 6-feet-7 with a long, rangy frame, Edwards is a crafty left-hander who looks to break defenders down off the dribble and get into his mid-range scoring package. The five-star prospect is also a catch-and-shoot threat from behind the arc and is especially consistent from the either wing or either corner.
MacKenzie Mgbako, No. 11 Gill St. Bernard – Mgbako is such a tough cover for opposing defenses because of his versatility on the offensive end. The 6-foot-7 wing is a three-level scorer who hits three-point shots from multiple spots and ranges, but can also hit fadeaway jumpers at the mid-range level or take a straight-line drive and finish around the cup. What sets Mgbako apart from others in the 2023 class is his feel with his back to the basket and ability to capitalize on a size advantage in the post.
Noah Batchelor, No. 2 IMG Academy – Batchelor is probably the most pure shooter on this list. The 6-foot-6 Memphis-bound senior is one of those guys opponents try to run off the line because he doesn't need much time or space to get his shot off. With his size, combined with his quick release and fundamental shooting mechanics, Batchelor is the perfect floor spreading wing at the next level.
Scotty Middleton, No. 3 Sunrise Christian Academy – Middleton is a long, wiry, bouncy and shifty wing who has great scoring feel. The 6-foot-6 junior has a consistent catch-and-shoot three-point shoot, can attack bad closeouts and score above the rim, or create offensive looks for himself off the dribble. One of Middleton's best attributes is the way he gets out and runs in transition, helping his team get an easy bucket on the break.