Your bracket is busted. Duke is out, North Carolina and Gonzaga fell short, and Linda in Accounting is in the lead to take home the $1,000+ office jackpot by picking the teams with her favorite mascot or color scheme.
It's all good, though, because as someone who watches quite a bit of college, NBA and high school hoops, my bracket burst into flames after the second weekend and all the money I confidently wagered in the pools of my own is now buried deep in someone else's pockets.
But let's forget about the first four rounds and get into what really matters this weekend: The four teams left in the field – Virginia, Michigan State, Texas Tech and Auburn, Virginia – and how you can redeem yourself to your friends, family and significant others by spitting out some in-game stats and knowledge that will blow them away.
What are there strengths and weaknesses of these four squads? How do they match-up against each other? Who will advance to the National Championship game? The complete guide is below.
Auburn (30-9)
Strengths: The Tigers' bread and butter is clearly the back-court of Bryce Brown and Jared Harper. The duo is averaging a combined 31.4 points per game, while Brown has connected on 137 3-pointers at a 41 percent clip and Harper has drilled 96 from deep. Auburn features an offensive rating of 120.9 in KenPom.com's system of points per 100 possessions, ranking it sixth in the country in that category with two other Final Four teams (Virginia and Michigan State) among the five teams above it. In addition to being able to hit the 3-point shot a good rate, Auburn defends against the deep ball very well. The Tigers have held opponents to just 34.4 percent from three on the season and 8.1 3-point makes on average per game.
Weaknesses: The Tigers' front-court play has to be its most glaring deficiencies, especially with the loss of forward Chuma Okeke to a season-ending injury. Okeke was the team's leading rebounder (6.8 per game) and shot blocker (1.2 per game) with the next closest in those respective statistics being Austin Wiley (4.1 and 1.2) who has played in 10 less games and started only five of his 28 appearances. In Auburn's four NCAA Tournament games, front-court personnel not named Chuma Okeke have combined for 95 total points on 37-for-80 from the field, respectable numbers, sure, but will those figures translate against Virginia's vaunted pack-line defense.
Michigan State (32-6)
Strengths: A little bit of everything, really. The Spartans are as solid as they come on both sides of the ball, even with a couple of key injuries. Cassius Winston is an experienced, trustworthy and high IQ point guard who you can count on to make the right basketball decisions more often than not while Matt McQuaid is a knock-down 3-point shooter and the interior combination of Nick Ward and Xavier Tillman has been difficult for opponents to deal with for 40 minutes of game action. Michigan State ranks fifth in KenPom's rating for points scored per 100 possessions at 121.6, while ranking ninth in the adjusted defense statistic, allowing opponents to score just 90.1 points per 100 possessions. The Spartans are holding teams to 31.4 percent from 3-point range on the season.
Weaknesses: The biggest concern for Michigan State entering Saturday's match-up with Texas Tech is its lack of depth. We touched on two key injuries above, the first being guard Joshua Langford who was lost for the season after just 13 games to a left foot injury. He was averaging 15 points per game at the time. The second hit came when redshirt junior forward Kyle Ahrens went down in the Big Ten Tournament championship game against Michigan. Ahrens played a solid role off the bench, contributing 4.7 points in 18.8 minutes of action. Michigan State coach Tom Izzo has tightened the screws on how many guys he plays beyond his five starters. In the Sweet 16 win over LSU, Izzo gave seven players 10 minutes of court time and in the Elite Eight win over Duke, Michigan State played only six players more than 10 minutes.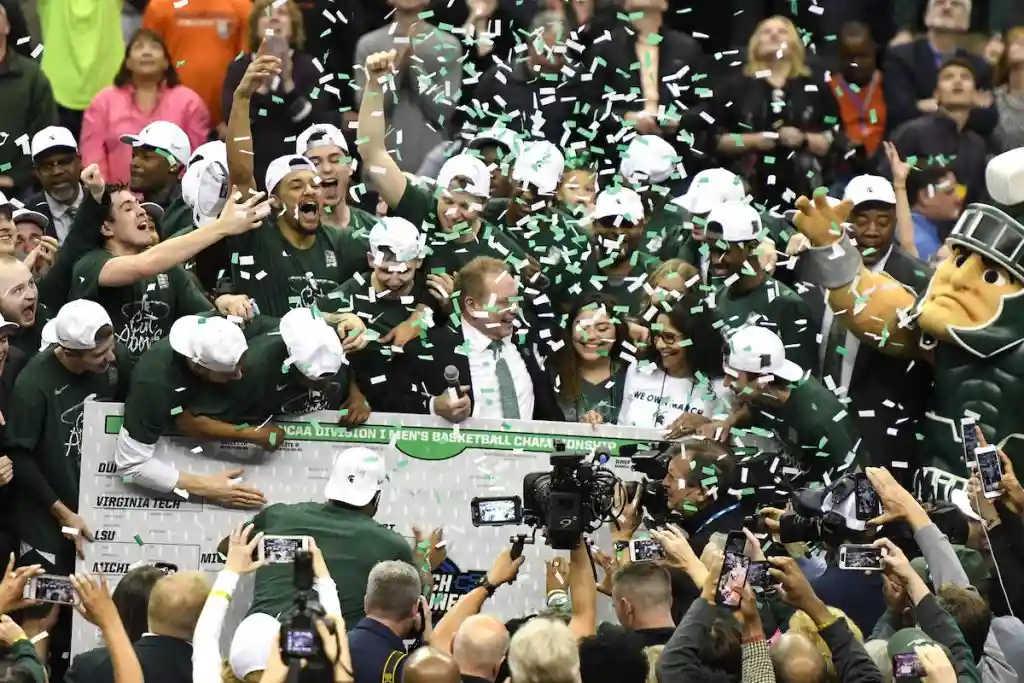 Michigan State defeated Duke, 68-67, in the Elite Eight to advance to the Final Four where it will face third-seeded Texas Tech. (Photo by Mitchell Layton/Getty Images)
Texas Tech (30-6)
Strengths: DEFENSE. Jarret Culver is one of the top perimeter defenders in the nation and Tariq Owens is a shot blocking and rim protecting maniac, which is why the Red Raiders are KenPom's most stingy defense, ranking No. 1 in the country in points allowed per 100 possessions at 84 and are third in scoring defense, allowing just 59 points per game on the season. Opponents are shooting just 36.9 percent from the field against Texas Tech, while shooting the deep ball at a 29.3 percent clip, good for a top 20 ranking in the country. Texas Tech's defense has held teams to under 60 points on 19 different occasions this season, including three out of its four NCAA Tournament games.
Weaknesses: Texas Tech isn't a barn burner when it comes to the offensive end of the floor, but it certainly is not an inept scoring team. The Red Raiders average 73 points per game and rank in the top 30 in KenPom's adjusted offense for points per 100 possessions at 113.5. One thing to look out for is the lack of second chance opportunities that Texas Tech creates as it ranks 272nd in the country in offensive rebounds per game at around 8.7.
Virginia (33-3)
Strengths: A year after becoming the first No. 1-seed to lose to a 16-seed in the first round of the NCAA Tournament, the Cavaliers find themselves as the lone surviving top-seed in 2019 edition of March Madness. That's because Virginia is good. Very good. The Cavaliers have very few holes as a team, ranking atop the country in scoring defense, allowing opponents to put up just 55.4 points per game on the season. The Cavaliers are another team that won't blow you away with offensive firepower, but rather wear you down with execution and hitting big shots at the right time. Virginia has three players scoring in double figures on the season – Kyle Guy (15.2), De'Andre Hunter (14.9) and Ty Jerome (13.3).
Weaknesses: The most difficult part of picking apart the Cavaliers is finding something that they aren't good at. Sure, some will point to the pace they play at, which ranks dead last among the 353 Division I basketball programs at 59.2 possessions per 40 minutes, but since that tempo is by design, can it really be considered a weakness? Eh, probably not. A lull in scoring against a fiery Auburn offense, however, could spell some trouble for the Cavaliers. Freshman point guard Kihei Clark has been a big game player all year for Virginia and it will need him to be good again to advance.
Take that information as you will, because in a pressure-packed situation like the Final Four, numbers seemingly go out the window and the team who played best that day usually advance. Which two teams do I think will face-off in Monday's National Title? I'm taking Virginia and Michigan State, but please don't reference this when I'm wrong.