Kingdom Summer Week 5 Scores, Analysis and Review.
Written by: Victor Dandridge
Week 5 recap
Future 96, Bexley Car Care 87
Future broke out of the winless ranks by defeating Bexley Car Care, 96-87. They outscored Bexley 57-45 in the second half, supported by Dennis Asoro's 20 points, and James Manns 19 points, and balanced attack. Following the loss, Bexley Car Care lost a significant chance to secure a spot in the upcoming playoffs. Corey Benton had a breakout performance, scoring 35 points for Bexley Car Care. Bexley Car Care stands at 2-3 while Future descends to 1-4.

Player of the Game: Dennis Asoro.
Hype 614 101, Buckeye Prep 92
Hype 614 kept their playoff chances alive, after a win over Buckeye Prep. Jamel Morris was a huge force, hitting shot for shot the entire game. With the victory, Hype ended Buckeye Prep's hopes of making this year's playoffs. Jamel Morris finished with 36 points and 8 triples. Along with Morris, Tyrel Jackson (25 pts) and Travis Easterly (21 pts) were two big factors for the Hype. Furthermore, Jared Sullinger (30 pts) and Evan Ravenal (27 pts) were big factors for the Buckeye Prep. The league is entering the final week of the season, and Hype 614 moves to 2-3 with three remaining teams. Buckeye Prep falls to 1-4.

Player of the Game: Jamel Morris
Committed to my Craft 100, McGlade Max Pro 99
This was the game of the week, which was an absolute barn burner. The defending champions, had a hard-fought thrilling win over McGlade Max Pro. The Little General (Travis Trice) led the team and dropped a sensational 37 points. In addition, Committed to my Craft crawled back from a 14-point deficit in the second half. Former OSU Buckeye, Lenzell Smith (28 pts) and Brett McKnight (21 pts) powered Max Pro, and Trice scored 22 second half points. Unfortunately, a turnover by Max Pro cost them the game with 5 seconds remaining. Up by two points, Trice sank 2 free throws which negated Lenzelle Smith's buzzer three-point shot. With the victory, Committed to my Craft moves to 4-1 and McGlade Max Pro drops to 3-2.

Player of the Game: Travis Trice
4DEEP 107, Reitano SportsCenter 98
In a highly anticipated matchup, 4DEEP continues to show why they are the cream of the crop. This game featured the top players in the league, Trey Burke (4DEEP) and Darius Bazely, of the Brooklyn Nets (Reitano SportsCenter). They started out hot, and this was a game of runs. Led by Burke, 4DEEP commanded a 25-9 first quarter lead, where Penha led with 18 points scored in the first half. 4DEEP held a 50-33 halftime lead, before the game got interesting.
Reitano SportsCenter closed the gap by 5 points, thanks to Darius Bazeley, Terry Durham, Paul McMillan IV and Tre Baumgardner. However, the play of Morgan Safford (22 pts) and Trey Burke (21 pts) was too much. Stafford and Burke combined for 43 second half points and powered 4 Deep to the win. Durham and Baumgardner hit back-to-back shots, and Morgan Stafford, of Miami University hit threes.
Trey Burke, a crafty, NBA Veteran, dished out 12 assists and scored vital back-to back buckets, to quell Reitano's last run. The 4DEEP trio of Safford (33pts), Burke (31 pts) and Penha (29 pts) combined for 93 of the teams 107 points. Reitano was led by Terry Durham (25 pts), Paul McMillan IV (22 pts), Tre Baumgardner (20 pts) and Darius Bazely (19 pts). With the win, 4DEEP secures the one seed, and remains undefeated at 5-0. Reitano SportsCenter now stands at 2-3.
Player of the Game: Trey Burke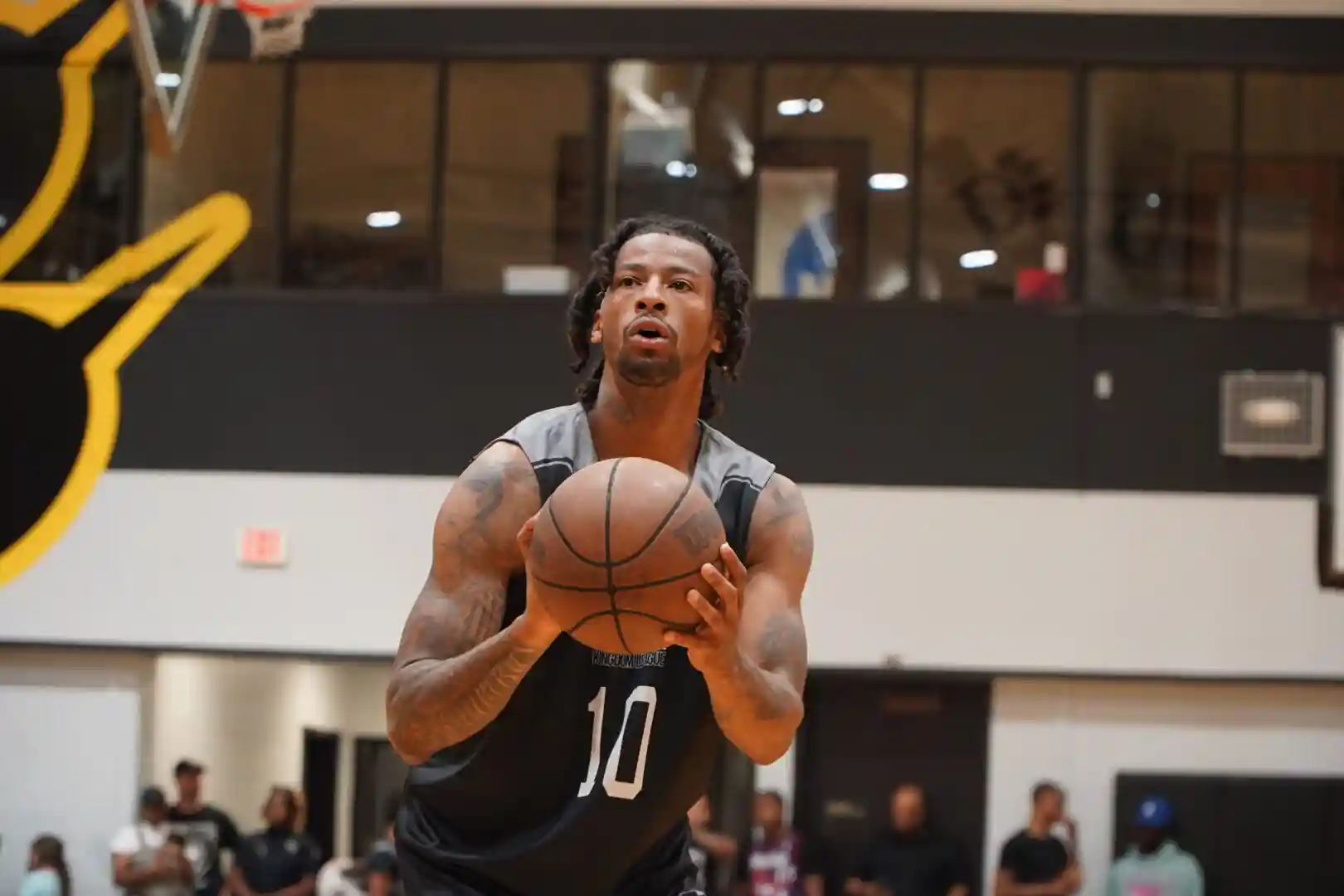 (Photo from Getty Images)
Kingdom League Standings
*4DEEP: 5-0
*Committed to my Craft: 4-1
McGlade Max Pro: 3-2
Reitano SportsCenter: 2-3
Hype 614: 2-3
Bexley Car Care: 2-3
Buckeye Prep: 1-4
Future: 1-4
*Indicates confirmed playoff entry.