In this article, you will find the WNBA prop bet odds, stats, and predictions for Wednesday, August 23rd. The Los Angeles Sparks will matchup against the Phoenix Mercury at home tonight. 
Tonight, is the final regular season matchup between the Phoenix Mercury (9-23, 1-14 Away) and the Los Angeles Sparks (13-18, 8-8 Home). In this article, I will break down the WNBA prop bet odds, stats, trends, and predictions. The game will begin at 10 PM EST, at crypto.com Arena, located in Los Angeles, California. If you're looking to watch and bet on the game, it will air on CBSSN. All picks tonight will be a SGP (Same game parlay) format. If you are looking for the best betting odds, stats and analysis, here is information to know.
A @CBSSportsNet matchup 🙌

Will the Sparks' 4-game win streak continue or will the Mercury come away with the win on the road?

Tune in tonight at 10pm/ET as the @LASparks and the @PhoenixMercury battle it out on CBS Sports Network ⬇️ pic.twitter.com/sIaJfouzij

— WNBA (@WNBA) August 23, 2023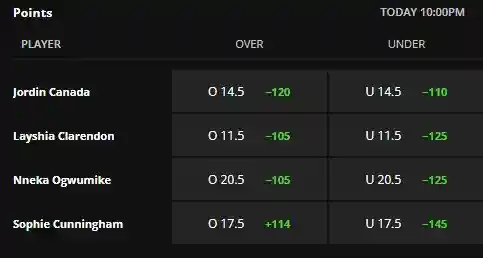 RELATED ARTICLE: Click here for more bets on tonight's game.
Jordin Canada 15 + points (-120)
20-piece from JC. 🔥

20 PTS | 3 REB | 3 AST | 3 STL pic.twitter.com/c9XihlvyOF

— Los Angeles Sparks (@LASparks) August 19, 2023
PPG: 13.8 | FG: 40.9 % | 3 PT: 33.3 % | FT: 89.1 % | REB: 3.4 |AST: 6 |STL: 2 | BLK: 0.2
California native, Jordin Canada is having a career year in her first stint with the Los Angeles Sparks. Through 29 games, the Sparks star is averaging a high of 13.8 points per game, 32.8 minutes, 3.4 rebounds, 6 assists, and 2 steals. In fact, the former UCLA guard had back-to-back 20-point games and, hit over 15 plus points in four of the six games this month. Furthermore, Canada has four straight games with points in double digits, which includes wins over Atlanta and Las Vegas.
Both Canada and Clarendon have been a dominant force for the Sparks backcourt. Moreover, Canada has 19 steals in the past six games, and is averaging 36.8 minutes, nearly 12 field goal attempts per game. In addition, the Sparks guard is averaging over 16 points in the last four games.
Why Jordin Canada can score over 15 points
Overall, Phoenix leads the league in the most turnovers per game (15.3), in which the Sparks force opponents to swing the ball over 14.4 times per game. Additionally, the Sparks play at a faster pace, whereas the Mercury rank last. Also, Los Angeles currently ranks third in the league in percentage of points off turnovers. The Mercury rank last in the league in rebounding, which will not help their case tonight. Without Griner, look for fast break opportunities, turnovers, and a substantial amount of inside scoring by Jordin Canada. It's important to note that Canada is shooting 89 percent from the line, and shot 10 plus free-throws in the past four games.
If you're looking to bet on Jordin Canada over points, she hit this prop 70 percent in the last ten games, and 60 percent in the last five. With the amount of volume shots and high minutes played, I expect Canada to lead the backcourt tonight.
Layshia Clarendon 13+ PTS & AST (-225)
Layshia was relentless on the court today. 😤

22 PTS | 5 REB | 5 AST pic.twitter.com/TT6pkPkwXO

— Los Angeles Sparks (@LASparks) August 19, 2023
PPG: 9.5 | FG: 47.1% | 3 PT: 48.3 % | FT: 90 % | REB: 3 |AST: 3.4 |STL: 0.9 | BLK: 0
On June 9th, the Los Angeles Sparks announced guard Layshia Clarendon would miss 4-6 weeks, due to a partial tear of the plantar fascia. Before the injury, Clarendon would only play five games with the team, in which the guard averaged nine points and assists. Out more than a month, the Los Angeles Sparks went 3-10 the next 13 games, and found themselves in the basement of the Western Conference.
Upon the Guards return on July 20th, Clarendon has led the Sparks to a 6-5 record, in which Los Angeles finds themselves fighting for the 8th seed. It's evident that Layshia Clarendon brought something back to the starting lineup, which is consistency and persistence. Los Angeles Sparks Head Coach, Curt Miller spoke to reporters on the importance of Clarendon in the lineup, and what it means to the team. "I just can't emphasize enough, how Layshia changes our toughness, and our physicality," Miller told the press. "When you look at the 14 games that she missed, compared to what our record looks like with Layshia Clarendon in the lineup, she oozes a toughness for us, and people feed off that." (LA Sparks)
Why this prop can hit
Coach Miller couldn't be more right about one of the most impactful players on this roster. We've seen Clarendon be a force on both ends of the court, constantly chasing for the ball, and trapping opposing players. For a player that plays strong, Clarendon has three straight games with points in double figures. That includes a recent 22-point game and 5 assists against Las Vegas. In addition, the Sparks guard hit over 13 points and assists in four of six games this month.
Although Clarendon didn't hit over this prop in three games against the Mercury, they will be without stars Diana Taurasi and Brittney Griner. Given these two teams haven't matched up since July, we have to look at the recent play of Layshia and the rest of the team. In fact, Given No. 25 has 15 assists in three games, look for her to shine against the injury depleted team, that allow 19 assists per game.
Sara Jane Gamelli is a full-time Sportswriter at BallisLife, and Sports Content Creator on Twitch. She has a focus on the NBA, WNBA, NCAA Basketball, and the NFL. Sara Jane currently resides in Connecticut with her Cat and Dog. She is a Boston Celtics, Boston Bruins, New York Yankees, and New York Giants fan. SJ has her undergraduate degree from the University of Connecticut in Economics.
Tweets by BallislifeBets
NATIONAL PROBLEM GAMBLING HELPLINE
1-800-522-4700
The National Council on Problem Gambling operates the National Problem Gambling Helpline Network. The network is a single national access point to local resources for those seeking help for a gambling problem. The network consists of 28 contact centers that provide resources and referrals for all 50 states and US territories. Help is available 24/7 and is 100% confidential.