Twitter: @GGirlSports
Tonight, is the 2023 WNBA All-Star Game between Team Stewart and Team Wilson. In the previous article, I discussed the best odds and stats for the Money Line, Totals, and Spread. In this quick article, I will break down some player prop odds, and other betting scenarios. Depending on which Sports Book, you are able to bet on who will score the first field goal, and props. The matchup will begin at 8:30 PM EST and will air on ABC. If you are looking for the best betting odds, stats and analysis, here is information to know.
First Field Goal Scored Odds
*Odds courtesy of Draft Kings*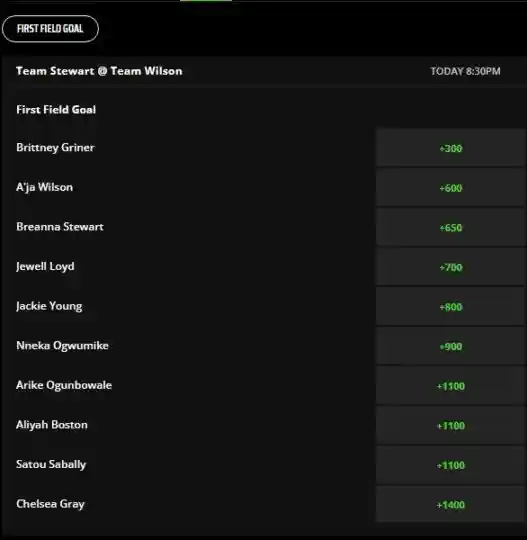 It's fairly common that bettors will be able to put a wager on who will score the first basket, regardless of whether it's the NBA or WNBA. All eyes will be on Brittney Griner, who was detained in Russia for 294 days. To honor Griner, every All-Star wore number 42 in her honor for the 2022 WNBA All-Star game. Team Stewart has a strong frontcourt, and I wouldn't be surprised if Griner had a fairy tale opening with the first basket. Afterall, Brittney Griner is the tallest player in this year's All- Star game and stands at 6 foot 9. Team Captains A'ja Wilson and Breanna Steward are favored next, at +600 and +650. It's important to note, Sylvia Fowles scored the first three points in the 2022 All-Star game, and Wilson was the fourth shot in. In addition, Stewart was the 5th attempted shot last year, followed by Sabrina Ionescu. I think Team Stewart will win the first possession given their height in the frontcourt. With that said, I think Griner wins the tip and gets the first basket.
Prediction: Brittney Griner (+300) or Aliyah Boston (+1100)
Player Prop Bets
Sabrina

Ionescu:

20 + points (+250)
Sabrina Ionescu is the hottest name in sports right now, after breaking an NBA and WNBA record with 37 points in the three-point contest. Although Ionescu is a reserve this year, it's unclear how much Jewell Loyd will play, or play at all after an ankle injury this week. Last year, Sabrina was a starter, and scored 19 points in 23 minutes, on 6-10 three-point shots. If Ionescu can play a good number of minutes, I can see her easily scoring 20, especially after what she did last night.
A'ja Wilson UNDER 17.5 points
A'ja Wilson is the captain, and one of the best players in the WNBA. In fact, this her second straight year as captain for the WNBA All-Star game. In last year's game, Wilson added 10 points in 20 minutes, and shot 3-8 and 0-3. A'ja is surrounded by a ton of talent this year, especially from her own team, which includes Chelsea Gray, Jackie Young, and Kelsey Plum. There is more than enough talent to go around, and I look at Wilson as a leader for this team, rather than the main scorer.
Chelsea Gray 20+ points
Chelsea Gray is a starter this year for Team Wilson and is one of the best guards and shooters in the WNBA. Gray is averaging 45.5 percent from the three in a talent loaded Aces roster. Although Gray is only averaging 14.5 points a game, Plum, Wilson, Parker, Young, just to name a few, are all incredible athletes. I would love to bet on the assists, but I'm going to go with Gray points tonight.
Stay tuned for more NBA Summer League and betting related articles. Click here for more WNBA betting strategies.
For More Basketball Betting Info & Game Predictions, Follow us at @BallislifeBets.
Sara Jane is a full-time content creator, focusing on both college basketball, the NBA, NFL, and writer of Ballislife.com. Don't forget to follow her on Twitter/YouTube/Kick/Twitch/Instagram: @GGirlSports.
NATIONAL PROBLEM GAMBLING HELPLINE
1-800-522-4700
The National Council on Problem Gambling operates the National Problem Gambling Helpline Network. The network is a single national access point to local resources for those seeking help for a gambling problem. The network consists of 28 contact centers that provide resources and referrals for all 50 states and US territories. Help is available 24/7 and is 100% confidential.