Aces Coach and former WNBA star, Becky Hammon was inducted into the Naismith Memorial Basketball Hall of Fame, on Saturday, August 12th. Hammon became a pioneer of women's basketball through coaching, and as a player. She is the first female acting head coach in NBA history.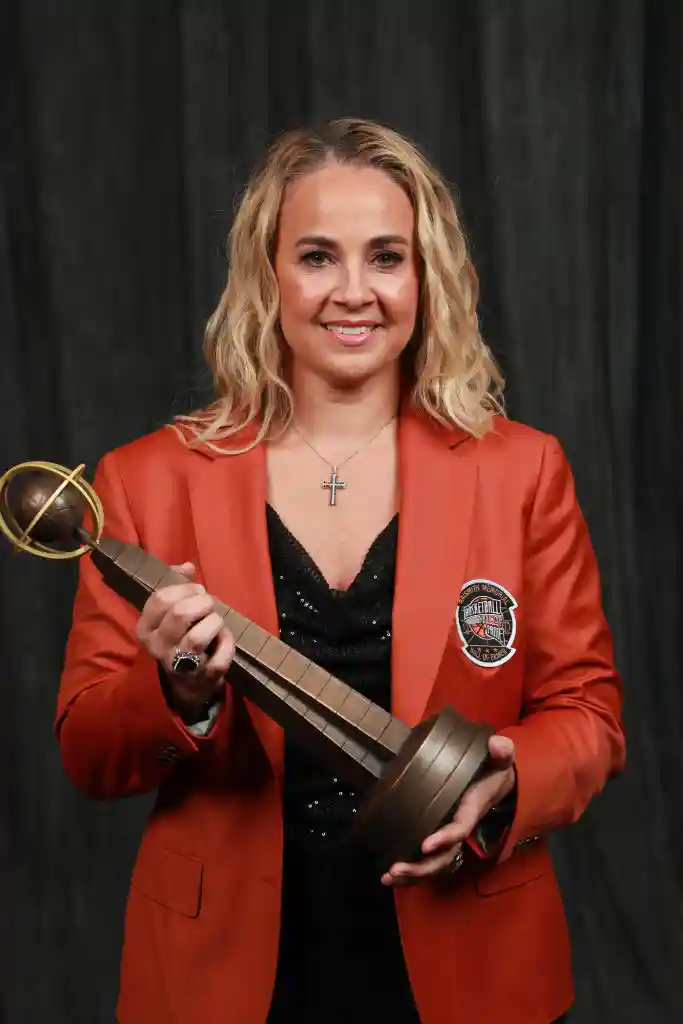 Becky Hammon, born in Rapid City, South Dakota grew up playing basketball at a very young age. Standing at 5 foot 6, Hammon received minimal attention from collegiate programs. That's when she received an offer from Colorado State. From 1996 to 1999, Becky Hammon led the Rams to three NCAA tournaments, and is the all-time leading scorer in the Western Athletic Conference. Hammon compiled an incredible number of accolades, including the programs first All-American player in 1999. From there, she spent sixteen seasons in the WNBA, playing for the New York Liberty, and the San Antonio Silver Stars.
Report: Aces finalizing record 5-year deal to hire Becky Hammon as head coach. https://t.co/MzhnUBsfPC pic.twitter.com/NF06sFZJMO

— theScore (@theScore) December 31, 2021
After her retirement from the WNBA in 2014, Becky Hammon went on to act as an assistant coach for the San Antionio Spurs, under legend Greg Popovich. From 2014 to 2022, Hammon accomplished a lifelong dream, her desire to coach at the highest level. In 2022, Becky Hammon found her way back to her roots. Hired as the new coach for the Las Vegas Aces, Hammon led the team to the 2022 WNBA Championship.
Welcome Home #23HoopClass 🏆 pic.twitter.com/7BPuhTRLVF

— Basketball HOF (@Hoophall) August 13, 2023
Becky Hammon became a rising star for Colorado State
In those three NCAA tournament appearances, Hammon led the Rams to their first ever sweet sixteen. Number 25 was retired in 2005, and she was inducted into the Colorado State University Sports Hall of Fame. The point guard is the all-time leader in points per game (21.9), total points (2740), assists (538), and three-pointers made (365). This was merely the beginning, as Hammon moved on to the WNBA, as a fierce competitor and leader.
Congrats to Liberty Legend and Ring of Honor member @BeckyHammon on being being inducted into the @Hoophall!👏🙌 pic.twitter.com/8Y5ztAlkXY

— New York Liberty (@nyliberty) August 13, 2023
WNBA Draft and the New York Liberty
Following a remarkable collegiate career, Hammon found some hardships during the WNBA Draft. Additionally, The former Colorado State Ram found herself undrafted. Luckily for the guard, the New York Liberty signed Hammon, following the draft. She later went on to play for New York for eight seasons, from 1999 to 2006. In her rookie season, Becky Hammon was part of the New York Team, that lost to the Houston Commets, in the WNBA Championship. Although the Liberty couldn't bring home the championship, they made three finals appearance in three years, from 1999 to 2002. Her first breakout season came in 2003, where she averaged 14.7 points. Throughout her tenure in New York, Hammon led the team to six total playoff appearances.
Becky Hammon address being undrafted in the WNBA
Before the Liberty vs. Aces matchup on August 6th, Hammon talked about going undrafted in the WNBA, and how that affects players today.
"Of course, it's possible. It's hard to remain unseen for as long as I was unseen, " Hammon told reporters. She specifically mentioned how times have changed, especially due to Technoloy and cellphones.
"But coming from South Dakota, I wasn't heavily recruited or anything like that. But the crazy thing about my journey, it's always worked out the way it's supposed to, you know, even though it wasn't easy at times with me and basketball," said Hammon. "You keep doing it, putting in the work, and doing what you love. Eventually things work out."
The future hall of famer expresses her gratitude for New York.
Prior to the much-anticipated matchup between the Las Vegas Aces and the New York Liberty, on August 6th, Hammon talked with the media about returning to the city, and how much that meant to her. The sole person at the podium, Becky Hammon addressed the press with a modest, humble approach.
Hammon mentioned she not only spent a portion of her career in New York, but also a "portion of her life" here in New York City.
"Of course, I love coming back. It gave me my first opportunity. And so, I am forever indebted to the organization for giving me an opportunity," Hammon told reporters. "I mean, I was undrafted, and I don't think they had any intentions of keeping me--- Except Richie. We're not cutting her. I don't know what we're going to do with it, but we're not cutting her. So yeah, I love coming back-- a lot of great memories in this city. "
In eight seasons with the Liberty, Becky Hammon averaged 10.4 Points, 1.1 steals, 2.3 rebounds, and 2.5 assists. The Liberty guard shot 44.7 percent from the field, and 36.4 percent from the field in her term with the team.
Becky Hammon is officially a Hall of Famer 🤩@BeckyHammon | @Hoophall pic.twitter.com/EwTqvogRXe

— ESPN (@espn) August 13, 2023
2007- Becky Hammon Traded to the San Antonio Silver Stars
After eight seasons with the New York Liberty, Becky Hammon was traded to the San Antionio Silver Stars. Although Hammon was "very upset," the impact of this trade was larger than anyone could have imagined. In her first season, the Stars point guard made vast improvement's, in which she averaged 18.8 points, 5 assists, and shot nearly 40 percent from the three-point. After earning her first nod as an All-Star in 2003, she became a prolific three-point scorer, and earned the nickname, "Big Shot Becky."
Despite being the face of the Liberty franchise, Hammon admitted that the move to San Antonio was a pivotal move for her career. " That's all I knew," "I was eight years in, All-Star, captain. I was kind of the face of the franchise." (Tom Orsborn, San Antonio Express News).
The mindset that secured Becky Hammon a spot in the 2023 Hall of Fame class 💪 pic.twitter.com/wF8YOl0PTy

— SportsCenter (@SportsCenter) August 10, 2023
The trade elevated Hammon's career
Indeed, Becky Hammon elevated her game, as a member of the San Antonio Silver Stars. In her eight years with San Antonio, the guard averaged 15.6 points, 5.1 assists, and 1.1 steals. Hammon shot a career 52.7 percent from the field, and 38.8 percent from the three, with the Stars. From 2007 to 2012, Hammon led San Antonio to six straight playoff appearances, including a finals debut, against the Detroit Shock.
Despite not being the fastest, athletic player, Hammon always found a way to facilitate in the most unique ways, in addition to scoring. " I learned that very [early] on in my basketball career. 'Okay, I'm never going to be the most athletic one out here, but what I can be is the craftiest, I can be the sneakiest, and I can be the smartest," said Becky Hammon (Sportscenter).
Although the San Antiono Stars have relocated to Las Vegas, number 25 is forever retired up in the rafters.
In her playing career, Becky Hammon ranks 15th in points scored (5,841), surpassed by one of her current players, Candace Parker. In addition to all of her accolades, Hammon was inducted into the Ring of Honor in 2015 and represented Russia in the 2008 and 2012 Olympics. Hammon was a fierce competitor, who possessed a high IQ, and had an undeniable work ethic. She had an incredible amount of determination and love for the game of basketball.
Becky Hammon becomes the first full-time female assistant coach in the NBA.
After her tenure in the WNBA, Becky Hammon went on to achieve one of her dreams, to become a coach. From 2014-2022, Hammon stayed in San Antionio, and became the first female full-time coach in the NBA under the great Greg Popovich. Prior to her, Lisa Boyer worked with the Cleveland Cavaliers, as a volunteer assistant coach.
Becky Hammon worked under Greg Popovich, who is considered one of the best coaches in NBA history. In addition, she worked with some of the biggest names in the NBA, and also gained their respect. In addition to becoming a female assistant coach, Hammon became the first ever female to coach and win an NBA summer title. Though the Spurs never won a title with Hammon as assistant coach, she was part of five straight playoff appearances. The Liberty and Stars legend worked with noteworthy athletes, such as Manu Ginóbili, Kawhi Leonard, Tony Parker, Tim Duncan, LaMarcus Aldridge, David West, Dejounte Murray, Derrick White, Rudy Gay, DeMar DeRozan, Jakob Poeltl, Keldon Johnson, and Devin Vassell. This is just a short list of the extraordinary players that were structured under Greg Popovich and Becky Hammon.
Becky Hammon coached on Gregg Popovich's staff for 9 seasons.

In Popovich's absence, she became the first female acting head coach in NBA history.

Last night, after Hammon's Aces went up 2-0 in the WNBA Finals, Coach Pop came to celebrate with her. pic.twitter.com/GWSNciHW10

— Front Office Sports (@FOS) September 14, 2022
Hammon becomes the first female acting head coach in the history of the NBA
In addition to become the first full-time female assistance and summer league coach in the NBA, Becky Hammon was part of the 2016 All-Star coaching staff. On December 30, 2020, Becky Hammon became the first female acting head coach in NBA history. With Head Coach Greg Popovich ejected in the first half, Hammon went on to coach the Spurs to a 121-107 loss, against the Los Angeles Lakers.
Becky Hammon becomes the first female acting head coach in the NBA. This is what she said after the game about the moment:@KENS5 pic.twitter.com/YVwsHUOqbK

— Evan Closky (@ECloskyWTSP) December 31, 2020
In the Summer of 2021, Hammon was a finalist for the Portland Trailblazers head coach and was considered for other NBA head coach positions.
Hammon returns to her roots, becomes the Head Coach of the Las Vegas Aces
In December of 2021, Becky Hammon was named Head Coach for the Las Vegas Aces. Previously known as the Utah Starzz, and San Antonio Silver Stars, the franchise moved to Vegas in 2018. Hammon had an opportunity of a lifetime to return to the organization she represented for eight seasons.
The Las Vegas Aces are the 𝟮𝟬𝟮𝟮 𝗪𝗡𝗕𝗔 𝗖𝗛𝗔𝗠𝗣𝗜𝗢𝗡𝗦 🏆#RaiseTheStakes pic.twitter.com/KaV2cijHYf

— Las Vegas Aces (@LVAces) September 18, 2022
Hammon lead the aces to a 26-10 record, but they also won the WNBA Championship versus the Connecticut Sun. The Aces coach became the first rookie coach to ever win it all in the history of the WNBA. This season, the Aces are 27-3, and have the most regular season wins in Franchise history. Becky Hammons squad are the best team in the WNBA this season and are looking to repeat as champions.
The Aces coach inducted into the Hall of Fame
"I know you weren't trying to be courageous when you hired me, but you did do something in professional sports that nobody had ever done." 🗣️

This moment between @BeckyHammon & Pop 🥹❤️@Hoophall | #23HoopClass pic.twitter.com/G3gk51vLU5

— NBA TV (@NBATV) August 13, 2023
On Saturday, August 12th, Becky Hammon was inducted into the Naismith Memorial Basketball Hall of Fame. In an emotional ceremony, Hammon had admirable words for Greg Popovich, who gave her an opportunity no one else did.
"You are a man of principal and excellence," said Hammon. " I know you weren't trying to be courageous when you hired me, but you did do something nobody else in professional sports has ever done." She accredited Popovich for her successes, stating, 'You've changed the trajectory of my life, and for so many girls and young women. "
Throughout her career, Becky Hammon was a six-time WNBA All-Star, two-time All WNBA First team, second team, and a member of the 15th, 20th, and 25th anniversary teams. The point guard spent several years overseas and won the Queens Cup and the Spanish League Championship, in 2010.
Nonetheless, Becky Hammon is a role model for young women with inspirations to play and coach in sports. From unknown high school player to basketball trailblazer, Hammon is paving the way for the future, and will have an impact on the sport for years to come.
For more WNBA related articles, click here!
Sara Jane is a full-time Sportswriter at BallisLife, Journalist, and Sports Content Creator on Twitch. She has a focus on the NBA, WNBA, NCAA Basketball, and the NFL. Sara Jane currently resides in Connecticut with her Cat and Dog. She is a Boston Celtics, Boston Bruins, New York Yankees, and New York Giants fan. SJ has her undergraduate degree from the University of Connecticut in Economics.
Tweets by BallislifeBets