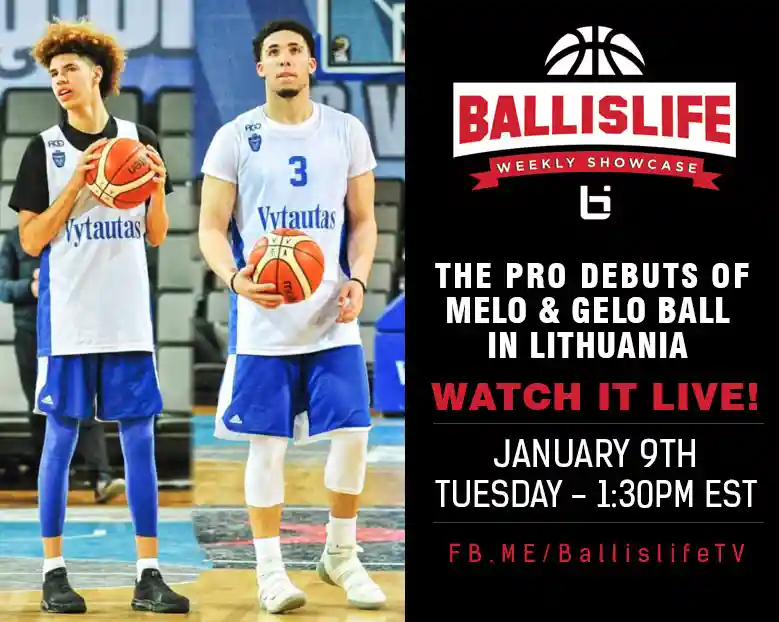 Lithuania, are you ready for the Big Baller Brand Challenge Games? It's only the biggest basketball event for the country since their national team won Bronze in the 1992 Olympics after the breakup of the Soviet Union!
Obviously I'm kidding and hoping I didn't offend any fellow Arvydas Sabonis fans. And I have a Lithuanian last name (even though I'm not Lithuanian), so this should allow me a free pass to joke about the new home of LaMelo and LiAngelo Ball for the next few months.
On Friday, the two Ball brothers practiced for the first time with their Lithuanian team, Prienu Vytautas, and then participated in an amusing press conference, highlighted by a reporter asking Gelo out and if he has a girlfriend. His response was, "I'm just here to play basketball, no comment." If you watch the 'Ball in the Family' reality show on Facebook then you know he does in fact have a girlfriend and why he probably isn't interested in leaving her. Then again, he has money and he was willing to…never mind.
Another highlight from the press conference was a man handing LaVar The Prophet (and Profit) a Lakers hat and asking him to write the date all three of his sons will be members of Lonzo's current team. LaVar wrote 2020! So mark it down LaVar haters.
Another date worth marking down is January 9th (Tuesday at 1:30 PM EST) of 2018. That's the date LaMelo and LiAngelo will make their pro debuts in the Big Baller Brand Challenge — a five-game exhibition formed by the team after withdrawing from the Baltic Basketball League. The first game will be streamed by Ballislife (that's us!) on our Weekly Showcase Channel on Facebook.
Jan. 9: Vytautas vs. BC Zalgiris-2 (Broadcast Link)
Jan. 15: Vytautas vs. BC Lietuvos Rytas-2
Jan. 17: Vytautas vs. BC Vytis
Jan. 23: Vytautas vs. BC Dzūkija
Jan. 28: Vytautas vs. BC Jonava