Twitter: @GGirlsports.
The 2023 NBA Summer League is underway, and night one was very exciting. The California Summer League will end tonight, in which three games will be played.  All games will be played at the Golden 1 Center, located in Sacramento, California, and most will air on ESPN2/ESPN.  If you are looking for the best betting odds and stats, here is information to know.
If you're looking to bet, the California Classic League consists of six teams over a two-day period, which is held in Sacramento.  Also, The Heat, Kings, Spurs, Hornets, Warriors, and Lakers are in the California League.  The Salt Lake City Summer league includes the Grizzlies, Thunder, 76ers, and Jazz.  All 30 teams will play in the 2K24 Summer League, which is located in Las Vegas.  
Future 2023-2024 Summer League Champions
*Odds courtesy of DraftKings*
San Antionio Spurs: +1100
Charlotte Hornets: +1400
Sacramento Kings: +20
Miami Heat: +2200
Los Angeles Lakers: +3000
Golden State Warriors: +8000
Golden State Warriors (0-1) vs. Charlotte Hornets (0-1)
Time: 6 PM EST
Warriors: +160
Hornets: +190
Over/Under: 175
Spread: Hornets -4.5
Game Prediction
The Hornets are coming off a brutal loss against the Spurs and are a -4.5 favorite tonight against Golden State.  Charlotte has young talent, including Brandon Miller, and shot an underwhelming 39 percent from the field last game.  I want to say the Hornets can win if they hit their shots, however, I am not completely sold.  The Warriors had a much better Game 1 against the Kings and had the challenge of playing against Keegan Murray.  Furthermore, Golden State shot 42 percent from the three, which is not unusual for their system.
It's important to note rookie Trayce Jackson-Davis will be out with a hamstring injury tonight.   Although the Hornets "may" bounce back, I like what I saw from Lester Quinones, Gui Santos, and Brandin Podziemski.
Prediction: I like Golden State MoneyLine, the OVER, and -4.5 spread. We advise that you tail or fade at your own discretion. 
Golden State Warriors

Game 1 Recap: Golden State Warriors 94, Sacramento Kings 100.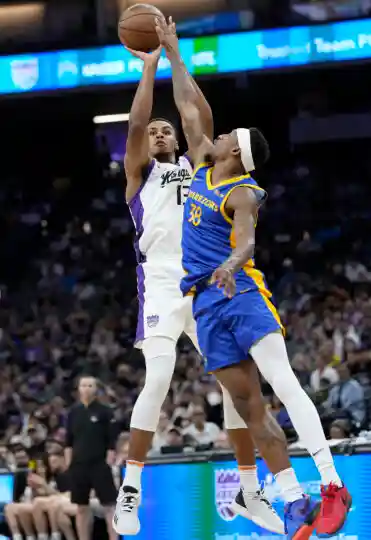 The Sacramento Kings defeated the Golden State Warriors in Game 1 of the Classic, in large part to Keegan Murray. All eyes were on Brandin Podziemski, who was drafted by the Warriors 19th overall out of Santa Clara.  In 30 minutes of gameplay, Podziemski scored 12 points, grabbed 6 rebounds, and dished out 6 assists. In addition, he shot 4-9 from the field, and 1-3 from the three-point range.  Brandin Podziemski  showed some bouts of playmaking, and aggression on the boards.  However, he hesitated to make shots at times, struggled on defense, and had four turnovers.  For a guard, Podziemski lacks that explosiveness and athleticism compared to others.  Perhaps he will get more shot attempts in Game 2.
While all eyes were on Brandin Podziemski, the Warriors leading scorer and best player on the floor was forward Lester Quinones.  Quinones was undrafted in 2022 and signed a two-way contract with the Warriors. In addition, he played in the 2022 NBA Summer League, and was the NBA G League Most Improved Player last season.  In addition, he was named the G League All-Rookie Team for a reason.  Quinones balled out against the Kings, and scored 26 points, including 5-8 from the three.  From watching his game play, he can certainly be a fit with this Warriors team. We saw Quinones knock down corner threes, step back threes, contested shots, and saw his ability to drive to the basket.  In addition, he made some impressive back door cuts.
Gui Santos, drafted 55th overall in the 2022 Draft out of Brazil, impressed against Sacramento. Once drafted, Gui played for Santa Cruz in the G league, and now has a chance to prove himself this summer.  Santos scored 19 points, including 3-8 from the three-point range, and 6-7 from the line.  Although sloppy with the ball at times, Santos has solid size, and took good volume of shots from the three.
Although the Warriors started off with momentum, Murray was too much for this team.  Every time the Warriors attempted a comeback, the Kings stayed in control.
Charlotte Hornets
Game 1 Recap: Charlotte Hornets 77, San Antonio Spurs 98.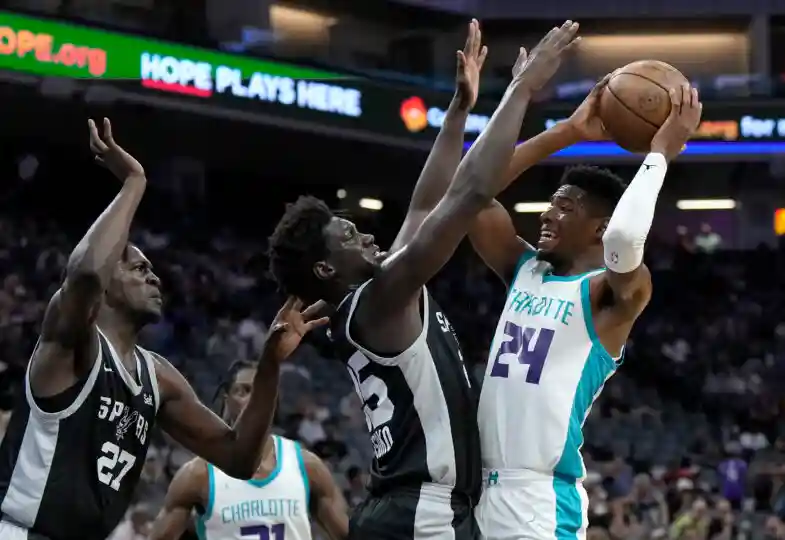 All eyes were on Hornets 2nd overall pick Brandon Miller, and things couldn't have gone worse for the Hornets.  It's important to note, the Spurs were without #1 pick Victor Wambanyama, and still managed to win by more than 20 points. Charlotte couldn't get anything going in the first quarter and trailed by 28 points at halftime.  Overall, it was a poor performance by the Charlotte Hornets, in which they were outrebounded.  In addition, the Spurs had more second chance points, and Charlotte had a total of 17 turnovers. 
Brandon Miller had a slow start to the game, and eventually gained steam in the fourth quarter. He finished with 18 points, 5 rebounds, and three assists.  In addition, Miller finished 5-11 from the field, however, committed 6 turnovers and 7 fouls. If you're wondering why he finished with 7 fouls, the summer league allows up to 10 fouls per game.  Overall, we saw the elite shooter in Miller, and his ability to create his own shot.  In addition, we saw him use his strength and drive to the basket.  
As a team, the Hornets created an excessive number of turnovers, and shot under 40 percent from the field and the three. Second year guard James Bouknight out of UConn, scored 12 points, and Nick Smith Jr. with 12.  Also, every single player on this Hornets roster was negative on the court, and their free-throw shooting was under 65 percent.
San Antonio Spurs (1-0) vs. Los Angeles Lakers (0-1)
Time: 8 PM EST
Spurs: -206
Lakers: +175
Over/Under: 174
Spread: Spurs -5
Game Prediction
The Spurs are coming off a huge win against the Charlotte Hornets, and the Lakers are coming off a loss against the Miami Heat.  The Spurs are favored by -4.5 to win the game, and the Over/Under is 174.  Although the Spurs were without the #1 overall pick Victor Wembanyama, they received nice production from Dominick Barlow and Julian Champagnie last game.  San Antionio shot decent from the field and the three, which I believe separates them from the Lakers.  I fully expect Erik Stevenson, Blake Wesley, and Sidy Cissoko to step up tonight again.  
For Los Angeles, they have a lot of talent, and depth.  The Lakers shot 20 percent from the three last game, in which rookie Jalen Hood- Schifino struggled. Max Christie, a second-year pro, is a stud, and I do like rookie Jalen Hood-Schifino.  However, I do think Schifino needs to develop his game more and find his shot.  With that said, both teams are full of talent, however, I'm taking Spurs Money line, Spurs -5, and the OVER. We advise that you tail or fade at your own discretion. 
San Antonio Spurs

Game 1 Recap: San Antonio Spurs 98, Charlotte Hornets 77.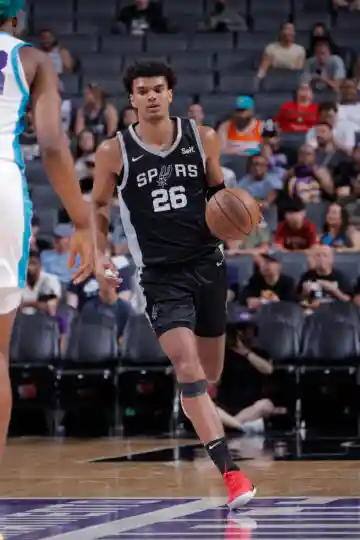 The Spurs were A-okay without number one pick Victor Wembanyama.  Mentioned before, Brandon Miller and the Hornets did not play well, and most of Millers points came in the fourth quarter.  Overall, San Antonio outrebounded Charlotte 51-26, shot 36 percent from the three, and 45 percent from the field.  Two players who stood out: Julian Champagnie and Dominick Barlow. 
Julian Champagnie and Dominick Barlow had a combined 54 points for the Spurs and were both positive on the floor. Champagnie, a 2022 undrafted pick, had 30 points, 4 steals, 2 assists, and 8 rebounds.  In addition, Champagnie shot 5-12 from the three, and 9-20 from the field.  Dominick Barlow, also a 2022 undrafted player, added 24 points, 2 blocks, and 11 rebounds.  They both have incredible size and played great defense against Charlotte.  Erik Stevenson impressed beyond the arc, along with Wesley.  Once Wembanyama makes his debut, this will be a very fun team to watch.  
Los Angeles Lakers
Game 1 Recap: Los Angeles Lakers 90, Miami Heat 107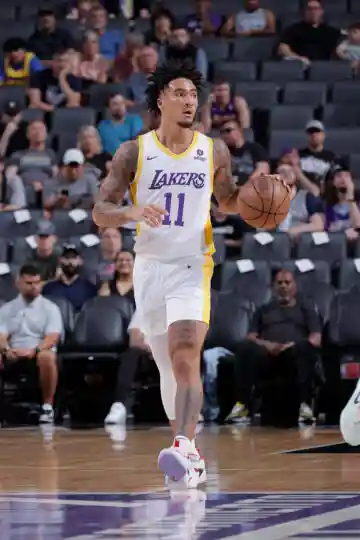 I won't be so harsh on the Lakers, although they only shot 20 percent from the three.  Also, was clear that Miami was the more established and better team in this game.  My takeaway from this game, Nikola Jovic and rookie Jamie Jaquez Jr. could not be stopped.  
All eyes were on rookie Jalen Hood-Schifino, who was drafted 17th overall out of Indiana.  We saw flashes of athleticism along with his ability to rebound the ball. Hood-Schifino struggled from the three, and shot 0-5, and 6-19.  Although he added 15 points, Hood-Schifino committed 3 turnovers and struggled. Overall, it was Jalen's first unofficial pro game and will have time to review film and work on his shot. Although Hood-Schifino struggled, he got more comfortable as the game went on, and we saw him make some nice layups.  
The Lakers had a tough time defensively against Miami, who played very well.  In addition, Nikola Jovic is a second-year player, and was impossible to guard inside. Despite contribution from Cole Swider and Max Christie, the Heat were simply too much for Los Angeles.  Besides Swider, the rest of the Lakers struggled from the three, while the Heat were shooting efficiently.
Miami Heat (1-0) vs. Sacramento Kings (1-0)
Time: 10 PM EST
Heat: +115
Kings: -135
Over/Under: 177
Spread: Kings -2.5
Game Prediction
The matchup between the Kings and the Heat is one of the most popular tonight.  Both teams are undefeated in the California Classic and had impressive first games. For the Heat, Nikola Jovic and Jamie Jaquez Jr. were playing their game, and looked NBA ready.  For the Kings, Keegan Murray led them to a victory with 29 points.
The Kings won Game 1, even though Golden State shot well from the three.  Although I'm hot on Jovic and Jaquez, Keegan Murray has NBA Playoff experience in his rookie year.  It's hard to say how much Sacramento will play Murray, as he's a vital part to their starting rotation.  Although Murray had a big game 1, Sacramento shot 29 percent from the three, while Miami shot 45 percent.  Miami is a tough, physical team, who is looking to stay undefeated. If the Kings are smart, they won't let Murray play as long this game.
Prediction: Give me Miami Money Line, and Miami +2.5. We advise that you tail or fade at your own discretion. 
Miami Heat
Game 1 Recap: Los Angeles 90, Miami Heat 107
The Miami Heat got off to a great start in the California Classic by defeating the Los Angeles Lakers.  Initially high on the Lakers, Miami impressed as a team. Collectively, Miami shot 45 percent from the three, and held the Lakers to 20 percent three point and 43 percent field goal shooting.  Overall, the Miami Heat were simply the better team.
Rookie Jamie Jaquez Jr. was drafted in the first round by the Heat, and it's easy to see why.  Jaquez Jr. made a statement with 22 points and 3 rebounds. In addition, we saw him with an incredible dunk, and almost plays positionless basketball at times.  Overall, Jamie had fun on the court, and we got to see his offensive skillset.
Nikola Jovic was out for a majority of the 2022-2023 due to an injury, and it's good to see him back on the court.  Jovic, the 27th overall pick in the 2022 Draft, showed flashes of upside, and instantly had chemistry with teammate Jamie Jaquez Jr.  Furthermore, Jovic scored 21 points on 7-12 shooting, grabbed 8 rebounds, and dished out 3 assists. It was nearly impossible to stop Jovic in the paint, and he shot 50 % from the three. Also, Chase Audige had a nice game off the bench (18), along with Orlando Robinson.  
Sacramento Kings
Game 1 Recap: Sacramento Kings 100, Golden State Warriors 94.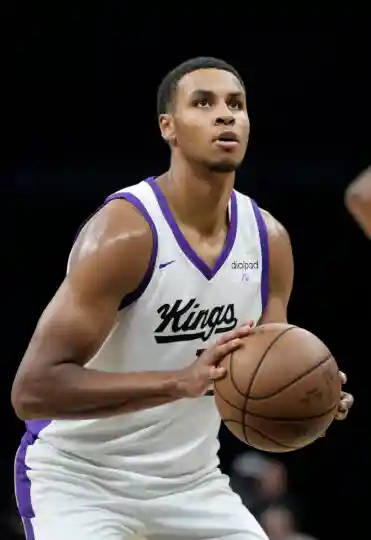 Although we are not officially into the NBA Season, this was unofficial rematch of the Western Conference Semi-Finals. It may still sting; however, we cannot forget Steph Currys incredible Game 7 performance against Sacramento.
Second year forward Keegan Murray was easily the best player on the court, and scored 29 points, had 2 steals, and shot 10-11 from the free-throw line.  Murray shocked many by participating in the summer league and was a huge factor for the Kings last season.  We saw him absolutely dominate, including a posterizing dunk over Gui Santos. The Warriors shot much better from than three, however, Sacramento played great defense, including 10 total steals.
Besides Murray, Jordan Ford showed his talent after being undrafted in 2020.  Ford added 18 points, 3 assists, and shot 100 % from the three.  Keegan Murray ultimately sealed the game with a pair of free throws at the end.
For More NBA Betting Info & Game Predictions, Follow us at @BallislifeBets.
Sara Jane is a full-time content creator, focusing on both college basketball, the NBA, NFL, and writer of Ballislife.com. Don't forget to follow her on Twitter/YouTube/Kick/Twitch/Instagram: @GGirlSports.
NATIONAL PROBLEM GAMBLING HELPLINE
1-800-522-4700
The National Council on Problem Gambling operates the National Problem Gambling Helpline Network. The network is a single national access point to local resources for those seeking help for a gambling problem. The network consists of 28 contact centers that provide resources and referrals for all 50 states and US territories. Help is available 24/7 and is 100% confidential.