What does $25,000 get you nowadays?
My mom bought a new Honda Accord for that price. My cousin is paying about that much for a year of out-of-state college tuition and fees. My friend just spent that much on a wedding ring and I'm willing to bet just as much the marriage doesn't last more than a year. There's also this pretty crazy guy in my town that pushed someone a couple of days ago and his company is fining him that much for the push. Lucky for him, he has a rich friend who is willing to pay the fine. If you haven't figured it out, that crazy guy is Gerald Green and his friend is Chris Paul.
Earlier today, the league announced they were fining the 9-fingered assassin 25 grand for pushing Gorgu Dieng during a game. The same amount was given to the Suns' Jared Dudley and Marquese Chriss for messing with Ricky Rubio earlier in the week. While thinking about how ridiculous it is that Gerald Green — who is pocketing less than a million dollars this season — has to give the league the same amount of money my Mom gave a car dealership because he pushed a 6'11" supreme athlete, I started thinking about some of the most ridiculous fines in NBA history. Since there's way too many to talk about (the majority of the $25,000 fines in league history were for criticizing or "verbally abusing" the refs), I'm just going to bring up my favorite $25,000 fines.
1994: Michael Jordan Kills #45 MJ
The Shaq & Penny Orlando Magic team of the 90s was my all-time favorite team. During the middle of their playoffs series with the Bulls, Michael Jordan switched his jersey from 45 to 23 with the hopes it was going to make him play better. He did play better but the Bulls still lost and had to pay $25,000 for every game MJ wore 23.
1996: Nick Van Exel Shoves A Ref
Nick The Quick had a temper as quick as his crossover and in April of 1996, he lost his temper with a ref, "shoved" him and was hit with a seven-game suspension and a $25,000 fine. I love how the ref got off the table and was ready to fight Exel.
What really makes this story crazy is just five days later, Magic Johnson bumped a ref and was hit with a three-game suspension and $10,000 fine.
1997: Can Rodman Kick It? Yes, He Can!
Back in 1997, Dennis Rodman — at the height of his popularity (he was dating Carmen Electra and 90s Carmen Electra is hotter than Klay Thompson scoring 60 points in 29 minutes) in Chicago — kicked a cameraman in the groin after falling into a group of photographers. After a second or two of thinking about that Chicago Bulls money (and money from horrible Van Damme movies), the cameraman reacted to the kick, acted like he was in pain and needed a stretcher to leave the court. The league gave the dress-wearing Bad Boy an 11-game suspension and $25,000 fine.
1997: Calipari vs Mexicans
Remember when John Calipari was an NBA coach? Nets fans wish they could. During his short stint in the NBA, he was fined $25,000 for calling a Hispanic newspaper writer a "Mexican idiot."
The reason why Calipari thought the writer was an idiot is that "he gave me a D" on a midseason report card.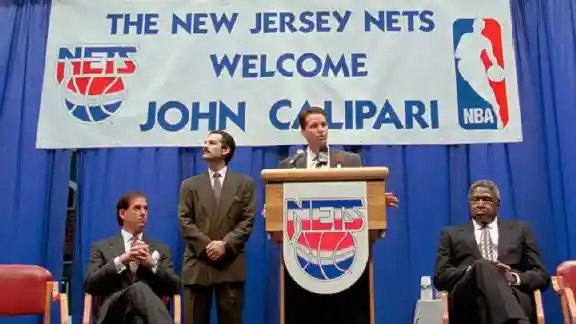 1997: NBA vs Long Shorts
Blame it on that rap music! The league had an issue with NBA players wanting to wear long shorts in the late 90s. They thought anything that was longer than an inch below the knee warranted a $2,500 fine and $25,000 fine for the player's team! And the list of players to receive this fine included Kevin Garnett, Stephon Marbury, Rasheed Wallace and Kelvin Cato.
Here's what Wolves VP Kevin McHale said about the fines: "I'm sure one of our white, upper-middle-class people decided it was a gang thing because they're pretty hip with the gang scene."
The reply from NBA VP Rod Thorn was, "What we're saying is, `You're professionals now. You're not on the playground anymore."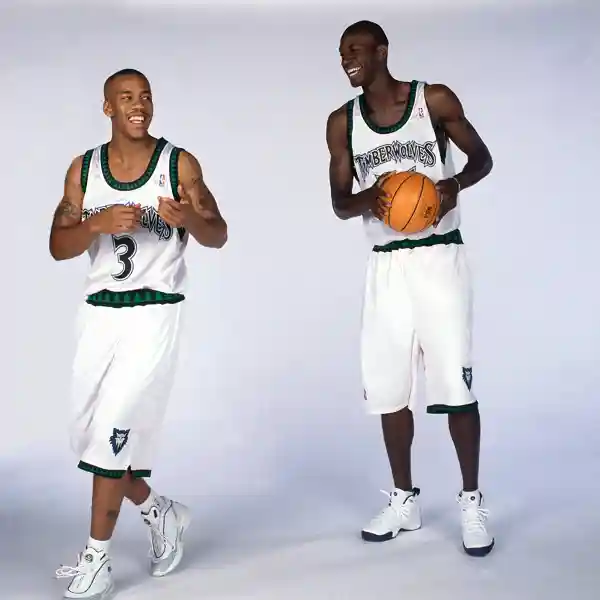 2004: The Glove Does Not Fit
Do you remember how upset you were at Gary Payton when he withdrew from the 2004 Skills Competition at All-Star weekend? No? That's because you didn't know or gave a damn about the event and who participated in it. I could see the league being upset if LeBron finally agreed to do the dunk contest and then withdrew a couple of days before (like Iverson in 97) but GP in the Skills event?
GP was also fined $15,000 earlier in the week for fighting Speedy Claxton.
In case you were wondering, Baron Davis won the event, despite being "very intimidated" because…the "defenders don't move" and he has to throw the ball in a wood hole.
2004: Offensive Toons
Before Game 3 of the Mavs and Kings playoffs series, the Mavs creative team thought it would be funny to show a cartoon with Chris Webber being showered with money at Michigan and Doug Christie being walked on a dog leash by his wife (Google the stories about their relationship). Stern didn't find the toons funny and gave Cuban one of his many, many, many fines.
The Kings got the last laugh by winning the series.
2007: Proof Adam Morrison Did Something In The NBA
The lottery pick didn't do much for his NBA teams or any Fantasy basketball team but he did once flip off a fan during an NBA game. He was fined $25,000 but don't feel too bad for him because he made almost $17 million and has two NBA championship rings.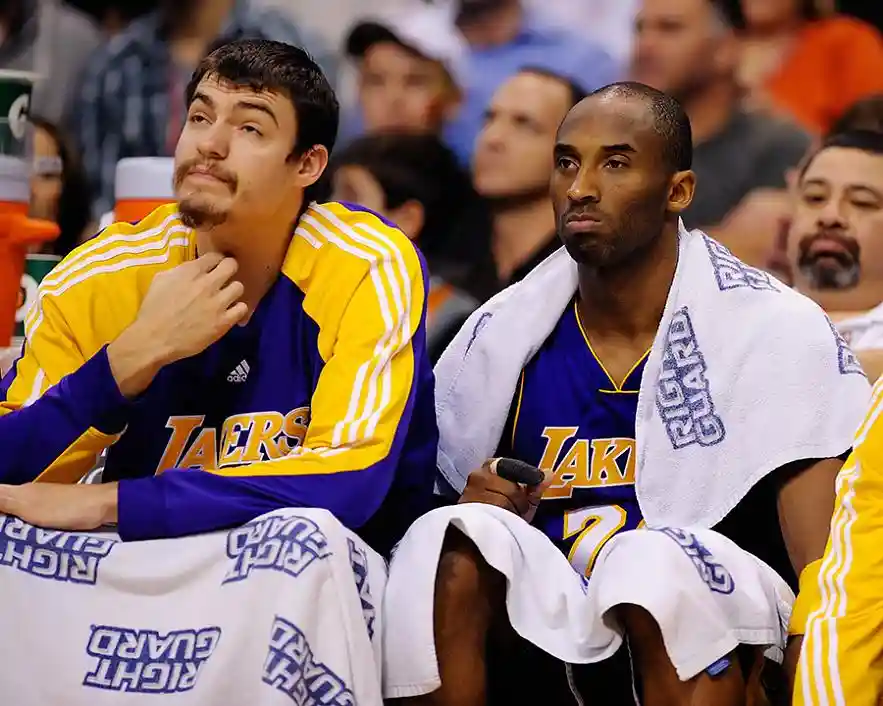 2010: Can LeBron Kick It? Yes, He Can!
LeBron didn't get a suspension like Dennis Rodman but he did get the $25,000 fine for kicking…a water bottle! LeBron was upset about a no-call and when he was called to the bench by Coach Mike Brown, LeBron kicked a bottle into the stands.
2012: Pump It Up
The pipe giver was fined $25,000 for tweeting a photo of the Joe Budden's ex-girlfriend, the lovely Tahiry Jose, with the caption, "I can't watch the game like this! Damn you @TheRealTahiry"
Jose claims the photo caused a rift in their relationship, which led to them breaking up.
2012: Wet Willy West
Like JR Smith, Delonte West was a master of finding unique ways of getting into trouble. During a game against the Utah Jazz, the troubled guard gave Gordon Hayward (before he had nice hair) a wet willy. The finger in the ear cost him $25,000.
2013: "Internet Gangsters"
JR Smith makes the list again for having happy fingers on Twitter. After Brandon Jennings posted a tweet about a couple of his Drew League friends (Pooh Jeter and Bobby Brown) not being in the league while JR Smith's brother was on a roster, Smith posted a #DeadSerious threat/tweet about Jennings.
Smith deleted the tweet quicker than a photo of a woman in a thong but not before everyone took a screenshot…
2016: Wade County Killer
We all know Dwyane Wade was a killer on the court but I'm pretty sure no player during Wade's career was ever in fear of being hurt by Wade. That's why his fine for making a throat-slashing gesture during his first home game with the Bulls was so funny.
Maybe the league just didn't understand what it meant, which means they didn't see 'Guardians of the Galaxy' two years earlier.