I really thought Vince Carter was going to finish his NBA career by winning a championship with the team that drafted him way back on June 24th of 1998. Instead, the greatest dunker of all-time signed a one-year, $2.4 million deal with the Hawks so he can serve as a mentor for young players like rookie Trae Young, who was born three months after the Warriors drafted and traded Vince to the Toronto Raptors. As crazy as it sounds to say Vince has been in the NBA longer than Trae has been alive, 41-year-old Vince is actually eight months older than Trae's father, Rayford Young, who was putting up almost 20 points a game at Texas Tech during the early days of Vinsanity in the NBA.
In honor of Vince not ring chasing by going to the team that can now claim to have the two best in-game dunkers of all-time (Yes, I have Dominique Wilkins over Michael Jordan), here's my favorite Vince moments vs the Atlanta Hawks since 1998!
1999: DUNKING ON MUTOMBO
Due to a NBA lockout, we were robbed of half a season of of Vince Carter rookie highlights and possibly a NBA dunk contest with Vince going against his former AAU teammate and defending dunk contest champ Kobe Bryant. What we did get when Vince finally stepped on a NBA court in 1999 was some of the most memorable dunks in NBA history, including Vince's baseline reverse against the Pacers and the above poster on Dikembe Mutombo.
What many people don't know is Vince actually dunked on Mutombo twice in that game. If you go to the 9:59 mark of the following video you can see his two-hand dunk over Deke followed by some mean muggin by Vince.
2001: NO, NO, NO
Vince tried to catch Mutombo again during the 2001 season with a leaning dunk attempt. Since he missed, the refs assumed he was fouled and called it on the Hawks big man. I usually don't care to celebrate missed dunks but this one was exceptional and made me jump off my couch. Vince did have a similar dunk on Mutombo's Georgetown teammate Alonzo Mourning a few years later.
2003: BEST GAME VS THE HAWKS
Vince's best and most clutch game against the Hawks came on November 26th of 2003. With the game tied at 89, he swatted a potential game-winner by Jason Terry into the stands. Then with 1.2 seconds left in the OT session, he knocked down a 17-footer for the comeback victory. The game-winner gave Vince a season-high 43 points.
2006: ANOTHER GAME-WINNER IN OT
Vince was coming off an ejection and went scoreless in the first half of this game. He then scored 18 in the second half with five three-pointers, including a buzzer-beating game-winner in OT.
"I had a little momentum. I was able to get my feet set and go for the jugular."
2006: DUNKING ON THE DUNK CHAMP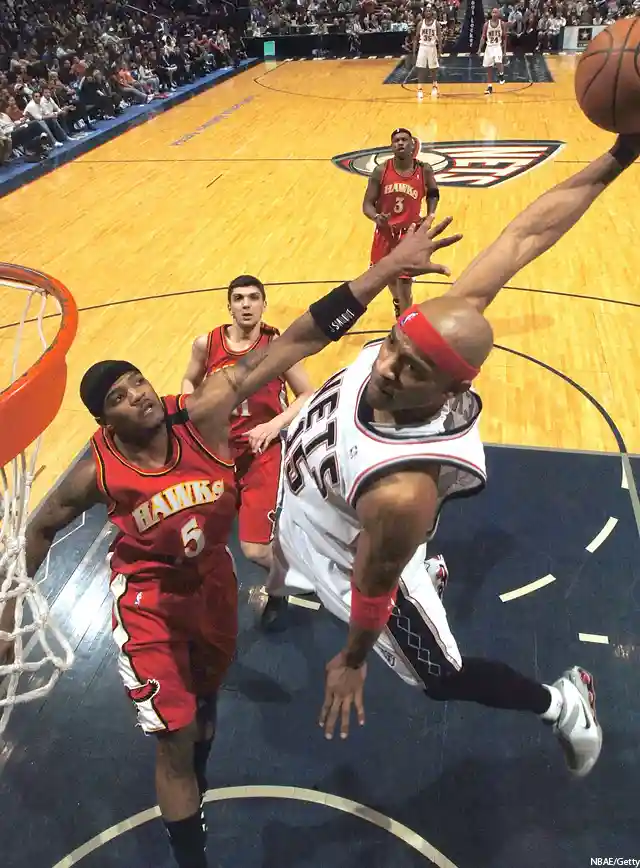 This poster of the 2000 NBA Dunk Champion dunking on the 2005 NBA Dunk Champion makes the dunk look better than it really was but it still deserves to make the list. The dunk over Josh Smith was also one of a few Vince had during his dunk exhibition on this night.
He also got a light dunk on Smith during the 2010 playoffs.
2015: 70 FOOTER
Pushing 40 as a member of the Grizzlies, Vince had 14 points and 4 triples in this 2015 game. The most memorable of those 4 triples was a 70-foot buzzer beater at the end of the first quarter.
2019 AND BEYOND
Don't be surprised to see Vince take a seat on Inside The NBA or some other TNT show (like KG's Area 21) when he's done playing with the Hawks. The show is filmed in Atlanta and he's made it known that he wouldn't mind doing television when he hangs up his Nike kicks.
HONORABLE MENTIONS
2008: Crossover on Joe Johnson
2003: Alley-oop over Dion Glover
2002: Game-winning assist
2017: Dunking at 40