It's Sunday, August 20th, and there are four games on the slate today. The first matchup will begin at 3 PM, and the last will start at 7 PM EST. With three weeks to go in the regular season, several teams are battling for playoff contention. In this article, I will discuss the straight betting odds, stats, information, trends, and our best straight bet predictions. If you're interested in watching all games, the WNBA League Pass is available.  If you are looking for the best WNBA betting odds, stats and analysis, here is some information to know.
Daily WNBA Betting Odds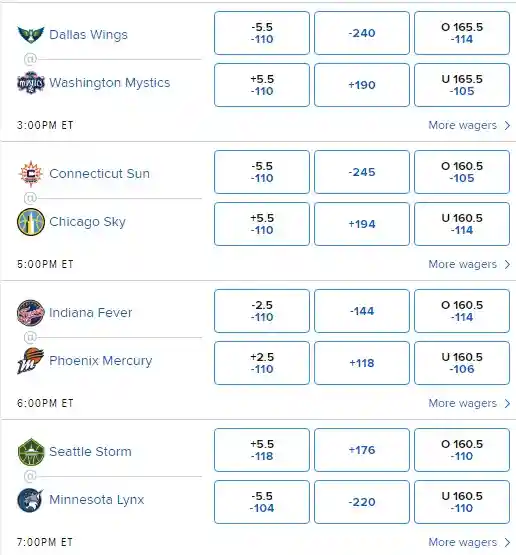 🏀 Last games of the weekend 🏀@NBATV triple header tips-off beginning at 3pm/ET with the @DallasWings taking on the @WashMystics

League Pass ➡️ @IndianaFever/@PhoenixMercury 6pm/ET

#MoreThanGame pic.twitter.com/FxF90FGPN2

— WNBA (@WNBA) August 20, 2023
Connecticut -5.5 (-110)
The Connecticut Sun (21-10, 12-5 Away) will matchup against Chicago Sky (12-19, 5-10 Home) on the road. Although Connecticut is coming off a three-game losing streak, they remain one of the most elite teams on both sides of the ball. Led by Head Coach Stephanie White, the Sun stand alone as the third overall seed, and are one of the most assertive teams on the defensive end. Over the last three games, the Sun dropped two consecutive games to Dallas, and Phoenix. Furthermore, Connecticut couldn't cover the spread in each of those meetings.
Season Matchups
Conversely, Whites squad is undefeated against the Chicago Sky. In two matchups, the Sun held Chicago to 72 points, and nearly averaged 90 points a game. Additionally, the Sun have a 36-point differential, and forced 37 total turnovers. Despite the fact that Connecticut lost star Brionna Jones, they have prevailed and managed ways to achieve wins this season. Led by the dynamic duo of DeWanna Bonner and Alyssa Thomas, Connecticut prides themselves on uniqueness and talent. In both events, Thomas had back-to-back double doubles, in which she snagged 18 rebounds. In addition, All-Star DeWanna Bonner is averaging 23.5 points and 8 rebounds against the blue. Together, the pair make up 40 percent of the offense, which excludes the dependable play of Tiffany Hayes. Overall, the Sun have two double-digit wins over the Sky, and Connecticut covering is the more sensible pick.
Why the Sun can cover
The Chicago Sky, led by Head Coach Emre Vatansever, are 15-14-2 overall against the spread this season. However, the Sky have gone frigid, losing four straight games against Atlanta, Washington, New York, and Minnesota. Additionally, Chicago hasn't been able to cover to spread in those losses. In their 67-78 loss against the Atlanta, the offense was severely suppressed, in which the heart and soul of the Sky offense crumbled. Even worse, Kahleah Copper, Courtney Williams, Alanna Smith, and Marina Mabrey combined for an underwhelming 33 points. Once WNBA champions, the Sky remain one game out of playoff contention. On paper, Chicago is comparable to Connecticut offensively in the rankings. Conversely, the Sky rank 9th in defensive rating, and are last in the league in opponent field goal percentage (45.7 percent).
It's no secret the Connecticut Sun haven't played their best basketball as of late. However, the Sun have two elite players on the roster, and rank within the top four in points per game, three-point percentage, and steals. This team is one year removed from a final's appearance, and still survive as the top defensive team in the league. Connecticut prides themselves on scoring in the paint and is holding opponents to a league low 31.8 three-point percentage. Furthermore, the Sun rank first in the league in field goal attempts per game (65.7). If this team can hit improve on their free throws, and offense, Connecticut shouldn't have a problem. Forward Alyssa Thomas can be challenging to guard and is the "first player in WNBA history with 300 rebounds and 250 assists in a single season (The Sporting News).
Season Statistics & Betting Trends
Connecticut Sun
CT Sun: 2-3 in their last 5 games.
6-4 in their last 10 games.
ATS Record: 16-14-1
O/U Record: 18-13-0
2-3 ATS in their last 5 games.
5-5 ATS in their last 10 games.
O/U is 3-2 in the last 5 games.
O/U: 5-5 in the last 10 games.
4th in Offensive Rating (105.9)
T2nd in Defensive Rating (100.6)
4th in Points Per Game (83.5)
8th in Pace: 78.5
Opponent Points Per Game: 79.3 (1st)
Three-Point Percentage: 35.9 % (4th)
Rebounds Per Game: 33.8 (8th)
CT ATS won last 10 games:  Atlanta (-5, +1.5), Dallas (+3.5), Indiana (-8), Seattle (-8),
End your weekend with some Sun 😎

Sun at Sky
⏰ 5 PM ET
📍Wintrust Arena
📺 @NBCSBoston // @NBATV pic.twitter.com/if14nEV7KV

— Connecticut Sun (@ConnecticutSun) August 20, 2023
Chicago Sky
Chicago Sky: 1-4 in their last 5 games.
4-6 in their last 10 games.
ATS Record: 15-14-2
O/U Record: 14-17-0
1-4 ATS in their last 5 games.
5-5 ATS in their last 10 games.
O/U is 2-3 in the last 5 games.
O/U: 6-4 in the last 10 games.
6th in Offensive Rating (101.7)
9th in Defensive Rating (106)
8th in Points Per Game (80.1)
9th in Pace: 78.4
Opponent Points Per Game: 83.5 (8th)
Three-Point Percentage: 36.5 % (3rd)
Rebounds Per Game: 33.3 (9th)
Chicago ATS won last 10 games: Seattle (+2), Las Vegas (+14.5), Phoenix (-7), Dallas (+10.5, +9)
Home Sweet Home

🆚 @ConnecticutSun
📍 @WintrustArena
⏰ 4PM CT
📺 @NBATV, @WatchMarquee #skytown pic.twitter.com/EKW8rlr5pY

— Chicago Sky (@chicagosky) August 20, 2023
Head-to-head stats: Sun vs. Sky
Season Matchups:
Game 1: Connecticut 96, Chicago 72 (Connecticut -6.5, Over 158).
Game 2: Connecticut 84, Chicago 72 (Connecticut -5, Under 161)
Connecticut leads the season series 2-0
The Sun are 2-0 ATS vs. the Sky this season
Game Points (AVG) last 10 matchups: 162
Sun average points vs. Sky last 10 games: 82
Sky average points vs Sun last 10 games: 80
Connecticut average points last 10 games: 83
Chicago average points last 10 games: 87
The Engine is up to 19 PTS 3 to play in Q3! @athomas_25 #CTSun | #ForgedByFire🔥 pic.twitter.com/nRsMwCRjFL

— Connecticut Sun (@ConnecticutSun) July 12, 2023
Stay tuned for more WNBA and betting related articles. Click here for more WNBA betting strategies.
Sara Jane Gamelli is a full-time Sportswriter at BallisLife, and Sports Content Creator on Twitch. She has a focus on the NBA, WNBA, NCAA Basketball, and the NFL. Sara Jane currently resides in Connecticut with her Cat and Dog. She is a Boston Celtics, Boston Bruins, New York Yankees, and New York Giants fan. SJ has her undergraduate degree from the University of Connecticut in Economics.
Tweets by BallislifeBets
NATIONAL PROBLEM GAMBLING HELPLINE
1-800-522-4700
The National Council on Problem Gambling operates the National Problem Gambling Helpline Network. The network is a single national access point to local resources for those seeking help for a gambling problem. The network consists of 28 contact centers that provide resources and referrals for all 50 states and US territories. Help is available 24/7 and is 100% confidential.