In this article, you will find the WNBA prop bet odds, stats, and predictions for Saturday, August 19th. The Las Vegas Aces will play the Los Angeles Sparks at home today.
Today, is the final regular season matchup between the Los Angeles Sparks (12-18, 4-10 Away) and the Las Vegas Aces (28-3, 16-0 Home). In this article, I will break down the WNBA prop bet odds, stats, trends, and predictions. The game will begin at 3 PM EST, at Michelob ULTRA Arena, located in Las Vegas, Nevada. If you're looking to watch and bet on the game, it will air on ABC.  If you are looking for the best betting odds, stats and analysis, here is information to know.
Rise and shine, it's game day!

📍 The House
⌚️ 12 PM PT
📺 @ABCNetwork #ALLINLV pic.twitter.com/voZpb3z6O4

— Las Vegas Aces (@LVAces) August 19, 2023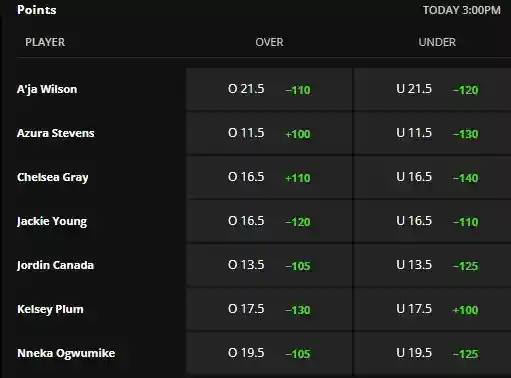 A'ja Wilson O 21.5 PTS (-110)
𝐓𝐎𝐏 𝐓𝐈𝐄𝐑 ✨

The reigning M'VP & DPOY.@_ajawilson22 // #ALLINLV pic.twitter.com/vBIzHio1oH

— Las Vegas Aces (@LVAces) August 18, 2023
PPG: 21.2 | FG: 53.7 % | 3 PT: 21.7 % | FT: 79.3 % |REB: 9.6 |AST: 1.9 |STL: 1.4 |BLK: 2.1
Both the Sparks and the Aces are playing extremely well, and I expect A'ja Wilson to dominate, as she continues to be involved in the WNBA MVP conversation. In the Aces 88-75 win over the New York Liberty, Wilson had 21 points, 8 rebounds, and shot 54 percent from the field. In addition, Wilson achieved 3500 career points, in which she is the "fastest player to reach 1500 + rebounds, 300 + blocks, and 3500 + points, in WNBA history. (Las Vegas Aces).
Normally, I would take the under for Wilson at 21.5 Points. This prop has hit only 44 percent of the season, and 40 percent in the last five games. In three games against Los Angeles this season, Wilson scored over 21.5 points in two games, and is averaging 28 points against the Sparks this season.
After a disappointing outcome in the Commissioner's Cup, I expect Wilson to have a monstrous game. Given that the Aces forward was held to 18 points in two games against the Liberty, she will be out for revenge.
If you're betting on the Sparks vs. Aces game, Las Vegas has scored nearly 100 points in all three contests. In fact, Vegas is averaging 94.6 points against the Sparks, and Wilson outscored Los Angeles herself in the last matchup. On July 12th, A'ja finished with 25 points, on 9-14 field goal shooting.
Chelsea Gray O 6.5 AST (-135)
We call her THA #POINTGAWDDDDD for a reason 🎩🪄@cgray209 has set a new franchise record for assists in a single season 👏#ALLINLV pic.twitter.com/RFxTbSnQ7N

— Las Vegas Aces (@LVAces) August 18, 2023
PPG: 15.2 | FG: 50 % | 3 PT: 44.8 % | FT: 91.9 % |REB: 3.7 |AST: 7 |STL: 1.5 |BLK: 0.6 
Aces guard, Chelsea Gray became the first player in Aces franchise history to ever finish a game with a triple double. In a win against the New York Liberty on Thursday, Gray finished with 22 points, 11 rebounds, and 11 assists. Furthermore, the Las Vegas guard made more history following Thursday's game. Chelsey Gray is the only player in Las Vegas Aces history to record 218 assists, which is a franchise record for assists.
Gray is averaging over 6.5 assists a game, and this prop has hit 60 percent of the time in the last ten games. The Aces core, led by Head Coach Becky Hammon, includes A'ja Wilson, Chelsea Gray, Kelsey Plum, and Jackie Young. Although Las Vegas doesn't nearly have as much depth has other teams, Gray earned the nickname, "point gawd." Whether it's back door cuts, or beyond the perimeter, it's undeniable Chelsea Gray has tremendous IQ and vision on the court.
Aces matchup vs. Sparks
Number 12 hit over 6.5 assists in two of the three matchups against the Sparks. In three total games, the guard is averaging 6.6 assists, and hit the over in two of the last four games. Furthermore, Gray dished out over 6.5 assists in seven of eleven games in July.
Although Chelsea Gray is shooting lights out from the three this season (44 percent), she's known for her driving capability to the basket. With Ogwumike and Stevens possibly clogging the paint, it's very possible Gray continues to feed the hot hand. It's important to note, A'ja Wilson, Kelsey Plum, and Jackie Young all had points in double figures last game against the Sparks. I expect Chelsea Gray to stay hot, coming off a historical night.
Stay tuned for more WNBA and betting related articles. Click here for more WNBA betting strategies.
Sara Jane Gamelli is a full-time Sportswriter at BallisLife, and Sports Content Creator on Twitch. She has a focus on the NBA, WNBA, NCAA Basketball, and the NFL. Sara Jane currently resides in Connecticut with her Cat and Dog. She is a Boston Celtics, Boston Bruins, New York Yankees, and New York Giants fan. SJ has her undergraduate degree from the University of Connecticut in Economics.
Tweets by BallislifeBets
NATIONAL PROBLEM GAMBLING HELPLINE
1-800-522-4700
The National Council on Problem Gambling operates the National Problem Gambling Helpline Network. The network is a single national access point to local resources for those seeking help for a gambling problem. The network consists of 28 contact centers that provide resources and referrals for all 50 states and US territories. Help is available 24/7 and is 100% confidential.