WNBA best Player Prop Bets, Trends, Odds, Stats, and Predictions for Sunday, July 30th.
In my last article, I discussed the WNBA straight bet odds, stats, and predictions for Sunday, July 30th. There are six WNBA games on the slate today, and this article will cover player prop odds, stats, predictions, and analysis. All games will air on either ESPN, ESPN3, or CBSNN. If you are looking for the best betting odds, stats and analysis, here is some information to know.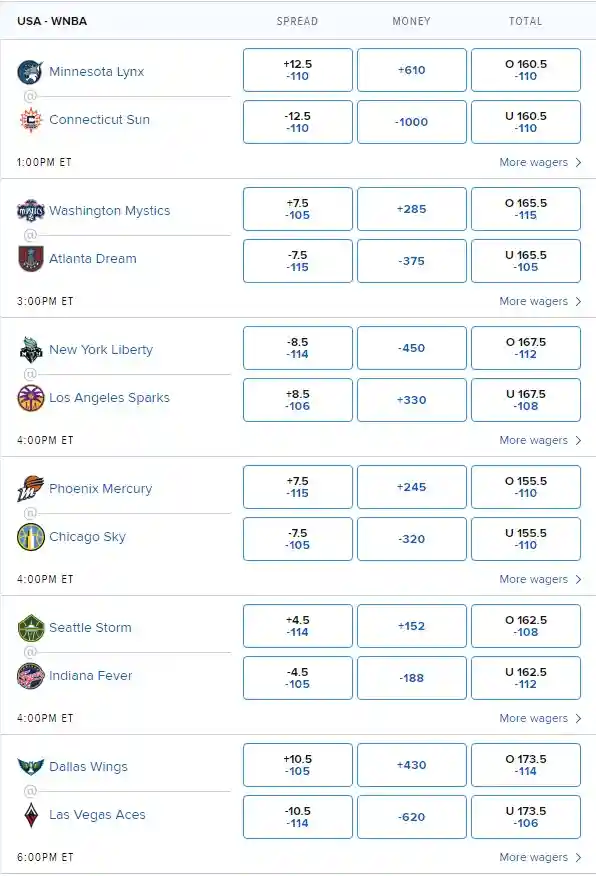 Jonquel Jones OVER 7.5 REB (-120)
PPG: 11.8 | FG: 55.6 % | 3 PT: 41.4 % | FT: 86.4 % |REB: 7.6 |AST: 1.5 |STL: 0.5 |BLK: 1.3
Turnaround JJ 🔥 @jus242 pic.twitter.com/3FV3NGQArS

— New York Liberty (@nyliberty) July 27, 2023
Liberty Foward, Jonquel Jones, is coming off her fifth straight game with rebounds in double figures. Prior to the previous matchup against Minnesota, Jones had four straight double-doubles, in points and rebounds. In the last five games, Jonquel has 11 rebounds against Minnesota, 13 versus Atlanta, 17 against Seattle, 11 versus Indiana, and 11 rebounds on the road against Washington.
At 6 foot 6, the Liberty rank second in the league in rebounds (37.7) and face a Los Angeles Sparks team that is near last in rebounds. (31.9). The Sparks allow opponents to grab 35.5 boards per game (9th), and the Liberty allow opponents to rebound 34.2 times per game (4th). Jonquel Jones hit this prop in six straight games, and I expect her to do it tonight. The biggest threat to Jones will be Sparks forward, Nneka Ogwumike, who is averaging 9.3 rebounds per game. I want to say Nneka Ogwumike over points as well.
Jewell Loyd OVER 22.5 Points (-125)
PPG: 24.2 | FG: 38.2 % | 3 PT: 39.1 % | FT: 87 % |REB: 4.6 | AST: 3.5 |STL: 1.1 |BLK: 0.5
Gold Mamba strikes 🐍 pic.twitter.com/DV95vMWIYS

— Seattle Storm (@seattlestorm) July 29, 2023
Seattle Storm Guard, Jewell Loyd is an MVP Candidate this season. The Storm will face off against the Indiana Fever, who rank last in points allowed (85.7). The Fever allow opponents to shoot 36.3 from the three-point, and permit teams to make 8.2 three-pointers a game. On average, opponents attempt 22.6 three-pointers against the Fever.
Jewell Loyd is coming off a 15-point performance against the Chicago Sky. In her only matchup against Indiana, the Seattle Guard scored 19 points on (5-21) and played 27 minutes. Loyd was 2-7 from the three-point and made all seven of her free-throws.
Seattle is coming off an 83-74 win against Chicago, following a ten-game skid. Loyd hit over 22.5 points in four games in July, and six times in June. Loyd is averaging 15.4 field goal attempts, 30.1 minutes, and 9.3 three-point shot attempts in the last ten games. She had a high volume of shots against Indiana last matchup (5-21), in which Loyd was held to 24 percent field goal percentage. With Loyd shooting nearly 40 percent from downtown, I expect her to show out tonight versus an Indiana team who doesn't defend the perimeter well.
Chelsea Gray OVER 13.5 Points (-125)
PPG: 14.6 | FG: 49.8 % | 3 PT: 43.5 % | FT: 91.4 % |REB: 3.6 |AST: 6.9 |STL: 1.5 |BLK: 0.6
#POINTGAWDDDDD work 😮‍💨@cgray209 // #ALLINLV pic.twitter.com/G0UBAwTvZw

— Las Vegas Aces (@LVAces) July 26, 2023
The Las Vegas Aces are chasing WNBA history, and face a Dallas Wings team, who are a solid defensive team. Dallas holds opponents to 32.7 three-point percentage. Aces Guard, Chelea Gray scored over 13.5 points in both matchups against Dallas, which includes a 14 and 20-point performance. The Aces rank 1st in net rating and offense and are often hard to guard on the weak and strong side of the ball. In two games against the Wings, Gray averaged 16 points, 36 minutes, 14.5 field goal attempts, and 5 three-point attempts. Gray is an elite guard, shooting over 43 percent from downtown. With the high-volume shots and minutes, I like Gray over 13.5 points.
Sara Jane Gamelli is a full-time Sportswriter at BallisLife, and Sports Content Creator on Twitch. She has a focus on the NBA, WNBA, NCAA Basketball, and the NFL. Sara Jane currently resides in Connecticut with her Cat and Dog. She is a Boston Celtics, Boston Bruins, New York Yankees, and New York Giants fan. SJ has her undergraduate degree from the University of Connecticut in Economics.
Tweets by BallislifeBets
NATIONAL PROBLEM GAMBLING HELPLINE
1-800-522-4700
The National Council on Problem Gambling operates the National Problem Gambling Helpline Network. The network is a single national access point to local resources for those seeking help for a gambling problem. The network consists of 28 contact centers that provide resources and referrals for all 50 states and US territories. Help is available 24/7 and is 100% confidential.