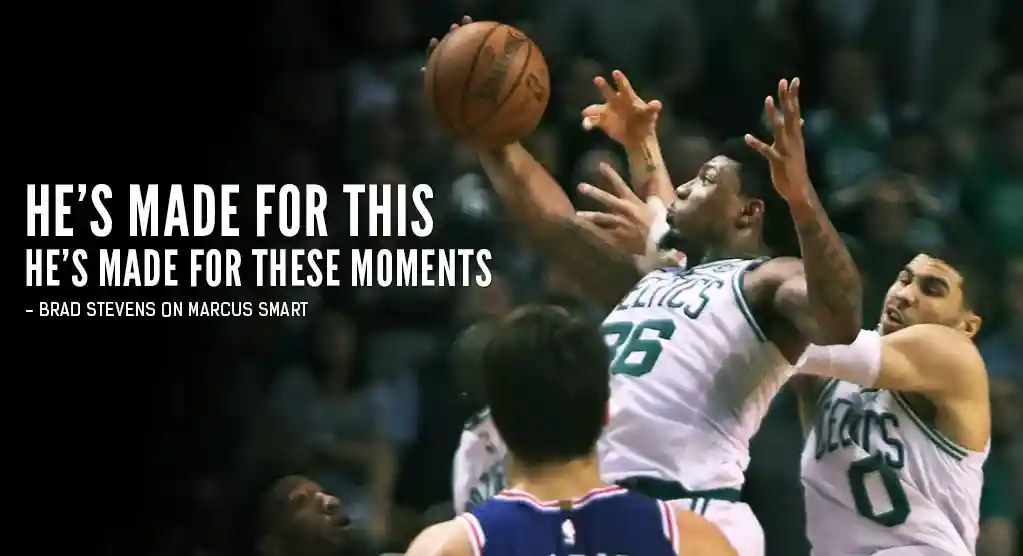 Marcus Smart is one of the most polarizing players in the league. As a Celtic fan, you can go from loving him to hating him and back to loving him within seconds.
During Wednesday's Game 5 against the 76ers, Smart, who said before the game, "We're pitbulls. It's a dog fight and we're going straight for the neck" was at his "smartest," putting fans and gamblers on a roller coaster of emotions.
Here's five examples.
THE STRIP & OOP
Smart steals the ball from Embiid in the opening quarter and lobs it to Jayson Tatum the way Gary Payton and Shawn Kemp used to connect.
THE ALLEY-OOP THREE
Another alley-oop…sort of.
Smart missed his two traditional three-point attempts during the game but did connect on this fourth quarter alley-oop three after a shot clock violation. It was one of the many times I yelled "figures" on a Smart highlight. It also would have been a back breaker for the 76ers. Instead, the 76ers responded with two free throws and a three by Dario Saric to take a one-point lead.
THE TIP
Down by two with a minute left in regulation, Jayson Tatum missed a wide-open layup attempt. Ben Simmons, Joel Embiid and Saric all stayed grounded assuming the layup was going in while Smart was smart enough to jump and tip the ball in (3:17 mark).
THE COSTLY MADE MISSED FREE THROW
The betting line on GM5 moved around a lot but most people probably put their bets on Boston by 1.5 points.
Up by one with 2.4 seconds left in regulation, Smart missed the first free throw and then intentionally tried to miss the second. Those two misses would have probably meant a one point victory for the Celtics and happiness for everyone who didn't think the Celtics would win by more than one. But, Smart made the intentional miss attempt (figures!) to give the Celtics a two-point lead.
That's what you call a "bad beat."
THE INTERCEPTION (TRAVEL?)
Because Smart made the free throw, the 76ers were allowed to inbound the ball and go for one last shot. Simmons threw a hail mary pass down court, Smart covers half the court in a blink of an eye, leaps and intercepts the pass (figures!).
Since nothing Smart does is that simple, when he came down with the impressive interception, he took a couple of steps before throwing it in the air. Those extra steps had Philly fans still crying "Joel Embiid was fouled" crying "Smart traveled."
"That's a Marcus Smart sequence. That just describes him so well," Jaylen Brown said after the win. "If it came down to one guy coming up with it, everybody's got their money on Smart."
Coach Brad Stevens (who didn't receive a single freaking vote for the National Basketball Coaches Association's trophy) also had some praise for his polarizing guard.
"He's made for this," Stevens said. "He's made for these moments. We can go through the stat line all you want, but when your season's on the line and you need to do really hard things, he can do really hard things."
Smart finished with 14 points, six rebounds, six assists and three steals and is more than ready to start a battle with LeBron and the Cavs.